Europe: Champions League
⚽ M. Simakan (3), ⚽ X. Schlager (73), ⚽ B. Šeško (90)
Speaking at his pre-match press conference ahead of Leipzig's Champions League clash with Young Boys, Marco Rose warned against underestimating the Swiss champions and praised in-form youngster Xavi Simons.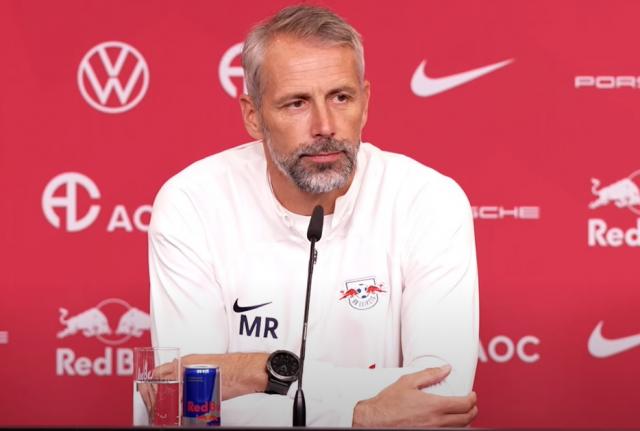 RB Leipzig coach Marco Rose isn't taking Tuesday's Champions League opener against Swiss champions Young Boys lightly, despite his team's status as favorites.
"We want to come out on top against a team that is very dominant in their domestic league and will also benefit from the support of their own fans. They play direct football and don't make it easy with their pressing," Rose said at his pre-match press conference.
"On top of that, they have several players who are 6'5" or taller, which is key when it comes to set pieces. There are some challenges that we have to deal with, but above all we have to execute our own game plan.
"Young Boys have already shown their international quality on several occasions. They have beaten Man United at home and have a number of international players in their ranks.
"They are a team that wants to show what they can do and we would be wise to give them the utmost respect. But that is always the case for us. The aim is to get off to a good start in the group stage.

One of Leipzig's key performers so far this season has been 20-year-old Paris Saint-Germain loanee Xavi Simons, who has three goals and four assists in his first four games.
"He is an outstanding player with a lot of quality and a great future. As he gains experience and stays fit, he could become even more of a complete package. He's a good example of the type of football we want to play, and he's perhaps a bit like a young version of [Kevin] Kampl," Rose said, before stressing that Simons still has a lot of work to do.
"He also knows that he still has to learn – that's a character trait that he can still develop. He's already an excellent player – that has to be said!"
More about the match
Rose praises Leipzig's "warrior mentality" after victory over Young Boys
Schlager and Šeško secure the points for Leipzig in Bern
Kampl reflects on captaincy in Orban's absence
Klostermann out of Leipzig's clash with Young Boys, Baumgartner struggling for fitness
Young Boys vs. RB Leipzig preview: Team news and predicted lineups
More about the teams
Official: Kanga signs with Hertha
Wolfsburg sign Swiss defender
Swiss star's agent confirms interest from multiple Bundesliga clubs
Bundesliga Tactics Talk: Round Four
Bundesliga Team of the Week: Matchday 4
UEFA Champions League Fantasy tips: Bundesliga players to consider
More about Xavi Simons
Rose hopes to keep Simons long term
Bundesliga Tactics Talk: Round Three
Bundesliga Tactics Talk: Round One
10 Bundesliga newcomers to watch out for this season
Bundesliga 2023/24 Tactical Previews: "The Top Six"
Confirmed: Leipzig sign Simons
About Author