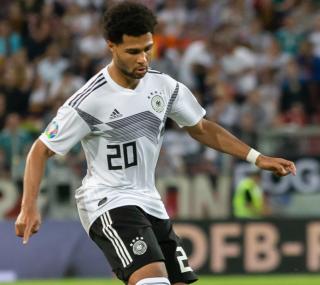 After an injury-plagued start to the season, Serge Gnabry is aiming to return to his best form.

Playing with a brace, Serge Gnabry finally made his return from a broken forearm against Galatsaray a week ago.

And having scored just once in nine appearances this season, the 28-year-old Bayern Munich and Germany winger is now working hard to get back to his best.
"I'm still a little bit behind in terms of efficiency this season. I haven't really come into the flow yet," Gnabry said at a press conference on Wednesday.
"The injury was a blow. But it's getting better with the splint. I'll try to do my best and get back to my old form," added the winger, who now faces matches against Turkey and Austria with Germany.
Gnabry made 47 appearances for Bayern last season, scoring 17 goals and providing 12 assists.
More about the match
Goretzka gives injury update ahead of Turkey clash
Confirmed: Führich to miss Germany's games against Turkey and Austria
Neuer confirms he won't return to national team this month
More about the teams
Bundesliga at the Euros, Day 10
Kuntz speaks on Turkish trainer job: "There is no decision to announce yet."
DFB willing to release Stefan Kuntz from his contract amid Turkey talks
Prömel speaks on reunion with Nagelsmann: "He convinced me to join Hoffenheim."
Füllkrug clarifies controversial criticism
Nagelsmann reportedly disappointed by Adeyemi's U21 withdrawal
More about Serge Gnabry
Sport Bild Report: Gnabry not expected back until November
Gnabry to miss several weeks with forearm fracture
Serge Gnabry: "We want to lay down a marker"
Bundesliga Tactics Talk: Round Four
Leverkusen maintain top spot following draw in Munich
Bundesliga Tactics Talk: Round Two
About Author