peaking on Kicker Magazine's "Was geht Bundesliga?" Podcast, former VfB Stuttgart and German national team keeper Timo Hildebrand spoke on the recent head-coaching change at his youth academy club.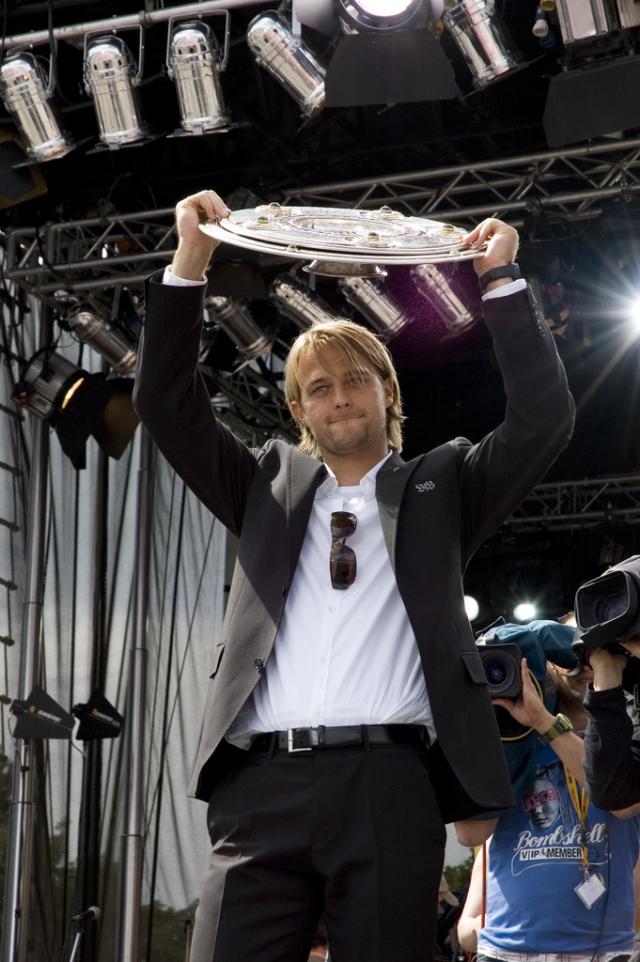 | | |
| --- | --- |
| Timo Hildebrand. | Stefan Baudy CC-BY-SA 2.0 |
Just like every other VfB Stuttgart fan, Timo Hildebrand will never forget the scenes at the Mercedes Benz Arena on last season's final matchday. the backstop who helped Stuttgart to the 2006/07 Bundesliga title, like everyone else in the stadium and on the pitch, was absolutely ecstatic that his beloved club had managed to avoid relegation on the final matchday.
"I was hoping things would be a little quieter this season," the former German national team goalkeeper lamented on Kicker Magazine's "Was geht Bundesliga?" Podcast, "Locals, fans, staff, and probably many of the players are brutally sad that he [recently sacked trainer Pellegrino Matarazzo] is no longer the coach."
"He's a super guy," Hildebrand noted, "A real dark 'red-striper' [one committed to the famous red-striped kits of the team], but, in the end, one has to show success as a football trainer. The statistics spoke against him. It's a pity, but the trend was downwards."
Hildebrand was asked about the rumors linking former Eintracht Frankfurt and Borussia Mönchengladbach head-coach Adi Hütter with the job. The 43-year-old noted that he felt that someone like Hütter, or perhaps former TSG 1899 Hoffenheim trainer Sebastian Hoeneß, would bring excellent "top flight experience" to the position.
Hildebrand seemed to think that current club sporting director Sven Mislintat should remain in charge.
"He [Mislintat] haddone a super job in recent years," Hildebrand emphasized, "There is enough potential in the squad. There just needs to be a new approach with a new coach who can awaken the potential in the attack. They play attractive football."

When it came to some of sporting CEO Alexander Wehrle's recent moves to bring in former players as administrators and brand ambassadors, Hildebrand (a former brand ambassador himself) admitted that it might mean that further shake ups in the front office are coming.
"I think the club is heading in the right direction," he said, "[As for change], I'm curious enough what's in store. In any event, I'm not averse to it."
More about Stuttgart
Predicted Bundesliga lineups: Matchday 10
Report: Zsolt Löw will not be named new Stuttgart coach, Hoeness has "good chances"
Americans in the Bundesliga: Scally back on top level in week nine, Matarazzo's final tactics assessed
Several candidates named as possible replacements for Matarazzo at Stuttgart
Official: Stuttgart fire Matarazzo after disappointing start
Stuttgart brass still debating over Matarazzo's future