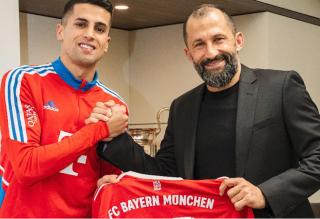 FC Bayern München boss Hasan Salihamidzic praised Croatian right-back Josip Stanisic's performance against PSG in the Champions' League last night. Salihamidzic also commented on the status of Stanisic's direct competitor Joao Cancelo.
Germany's preeminent footballing publication, meanwhile, reports that Salihamidzic and his administrative team are actively working on contract extensions with French defenders Lucas Hernandez and Benjamin Pavard. 

Bayern chief personnel executive Hasan Salihamidzic certainly thought so. Speaking to members of the assembled press corps after last night's victory, Salihamidzic spoke on the state of the battle for a starting slot between Stanisic and new high-profile acquisition Joao Cancelo. The club administrator confirmed that Stanisic had the edge for now.
"He was outstanding," Salihamidzic said of Stanisic, "I'm very enthused about him as he's a young player from our academy. Joao [Cancelo] hasn't been training and playing the way we envisaged lately. We're in regular communication with him. I understand how he [Cancelo] feels, but he is an excellent player who will become important to us in the future."
Apropos players who will ideally play a role in Bayern's future, Germany's Kicker Magazine reports that Salihamidzic and his administrative team are currently actively working on contract extensions with their two French center backs. Kicker reports that the German giants do indeed wish to hang onto slumping French defender Benjamin Pavard and that extension talks are ongoing.
Both Pavard and Hernandez sit on contracts set to expire in the summer of 2024.