The 2023/24 German Bundesliga came storming back from the first international break with plenty of intriguing storylines to discuss. Our comprehensive Sunday night recap column, as always, covers the most interesting talking points from all nine fixtures.
In keeping with this season's new format, this round's installment reserves the slightly deeper dive for Dortmund's 4-2 win over Freiburg. That's certainly not where the deeper analysis ends, however.
Stuttgart, Mainz, Bayern, Leverkusen, Frankfurt, and Gladbach also receive draw-ups in the new layout that aims to incorporate more graphics! Do come along for all the usual fun!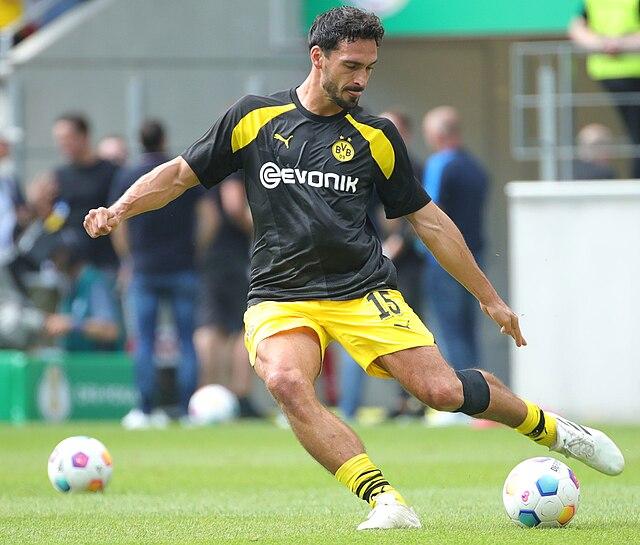 | | |
| --- | --- |
| Mats Hummels | Sandro Halank CC-BY-SA 4.0 |
Bundesliga Tactical Banter: Round Four
Big dreams for Beier

The Kölner Südtribune graciously gifted us the best choreo display of the weekend with a fabulous banner commemorating the 100th anniversary of their stadium in Müngersdorfer. Köln trainer Steffen Baumgart also donned a special Müngersdorfer T-shirt to mark the occasion. Everyone was in a festive mood. It's generally always a party at the 50,000-seat capacity venue currently referred to as the "RheinEnergieStadion". The current state of the town's football club, naturally, left many of us concerned that the party might be spoiled quickly. Hoffenheim's Andrej Kramaric saw these fears immediately confirmed.

Kramaric put the visiting Kraichgauer up 1-0 before one minute had been played on Saturday afternoon. The Croat marksman found himself wide open on a long throw thanks to the fact that 20-year-old rising striker Maximilian Beier – in his second consecutive start – had Kölner defenders Benno Schmitz and Timo Hübers completely tied up. Later in the first half, it was Beier's audacious sprint that forced Köln keeper Marvin Schwäbe to rush out of his net. Hoffenheim's Florian Grillitsch caught the Effzeh net-minder off his line for the 2-0 in the 28th. The most influential TSG player on the pitch got his turn later.
The on-the-up Germany U21 international recorded his third goal in as many matches shortly after the restart. Wonderful footwork from the recent Hannover returnee in the 52nd. Beier took down a ball from Grischa Prömel on a quick counter, cut inside quickly to shake off the marking Jeff Chabot, and confidently smashed the 3-0 across the face of goal into the far right corner with his first glance up. Sensationally beautiful stuff. Beier – who also scored for the U21s over the International break – now really finds himself in stride. A blossoming striker for the German national team, perhaps?
Ahem. Germans can't really disguise their desperation when it comes to that question. For eff's sake, we're talking Kevin Behrens at this point. We're in terrible trouble. Everyone knows it. We might as well blatantly reveal how weak our country's football program is in the nine-slot by discussing Beier, even if no one really knows where this kid is headed at this stage of his career. Köln's Davie Selke – who turned in a spirited performance in the 1-3 loss this weekend – once engendered excitement in us when he was Beier's age. Potential means little without consistent years of hard work.
We shall see. In all seriousness, Selke actually played his heart out in front of the hometown fans this time around. The former Germany U21 star rattled off four efforts on goal, not missing by much on the three occasions in which he didn't score. Köln out-shot Hoffenheim 18-13, out-crossed them 34-12, and maintained clear advantages in terms of possession, ground, and aerial duels. The match was actually a great deal more even than the scoreline would suggest, with the two sides hovering close to the 1.0 xG mark.
Baumgart's actual words:

"A shitty result in which everything worked."
Cool.
Delayed dreams for Woltemade

Yes, it is that bad. The sheer hell that was the most recent international break sent us Germans over to the U21s. Show us something. Anything. Some faint praise for 21-year-old SV Werder Bremen striker Nick Woltemade after a pair of relief shifts for Antonio di Salvo's DFB Juniors received coverage in the German press. We've evidently all gone insane. Woltemade served as the one personnel change to SV trainer Ole Werner's 3-5-2 from the previous round as the Hanseaten headed down to Heidenheim. The youngster took over for Marvin Ducksch, on the mend from a thigh strain.
Did we watch with hopeful eyes? Not exactly. The columnist wishes to point out that he did question Woltemade's quality in the last column. With Woltemade and Dawid Kownacki leading the line, Werder were unreservedly putrid in the final third during the opening half of the early Sunday fixture. The support axis of Jens Stage and Romano Schmid also remained slow and plodding. A handball penalty conceded by Anthony Jung gave the BaWü hosts an early lead. Bremen loan-out Eren Dinkçi added insult to injury with the 2-0 shortly before the half. A genuinely terrible first 45 from the guests.
Werner went for a triple change at the half, yanking Kownacki, Jung, and even his young captain Marco Friedl for Ducksch, new signing Olivier Deman, and Milos Veljkovic. Woltemade remained on the pitch to do largely nothing. The Hanseaten got their own handball penalty early after the restart and pulled a goal back. Mitchell Weiser – perhaps the one SV bright spot – scored the 2-2 with an assist from Deman later. Two late goals then enabled Heidenheim to record their first ever win in the German top flight. Dinkçi bagged a brace. Jan-Niklas Beste finished with a goal and assist, as did FCH striker Tim Kleindienst.
Whrew. Who shall we talk about now? Certainly not Woltemade. Dinkçi and Beste are actually Germany U20 internationals. For the record, so is Tim Kleindienst. One anticipated that that talk of the 28-year-old Kleindienst following in Niclas Füllkrug's footsteps would crop up at some point this season. It's all such hot air. In truth, we're just all gutted, desperate, starved, and slightly insane. There genuinely seems no end in sight to the German national team striker crisis. Bayern didn't even have the decency to ensure that Harry Kane's wife gave birth to his second son on German soil.
No light at the end of the tunnel.
We're in big trouble.
A nightmare for Augsburg

Not much of a football match going on at the Red Bull Arena in another one of this round's 15:30s. FCA keeper Finn Dahmen and squad captain Ermedin Demirovic pretty much summed it up in their respective post-match interviews. Enrico Maaßen's Fuggerstädter did get off to a promising enough start against Marco Rose's German Red Bulls. By that the author means that lead-striker Dion Drena Beljo recorded a shot in target in the 3rd. Almost immediately after that, it all came apart. A knock-on series of errors from the FCA ranks yielded a quick demolition.
Emil Forsberg claimed an easy ball in midfield in the 6th. Xavi Simons had no problems heading home a Loïs Openda cross in the 6th. Kevin Kampl – totally unchallenged in midfield played Xavi through five minutes later. This time, Openda polished off Xavi's cross for the 2-0. Xavi danced around the totally clumsy duo of Beljo and Niklas Dorsch in midfield in the 27th. Yussuf Poulsen had plenty of time and space to loft an easy cross over to David Raum on the 3-0. Ho-hum and we were done. Rose's team shifted all the way back into full energy conservation mode ahead of their Champions' League debut.
Skipper Demirovic – in commending his team for at least trying during the second half – freely acknowledged that they weren't playing against an opponent really interested in challenging anymore. The columnist isn't quite sure Augsburg really deserve any credit for their second half at all. Substitute attackers Ruben Vargas and Philipp Tietz truly needed to do a better job finishing their chances. Fresh defenders want-away Iago and former captain Jeffrey Gouweleeuw were far too loose. No, this is not looking good. As pertains to the FCA, we really mean it about the relegation race this time.
No, seriously.
We really mean it. 
Union fade into the night

A second consecutive loss for what has been German football's most uplifting story leaves us all feeling a mite down. Köpenick's proud "Eisern Union" are probably headed for third straight defeat on-the-trot as well against Real Madrid in the Champions' League midweek. We may all then have to suffer watching a fourth failure versus the Sinsheimers next weekend. Union Berlin tripped over their own feet in this weekend's squandering away at Wolfsburg. Amateurish mistakes exposed the East Berliners for what they can be on their worst days. Not too many positives to take from the WOB fixture.
An egregious passing error from Kevin Behrens enabled hosting Wolfsburg to open the scoring in the 12th. More issues with the build-up play out of the back nearly enabled Wolfsburg to increase the advantage. Aïssa Laïdouni and Robin Gosens were only able to combine on the equalizer thanks to a double failed clearance from the WOB defensive ranks in 28th. The Lower Saxons were able to restore the lead quickly after a horrible punch-out off a corner from FCU keeper Frederik Rønnow in the 30th. The poor set-play organization of Fischer's side on the service also left Rønnow screened.
Union's play in the second half literally remained so languid that we received nothing approaching a highlight until the 71st. The German broadcast cameras themselves got so bored that they focused more on Leonardo Bonucci's antics on the bench than anything transpiring on the pitch. A quick exhaustion of five subs and a radical tactical shift from his regular 3-5-2 to 4-2-4 press yielded nothing. Union suddenly started resembling Köln down the stretch. Endless crosses and diagonals into the box meant nothing with unproven finishers stretching in vain to meet them.
Ugh. Bad all around.
Something's very off here.
The "Burning Questions": Round Four
What's new with Dortmund?

A win, for starters. The column's contention that things weren't all that bad at the BVB has been affirmed, albeit only after veterans Mats Hummels and Marco Reus dug out a pair of late goals. Hummels himself then proceeded to dig out some of his trademark "backhanded compliments" when discussing the team's performance. Those aren't going anywhere. One of German football's great elder statesmen should have a prolific broadcasting career ahead of him after he retires from the game. Hummels and Lothar Matthäus may very well be made for one another.
Insofar as what can be taken from the performance, BVB trainer Edin Terzic's latest set of tactics functioned well enough. Two personnel changes from the previous round (Hummels and Julian Ryerson for Marius Wolf and Niklas Süle) initially appeared to be mere like-for-likes. Closer inspection of the shape on the overhead nevertheless revealed that the hitherto ironclad 4-1-4-1 functioned more like a 4-2-4. It made sense to allow the still scorching Julian Brandt to push as high and tight as possible with the rest of the attack.
Lineup—Dortmund—Match Four (4-2-4)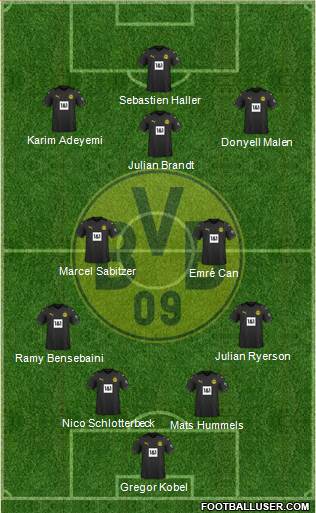 Brandt ran some excellent counter-charges in the opening ten minutes as the Westphalians exerted enormous pressure on hosting Freiburg. An early opener absolutely should have resulted. Karim Adeyemi unfortunately let his teammates down with both a poor cutback and a poor square. Sebastien Haller also couldn't get his legs sorted out on one opportunity. Hummels came to the rescue with an excellent finish off what was a well-designed Brandt corner in the 11th. One needs to note that the marking from SCF defender Philipp Lienhart happened to be especially poor.
Subjective takes on the BVB midfield 
Whilst keeping a lock on the tactical cam, the author noted that the German broadcast labelled Dortmund's formation a 4-1-4-1 with Marcel Sabitzer working alongside Brandt. Other German press sources either rolled with this assessment or reported that Sabitzer and Emré Can were working a split-stagger. Can's tendency to hang back toward the defensive line and make far fewer sprints forward meant that this take wasn't necessarily incorrect. The author still goes with the 4-2-4 based on the fact that Can and Sabitzer often moved in lockstep.
Hummels' criticism of the BVB midfield pressing – in the opinion of the column – was exactly fair. While there were some instances in which Sabitzer laid off the ground duels and shied away from forward dribbles, Can's game looked strong in virtually all aspects. The newly-appointed squad captain turned in his most convincing performance since being bestowed the armband. Admittedly, that's not saying all that much as the first three matches left him with nowhere to go but up. It remains worth noting that Can was undefeated in the air and instigated three solid attack charges.
How did Freiburg find their way back into the game then? It definitely wasn't a case of a quick turnaround. Rather, a serious of small victories gradually enabled the Breisguaer to turn the tide. Like a bucket slowly filled by modest raindrops, Christian Streich's Breisgauer won a battle here and there until the receptacle "raneth over". Interestingly enough, an injury to lead-striker Michael Gregoritsch ended up helping the hosts out immensely. We arrive at another subjective crossing point at which the columnist disagrees with the press.
Subjective takes on Freiburg's tactics
Streich's opening hand:
Lineup—Freiburg—Match Four (3-4-3)
When Michael Gregoritsch ultimately succumbed to an injury sustained earlier in the match, Freiburg's famous "Dapper Don" Vincenzo Grifo entered in relief. Again, the broadcast and Sunday papers both claim that a tactical shift took place. The author didn't see one. Lucas Höler simply moved up to take Gregoritsch's place while Grifo took over on the buttressing left. Given Grifo's reputation as an "assist-meister" – not to mention the fact that captain Christian Günter's absence leaves Freiburg lacking flair on the flanks – one wonders why Grifo wasn't starting to begin with.
Grifo collected two assists as Freiburg netted two goals before the opening 45 was out and took a 2-1 lead into the tunnel. Grifo almost immediately set up Lienhart on a free-kick cross in the 31st. A header from Grifo (probably offside) found the palms of BVB keeper Gregor Kobel in the 38th. Grifo's eventual two assists came in first-half injury time. The Italian from Pforzheim set up Nicolas Höler from open play at 45+2. He graced us all with his usual set-piece prowess on Nicolas Höfler's 2-1 off a free-kick at 45+6. For all his talk, Hummels might have done better defending in both cases.
How Dortmund turned it around
Flank rotations from the always-on-the-move Adeyemi proved much more effective in the second half. This led to Brandt coming within millimeters of the equalizer nine minutes after the restart. Terzic's next two changes (he had already replaced Ramy Bensebaini with Marius Wolf at the half) saw Felix Nmecha and Niclas Füllkrug relieve Adeyemi and Haller. One could immediately see a re-formatted shape crystallize on the overhead. No subjective disagreements in this case. Terzic definitely went with a 4-4-2.
Lineup—Dortmund—59th minute (4-4-2)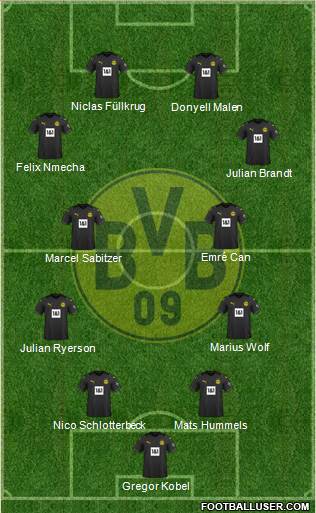 Füllkrug and Donyell Malen combined almost immediately to outwit the Freiburg defense at the hour-mark. Malen stuffed home the equalizer from the half-right after a nice one-two with Füllkrug. Both sides had their moments after the 2-2 and, in all honesty, the game could have broken either way. Kobel bailed his team out with a big save on Höler in the 70th. The sequence began with another dangerous free-kick service from Grifo. There were a couple of other cases in which Grifo could have either scored himself or completed a hat trick of assists.
Even after Freiburg were left shorthanded by Höfler's sending-off in the 83rd, it did appear as if the match seemed destined to end in a draw. Freiburg have only themselves to blame for continuing to foul illegally after being decimated. Hummels' second goal, admittedly a little fluky, came off a free-kick in the 88th. Buoyed by the 3-2, subbed on former captain Marco Reus nearly set up fellow sub Wolf twice in second-half injury-time. The eventual 4-2 came with Wolf setting up Reus. A big result for the BVB here.
The state of two European representatives
Dortmund certainly have their work cut out for them in the coming weeks. One doesn't maintain a great deal of hope for a stellar result during Tuesday's trip to Paris. Upcoming league fixtures against Wolfsburg, Hoffenheim, and Union Berlin don't translate to automatic three-pointers either. Another UCL match sandwiched in, this time to AC Milan, won't prove easy. Too many difficult games lie ahead for this "work-in-progress". Expect stumbles. Expect talk of a coaching change. If they're intelligent about it, the BVB brass will let it ride. Signs of progress are apparent. Terzic is working another turnaround.
As for the Breisgauer, their second straight successive league loss could not have come at a worse time. A very tough Europa League group keeps them busy through the end of next month amid league matches against Frankfurt, Bayern, and Leverkusen. Streich's post-match presser carried an especially dour tone. The SCF trainer called the result "brutal" and acknowledged that it looked to be a "very tough season" for his team. An exhausted-looking Streich actually left us long-time league watchers wondering if the 58-year-old might be tiring of his long-time gig. This writer never thought he would see the day.
Interesting. Has Streich reached a point at which he feels there's nothing more he can accomplish in Breisgau? Does one of our national heroes with a seat on the committee that elects our ceremonial President maybe interested in a new challenge? Might the man who loves our Bundesrepublik so dearly be interested in another national service job? As it so happens, the coveted "Bundestrainer" position is vacant. Unfortunately, the timing isn't right. Dammit, dammit, dammit. If only Hansi Flick had been dismissed at the proper time. Streich won't abandon his club now. He could have possibly been persuaded in the summer.
Sob.
"Bundestrainer Streich"?
How awesome that would have been.
How do Stuttgart look without Jeong?

Here we have a question only the ultra deep league-watchers pose to themselves. Stuttgart's surprisingly strong start to the season leaves many curious as to when the axe will fall. The Swabians are, after all, a team that contested the relegation league playoffs last year. It seems counterintuitive that they should thrive after losing key players such as Konstantinos Mavropanos, Borna Sosa, and talismanic captain Wataru Endo. And yet, they're doing precisely that. The Württembergers shine brighter than ever without their stars. Surely they need to crash back down to earth at some point.
Bundesliga diehards considered Woo-Yeong Jeong's call up to the South Korean U24s one potential stumbling block for Sebastian Hoeneß' side. The summer signing from Freiburg – with the exception of a form dip on the second match-day – has been the brightest creative spark in the VfB XI. He played an excellent match in the opening round against Bochum and pocketed an assist in the recent rout of his former club. It seemed obvious enough that Hoeneß would attempt to compensate for Jeong's absence by using personal protégées Enzo Millot and Angelo Stiller in supporting attack positions.
How did it go?
Lineup—Stuttgart—Match Four (4-1-4-1)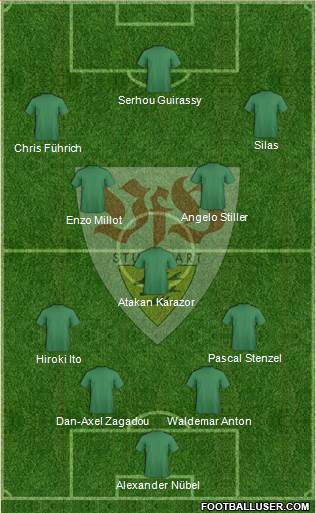 Pretty damn well after a desperate FSV Mainz 05 side forced an optically wretched first half out of them with a 3-4-3 "pivot plug". Mainz trainer Bo Svensson threw central defender Stefan Bell into the midfield mix on an advanced fulcrum in order to close as many gaps as possible. A truly sloppy and ugly affair at the MEWE Arena ensued. The first half finished goalless. Silas got the lone VfB chance in shortly before the break. It took Hoeneß' charges quite some time to break down the Rheinhessen formation.
Lineup—Mainz 05—Match Four (3-4-3)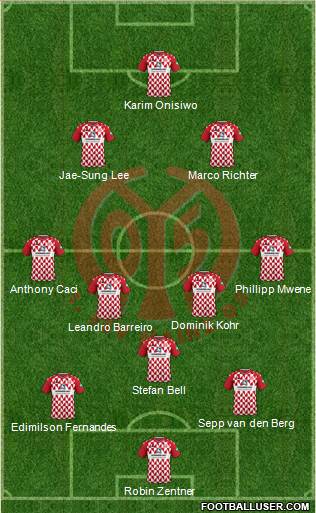 Yikes! Not a lot of room for risk here. One could justifiably label it a 7-2-1 formation. Eventually, Bell made a mistake. The advanced FSV defender was sure to misjudge a ball at some point. Serious Guirassy took advantage in the 56th to score the first of his three goals on the day. Mainz – on an offensive sequence pretty much as ugly as their overall play on the day – pulled a goal back in the 70th. Substitute Aymen Barkok reached Leandro Barreiro with a tight ball and an not-entirely-intentional effort on goal got directed in with some poor luck from Alexander Nübel. That discussion goes on whether we like it or not.
It would have been a genuine pity to see the match end 1-1 as Stuttgart had looked deserving of the win. Fortunately, thanks to the fact that Svensson went for an attacking switch with Tom Krauß on for Bell later on, the BaWü guests were able to find a way past the FSV line two more times. VfB substitute, and new summer signing Maximilian Mittelstädt, set up Guirassy's second in the 87th. Mittelstädt's fellow substitute, also a new summer signing, Deniz Undav, received an assist credit on Guirassy's third at 90+7. In truth, Guirassy should have gotten his own assist credit after lifting the ball up and heading home himself.
Can they keep the momentum up?
Against Darmstadt and Köln in the coming two rounds they most certainly can. It won't be too terribly long before the comparisons to the old "Wild Boys" team begin cropping up again. Bear in mind that such correlations were last brought up when Pellegrino Matarazzo's team overachieved during the initial half of the 2020/21 campaign. Man, do most of us who fell into that trap feel stupid. The team took a steep nosedive after the calendar year turned to 2021 and only just began furnishing exciting football just now.
In any event, the ride looks to continue for quite sometime. Guirassy's league-leading eight goals place him in an excellent position to carry on with confidence. Chris Führich has matured into quite the player since being refashioned into a winger. Hiroki Ito continues to blossom as a left-back. Pascal Stenzel still has some issues on the opposite fullback flank, but one really looks forward to what Josha Vagnoman and Silas might be capable of on that side once the former returns from injury. If they can keep picking up points they need to, Europe might be within reach.
"Weekly Wortschatz": Round Four
"Wiesnzeit"

It's been some time since this column specifically referenced the uniquely Bavarian way of referring to Oktoberfest. The locals often pull out their dialectal term for "meadow" ("Wiesn") when speaking about their plans to attend the festivities. Odd that images of a meadow usually conjecture up tranquil and relaxing images. Most of us Germans associate Oktoberfest with the irritation of navigating through throngs of drunks, ear-splitting oompah music, and a combination of pungent odors that never leaves the more intense levels of one's subconscious.
Bear in mind that Bavarians generally hold the same views of a Pfälzer Weinfest; something this author is obviously more partial to. Regional rivalries within the Bundesrepublik relate to more than football. We tend to talk smack about each other's respective forms of revelry as well. It was such that many of us sat down to watch the Friday night "curtain-raiser" hoping that Bayern, decked out in their autumn golden/light brown "Wiesnzeit" jerseys, would drop points against Leverkusen and remain in second place.
Our wishes were fulfilled.
Lineup—Bayern—Match Four (4-2-3-1)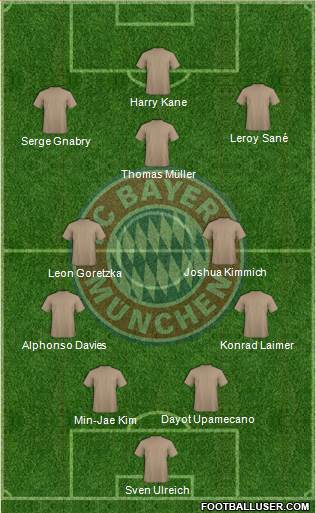 There exist many talking points from this vastly intriguing affair. The first and second placed teams (who also happened to be the first and second placed squads in terms of both shots and chance creation) furnished us with a delightfully entertaining fixture from start to finish. Both teams supplied regular goalmouth action. The world's best footballing beat returned in the best possible way. With an xG ratio topping 3:2, one must admit that Bayern were side more deserving of all three points. Criticisms of Daniel Schlager's refereeing had some merit to them.
A "Wiesnheit" tricot yields both "golden" and "brown" impressions. It's always interesting to behold how these FCB seasonal jerseys exercise the eyes. One invariably always seems to either sense the gentle waves of autumnal nostalgia or the painfully unpleasant pangs of noxious intoxication. Sometimes, as is also the case when attending an Oktoberfest celebration, one experiences them both at the same time. We'll cover all things positive and negative when assessing the current state of the record champions.
Bayern's bright spots
It's no exaggeration to declare Konrad Laimer's experimental deployment at right-back an unqualified success. The Austrian led the team in touches, passes played, and overall duels engaged in. He recorded two assisted shots and got in a couple of efforts himself. Note that Laimer moved into midfield after Tuchel pulled Joshua Kimmich and stationed Noussair Mazraoui at right back just after the hour mark. Here too Laimer thrived. This constitutes excellent news for a team many were concerned didn't have the right sort of positional balance.
One can essentially forget about the "failed transfer window" talk after this. There's more good news in that Leroy Sané and Serge Gnabry both turned in excellent performances. The wingers turned some very nice tricks and came close to scoring on several occasions. Tuchel kept the 4-2-3-1 in place throughout. Mathys Tel put in an excellent shift on the right wing after replacing Gnabry in the 70th, ultimately supplying the assist on Leon Goretzka's late 2-1. Goretzka's goal – his first league tally since November 2022 – counts as a much-needed boost for the out-of-form midfielder.
Center-backs Dayot Upamecano and Min-Jae Kim supplied their fair share of monster stops. Getting in front of Leverkusen's new beastly lead-striker Victor Boniface is not exactly an easy task. The pairing did an exceptional job shutting down the Nigerian, as well as super-slick B04 attackers Jonas Hofmann and Florian Wirtz on dangerous dribbles inside the box. Kim was unlucky not to have registered an assist after playing Gnabry in tight at 45+1. Upamecano, though clearly offside, had a wonderful finish disallowed at 90+7.
Bayern's brown hues
Harry Kane's 1-0 was undoubtedly fluky. Edmond Tapsoba inadvertently directed a corner directly to him in the 7th. Once the early lead was procured, much of Bayern's play did remind one of some specific fixtures from last spring. How many times did we watch the record champs take an early lead and fail to build on the advantage? Far too many times, under both Tuchel and Julian Nagelsmann. To be fair, the latest instance did feature some cleaner combo play from the likes of Sané, Kmmich, and Laimer. One still didn't witness the type of killer instinct necessary to put a game away.
Some legitimate gripes about the refereeing decision that allowed Leverkusen to equalize notwithstanding, Xabi Alonso's Werkself were waking up even before Alejandro Grimaldo scored the 1-1. Hofmann threatened shortly prior with some piercing runs. Wirtz wasn't far off following an excellent one-two with Boniface. Granit Xhaka – still superb in virtually every respect – was well on his way to turning the tide in the midfield duels. Goretzka really struggled against the Bayer press once Xhaka located his groove.
While the Bayern attack impressively avoided falling into its old "paint-the-corner" trap, only thirty percent of the crosses sent into the box came close to the target. The Bavarian hosts allowed the possession game to slip out of their grasp until the Westphalian guests brought it down to an even-keel. Though Tuchel's squad generated a clear advantage in terms of chances, Xabi's team did a better job keeping the attack charges versatile and variable late on. Despite the soft nature of the late penalty, another equalizer felt deserved.
There might have been a re-format at work
Lineup—Leverkusen—63rd minute (3-4-3)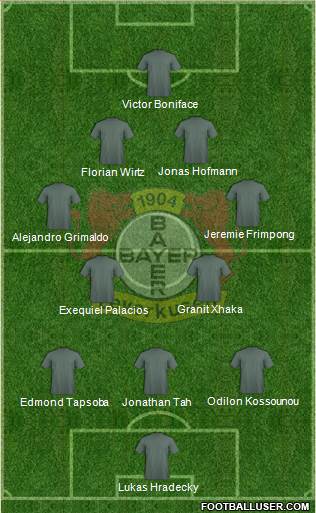 We've certainly learned that Xabi's basic 3-4-3 can manifest itself in all manner of ways in different contextual set-ups. It sometimes looks like a 3-1-4-2 or a 5-2-3. The author confesses he isn't entirely sure if the Werkself trainer ordered it, but it did look as if Wirtz and Hofmann scooted in very close together on the second axis. The pairing rotated constantly in the final 20 minutes. This can prove especially deadly with Grimaldo and Frimpong ready to pounce from advanced positions. It's a treat to watch them do so almost as soon as Hofmann selects a lane. Top-notch functionality when Bayer are committed.
As if anyone needs a reminder at this point, Granit Xhaka simply tears this league up with his current form. Another beastly match from the blockbuster summer signing. The columnist must rather uncomfortably concede that the former Arsenal man may simply be too good for this league. Die Werkself continue to have issues at the back, with Tapsoba and Odilon Kossounou directly responsible for two FCB goals. That matters not so long as "Sherriff Xhaka" remains in town. The Swiss superstar is quick enough on the draw to gun down just about every opponent.
A merry Oktoberfest?
There shall surely be some frivolity in München no matter how the city's German giants perform over the next few weeks. One mustn't forget that the "Wiesnzeit" only returned just last year after a two-year COVID-enforced hiatus. Strange to think that we somehow all lived through those times. Bayern celebrating their eighth and ninth titles in empty stadiums. Bavarian Fraulein's wearing cloth masks upon delivering beer pitchers to Bayern on the day they clinched their tenth consecutive championship. Did we really live through all of this or was it a dream?
That existential question notwithstanding, it does legitimately appear as if Tuchel's record champs are off and running now. All of the FCB trainer's moves worked this time. At long last once can make that statement. Now it appears as if the corner has finally been turned. Prospects against Manchester United midweek appear bright. Prospects against Bochum next weekend appear obvious. After a delayed opening round Pokal fixture against Preußen Münster, however, a real test arrives. Bayern face RB Leipzig at the end of the month in a rematch of the Supercup debacle.
Bayern-Leipzig on September 30th.
Save the date.
"Szene"

A word that – at least insofar as Germany's capital city is concerned – carries with it colorful and interesting connotations found usage in the most boring context possible on Saturday night. The German word "Szene" (many will easily and correctly guess) simply translates to "scene". In Berlin, the "scene" is a seemingly endless array of captivating activities. In Bochum, there really is no "scene" to speak of. Herbert Grönemeyer admits as much in his famous paean to his hometown. It a'int a pretty town. The football played therein often isn't either.
One felt sorry for the Sky Germany team after Bochum's 1-1 draw with Eintracht Frankfurt wrapped up on Saturday night. There wasn't all that much to talk about apart from – just as was the case in the Bayern match – a controversial late penalty call allowed one team to net an equalizer. Yawn. Every last post-match interview revolved around Omar Marmoush's tug on Ivan Ordets in the box. Every player interviewed was asked to "survey the scene". Those of us reporters hunting for some quotes were forced to watch the replay a dozen times.
A boring night in Bochum to say the least. Let's have another look at that "scene" shall we? No. Please, no. For the love of all that's holy, NO! Let's not look at that "scene" one more bleeding time! Pure torture for the beat reporters who sacrificed their Saturday night in the service of German football. Even SGE keeper Kevin Trapp couldn't come up with anything more interesting to say. Trapp unabashedly rehashed Thomas Müller's words from his Friday night interview. Nothing to see and nothing to say. The columnist stood prepared to throw something heavy at the TV set if the replay appeared one more time.
Were there things of interest?
Continually solid Bochum
We've already covered how well Thomas Letsch's VfL solidified in the last two columns. The 1848ers are still lining up in the exact same 3-5-2 with the exact same personnel; the one that happened to impress so well in round two against regional rivals Dortmund. Kevin Stöger and Takuma Asano remain in fine form, both testing Trapp with fine efforts in this one. Stöger's exceptional match merited that he get a chance to convert from the spot. Christopher Antwi-Adjei and new Bundesliga returnee Gonçalo Paciencia came off the bench to create chances and pump up Bochum's xG over the 2.0 mark.
The Revierklub possesses a strong team. Defender Erhan Masovic again supplied some eye-catching moves moving into midfield on VfL charges. Wingbacks Felix Passlack and Maximilian Wittek earn plaudits for more hard work. These two former third-stringers clearly aim to make the most of the chance Letsch has gifted them. Mateus Bero (starter) and Lukas Daschner (sub) also got good looks in. The columnist fully expects to be trotting out the "Bochum Badassery" tagline many more times this season.
Three straight draws obviously aren't all that helpful. It's certainly impressive that Letsch's crew have taken points off Dortmund, Augsburg, and Frankfurt. At a certain point, however, they'll need to begin bagging three-point hauls. The road ahead – Bayern, Gladbach, Leipzig, and Freiburg – doesn't bode particularly well. As an optimistic tip, the columnist will nevertheless predict that they can realistically take two points from those four matches. The Bochum "scene", as Grönemeyer sings, won't be a "Schönheit" ("beauty").
It's still capable.
Frankfurt tactical updates
Why not? Readers should consider themselves warned that Dino Toppmöller's SGE remain blocky and choppy. We're not exactly that far off from where we were just prior to the international break. Two personnel changes saw Niels Nkounkou and Jessic Ngankam replace Philipp Max and Marmoush. The RheinMain Adler ditched the previous 3-6-1 in favor of a 5-3-2 with Ellyes Skhiri and Hugo Larsson operating as very deep sixes. Dina Ebimbe moved central while Mario Götze tried to act as a service striker.
Lineup—Frankfurt—Match Four (5-3-2)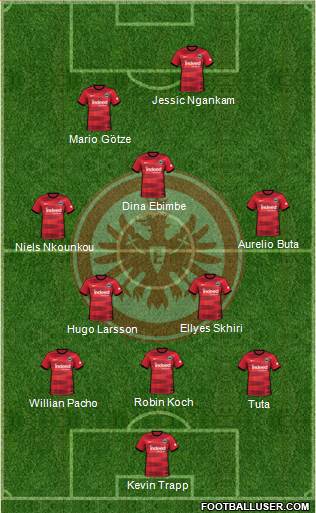 Nope. Another scratch for Toppmöller and stuff. Bochum easily read this and easily took care of their guests on a tight man-marking basis. The SGE trainer went for a double switch at the half, introducing Marmoush for Ngankam and purported Jesper Lindstrøm replacement Fares Chaibi for Nkounkou. Götze and Ebimbe snapped together on the second axis. Skhiri moved up ahead of Larsson just like last time. The young Swede seemed to tend to the back-three as a straight sweeper.
Lineup—Frankfurt—46th minute (4-5-1)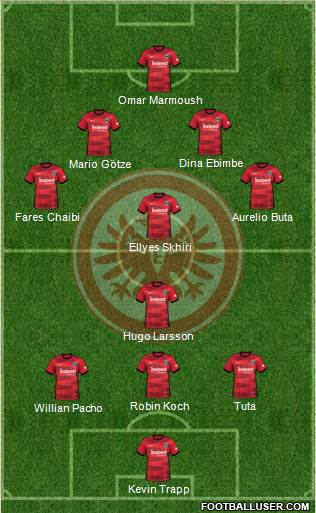 This produced a goal from Ebimbe in the 55th. It truly didn't produce much else. Bochum out-ran this and hit the gaps easily. The Westphalian hosts produced all the chances down the stretch. Daschner forced the best save out of Trapp in the 76th. Toppmöller's project remains woefully far from being finished in any sense. SGE enthusiasts might as well consign themselves to a "rebuilding" year. Highly unlikely that there will be more interesting scenes to discuss. Blocks and chops just can't get the job done.
"dezimieren"

We'll reach back for another classic when discussing the thrilling 3-3 draw between Gladbach and Darmstadt that capped the round. It's about time that this footballing nerd unleashes the fury of his linguistic wonkishness when it comes to this particular topic. What does it mean when something is "dezimiert" ("decimated")? The author comes down firmly on the side of language guru William Safire. The prolific writer waged a holy war on the use of this verb for over two decades….and this writer holds that he fought the "good fight".
Derived from the Latin word "decimatus", the verb "to decimate" refers to a very specific threat Roman generals levied against uncooperative and mutinous legions. One in ten soldiers were indiscriminately killed in such cases. Thus, adopted to German and, later, early middle English, the verb initially meant "to reduce by one-tenth."Germans still use the verb in this sense. A football match features ten outfield players. If one of them is expelled from the match, the legions are reduced by one-tenth.
Hence, they are "dezimiert" (decimated). The verb evolved way beyond this meaning in American English, however. If I note that "Darmstadt has been decimated," the implication is that they've been totally slaughtered; maybe even annihilated by their opponents. Somewhere along the line, the similarity of the verbs "to decimate" and "to destroy" led someone to conclude that they were synonyms. Language is naturally permitted to evolve, but this columnist has grown to hate how English footballing commentators fail to use this word in its proper context.
No worries about further grousing as we are actually now arriving at the match. Gladbach snatched a sure victory out of Darmstadt's hands by virtue of the fact that the Hessian hosts were "decimated". Gerardo Seoane's BMG – stupidly lined up in a 4-2-3-1 spearheaded by Jordan rather than Tomas Cvancara – played an atrocious first half. The newly promoted Bundesliga side could have easily concluded the first half up 5-0 or 6-0. Matej Maglica's red card in the 49th changed everything. A shame that Marcel Schuhen's penalty save didn't stem the Fohlenelf comeback.
Seoane deserves some credit for fashioning a better set of tactics via a quadruple change at the half. It still remains doubtful that the new 4-3-3 would have succeeded without had Darmstadt not been shorthanded. What we witnessed was something rather crude that overly relied upon some very tight pairings. Seoane's stated desire to find a way to deploy new acquisitions Jordan and Cvancara together needs some more fine-tuning. It counts as unlikely that this can succeed against a stronger opponent.
Lineup—Gladbach—46th minute (4-3-3)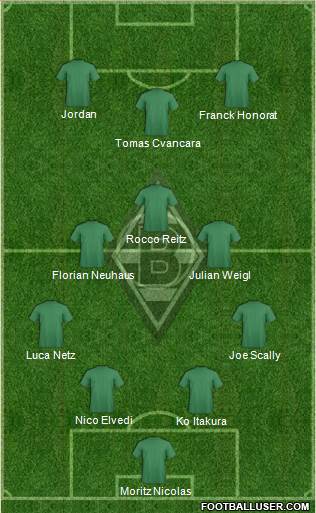 Even against decimated Darmstadt, this constellation struggled with upfield link-up play. SVD players Fabian Holland, Fabian Nürnberger, and Tim Skarke also found a way past it on counters. Rocco Reitz did well to toast both Marvin Mehlem and Christoph Klarer on the 1-3. Jordan had an easy finish, yet failed on subsequent opportunities. Robin Hack and Florian Neuhaus also squandered chances before the excellent team goal on the eventual 2-3 in the 73rd. Cvancara was a bit lucky to get a second bite of the cherry on the equalizer four minutes later.
What did we ultimately learn here? Not much beyond some stubborn linguistic perfectionism and the undeniable truth that the Bundesliga always delivers. Seoane – who still has a talented roster capable of challenging for Europe – would do well to come up with better laid plans for it if he doesn't wish to become the fourth consecutive BMG trainer to disappoint this long-suffering fan-base. The manner in which the foals currently don't play up to their potential irritates in the same manner as improper usage of the verb "to decimate". Too much needless tinkering here.
Future tactics remain worth keeping an eye on.
Thanks so much for reading! You can catch the release of all Peter's columns (and occasionally catch him goofing off) on whatever the hell they're calling twitter these days @PeterVicey.
Twitter DMs are open for football conversations, corrections, and (if you truly insist) general abuse. 
Full color re-posts of the columns are eventually archived on Peter's website.
Related stories
Rummenigge and Mintzlaff resign from DFB task force, Kuntz potentially available for Germany job
Game of two halves sees Darmstadt and Gladbach share spoils
About Author