Some of FC Schalke 04's vital cogs, after being serenaded by their utlras as the "#1 team in the Ruhrpott", have offered up their post-match comments after the electrifying 2-2 draw with Dortmund.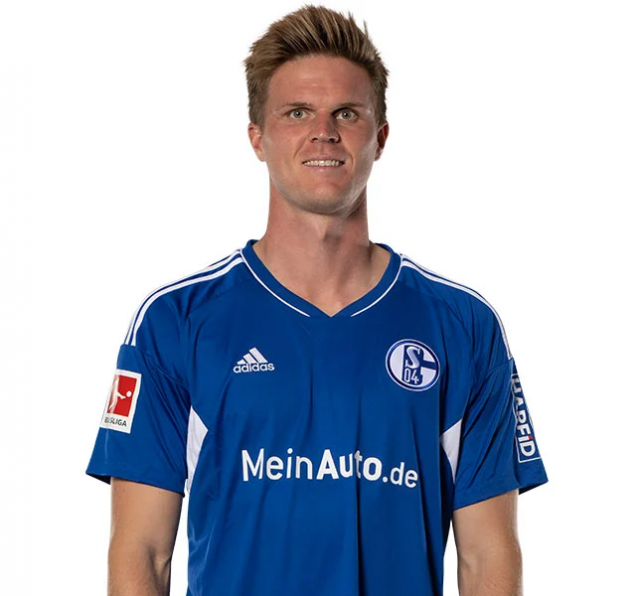 | | |
| --- | --- |
| Marius Bülter | FC Schalke 04 |
Saturday evening most certainly proved a career-highlight for two Bundesliga journeymen currently plying their trade with FC Schalke 04. Goalscorers Marius Bülter (29-years-of-age and at his fourth German club) and Kenan Karaman (29-years-of-age and at his seventh club) ensured that the Gelsenkirchen hosts twice came back from deficits to draw Borussia Dortmund 2-2.

When one speaks of travelled veterans making a huge difference for a less high-profile German top-tier side, one is usually referring to 1. FC Union Berlin. In Bülter – by far Schalke's most consistent player this season and the squad's leading goal-scorer – one is actually talking about a former Union Berlin player.
Die Eisernen found themselves having less use for the Regionalliga and 2. Bundesliga veteran after a tepid sophomore season in the top flight. The Köpenickers offloaded him to relegated Schalke in the summer of 2021 for less than half what they had previously paid 1. FC Magdeburg for the attacker.
Bülter scored ten goals and registered 13 for die Königsblauen in last season's promotion campaign. He's added six goals and two assists during the current season. None were perhaps as important as the goal and assist he registered tonight. Schalke's "man-of-the-match" even shook off a nasty knock after his 50th minute equalizer, when he tripped over the pole arm of the roving back-goal cam in his celebration.
"Of course I was surprised that the thing was there," Bülter said of the curious scene, "I managed to adjust myself in time. I know, it looks weird."
Bülter obviously had more important matters than the trip to comment on. Bülter was asked if he had still had relegation on the mind. The Ibbenbüren- native replied that he did not. Asked why, he cited the culture surrounding the team. Of course, there's also the fans.

"We have a great team spirit in the locker room," Bülter noted, "The mood was also ferocious and that pushed us. But the performances of the last few weeks have given us the confidence that we can always come back."
The man Bülter assisted on the 2-2 also replied confidently when asked if Schalke could stay up. Kenan Karaman – a German footballing figure Bundesliga fans recall from his many years spent playing for Hannover 96 and Fortuna Düsseldorf – knows full well what it's like to be in a relegation race.
The Stuttgart-native has both just escaped the drop and succumbed to it with both his previous sides. After a two-year-stint in Turkey, which he represents internationally, Karaman (a big fan favorite) returned to play for Schalke during the summer window. He's mostly been used off the bench in 13 appearances.
Today he picked a perfect time to register his first S04 tally.
"I wanted to make a difference with my substitution. Now I have my first goal for Schalke, in the Derby no less," Karaman told his post-match Sky interviews, "That's how you can shoot yourself into the hearts of Schalke. For me personally, it's a nice moment that I'll take with me for the next few weeks."
"It's an amazing feeling for us," Karaman continued, "We had the fans behind us. They whipped us forward and then we were fortunately able to make it 2-2."
Karaman and others were quite active posting their thanks to the fans on social media platforms afterwards. The club itself went with some on-pitch comments celebrating some of the game's other top performers, including fullback Henning Matriciani and Tom Krauß.
Matriciani had a massive game that included several goal-saving tackles. Krauß and midfield partner Alex Kral – a potential laden duo if there ever was one – played easily their most coordinated match of the entire season.
Henning, nicht so bescheiden! #S04 pic.twitter.com/HO2xjILBmm

— FC Schalke 04 (@s04) March 11, 2023
Massive team effort today 👊🏼 two times we bounce back, never gave up and fought until the end!! @s04 💙🤍 pic.twitter.com/vJcCWh3jiy

— Alex Král (@alexkralcz) March 11, 2023
More about the match
Kehl comments on Reyna's absence from Dortmund XI: "He needs to work hard for it."
Schalke hold Dortmund to draw in 100th Revierderby
Sport1 Report: Reus and Kobel definite scratches for Dortmund
Schalke 04 vs. Borussia Dortmund preview: 100th Revierderby in the Bundesliga
Terzic reacts to Haller's insistence on a start: "We still need goals."
Dortmund to make late decisions on Reus and Kobel
Journalists Dersch and Lieto recount the two most famous recent editions of the "Revierderby"
Schalke trio issue warning to Dortmund: "It won't be easy for them."
Brandt ruled out until the international break, Reus a doubt for Schalke clash
More about the teams
Schalke updates: Drexler out until April, Balanta and Kozuki scheduled for MRIs
Reports: Schalke interested in bringing back Churlinov, Glabach to pocket €15 million for Beyer?
The six candidates to be named Bundesliga Player of the Month for February
Predicted Bundesliga lineups: Matchday 24
Americans in the Bundesliga: Scally again attains perfect marks in week 23