England W – Germany W
Europe: Euro Women
Wembley Stadium
It was confirmed yesterday that attacker Klara Bühl had not tested negative in time to rejoin the German women's national team squad in time for today's European Championship final against England.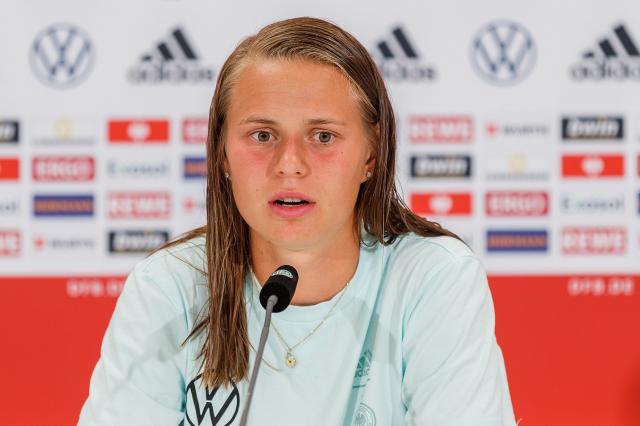 | | |
| --- | --- |
| DFB attacker Klara Bühl | Steffen Prößdorf CC-BY-SA 4.0 |
The German women's national team will once again have to do without one of their peak performers in today's European Championship Final against England. On Saturday, it was revealed that Klara Bühl will remain unavailable after the 21-year-old did not return a negative COVID test in time to allow her to be able to rejoin the squad from her enforced isolation.
Speaking at a press conference yesterday, DFB trainer Martina Voss-Tecklenburg emphasized the importance of following UEFA protocols in the matter, while also reporting that the FC Bayern München forward remained asymptomatic. Voss-Tecklenburg expressed the hope that, should Bühl test negative on Sunday, she could come to the stadium to cheer on the team from the stands.
Bühl was replaced by 19-year-old Jule Brand in the 2-0 semi-final victory over France on Wednesday. The new Wolfsburg signing was widely regarded to have done a serviceable job. Voss-Tecklenburg did not specifically commit to starting Brand again, though the scenario does seem likely. There remain others, including the cleared-from-COVID Lea Schüller, who could start alongside Alexandra Popp and Svenja Huth.
Posted before the match begins
England W

Euro Women
England W – Sweden W 4-0
1

M. Earps

3

R. Daly

↪87

7

B. Mead

⚽

↪86

9

E. White

↪57

10

G. Stanway

↪87

11

L. Hemp

14

F. Kirby

⚽

↪79

2

L. Bronze

⚽

6

M. Bright

4

K. Walsh

8

L. Williamson
Bench
13

H. Hampton

21

E. Roebuck

17

N. Parris

18

C. Kelly

↩86

19

B. England

20

E. Toone

↩79

5

A. Greenwood

↩87

12

J. Carter

15

D. Stokes

22

C. Wubben-Moy

16

J. Scott

↩87

23

A. Russo

↩57

⚽
Germany W

Euro Women
Germany W – France W 2-1
1

M. Frohms

⚽

9

S. Huth

↪90

11

A. Popp

⚽

⚽

22

J. Brand

3

K. Hendrich

5

M. Hegering

↪81

17

F. Rauch

6

L. Oberdorf

13

S. Däbritz

↪69

15

G. Gwinn

20

L. Magull

↪68
Bench
12

A. Schult

21

A. Berger

7

L. Schüller

10

L. Freigang

14

N. Anyomi

16

L. Dallmann

↩68

2

S. Kleinherne

23

S. Doorsoun-Khajeh

↩81

4

L. Lattwein

8

S. Lohmann

↩69

18

T. Waßmuth

↩90