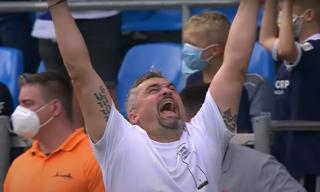 Germany: Bundesliga
⚽ M. Bülter (50), ⚽ K. Karaman (79)
⚽ N. Schlotterbeck (38), ⚽ R. Guerreiro (60)
After leading twice, Borussia Dortmund were forced to settle for a 2-2 draw with local rivals Schalke 04.

Borussia Dortmund missed out on the chance to go level on points with Bayern Munich at the top of the Bundesliga as they were held to a 2-2 draw by Schalke 04 in the 100th edition of the Revierderby.

Despite missing several key players, with Gregor Kobel, Julian Brandt and captain Marco Reus all sidelined, things started well for Dortmund as Nico Schlotterbeck opened the scoring with a thunderbolt from the edge of the box.
The guests took the lead into the second half, but not for long as Marius Bülter levelled the score after 50 minutes. Rodrigo Zalazar slipped the ball perfectly across the face of goal to Bülter, who slotted home at the back post.
After setting up Dortmund's opener, Raphael Guerreiro got on the scoresheet himself just before the hour mark when he was picked out by Emre Can and slotted the ball into the roof of the net.
Schalke refused to give up, however, and equalized in the 79th minute when second-half substitute Kenan Karaman headed in Bülter's cross to send Veltins-Arena into raptures.
The result leaves Dortmund in second place, two points behind Bayern Munich. Schalke, meanwhile, climb to 17th ahead of Hoffenheim, who face Freiburg tomorrow.
More about the match
Sport1 Report: Reus and Kobel definite scratches for Dortmund
Schalke 04 vs. Borussia Dortmund preview: 100th Revierderby in the Bundesliga
Terzic reacts to Haller's insistence on a start: "We still need goals."
Dortmund to make late decisions on Reus and Kobel
Journalists Dersch and Lieto recount the two most famous recent editions of the "Revierderby"
Schalke trio issue warning to Dortmund: "It won't be easy for them."
Brandt ruled out until the international break, Reus a doubt for Schalke clash
More about the teams
Schalke updates: Drexler out until April, Balanta and Kozuki scheduled for MRIs
Reports: Schalke interested in bringing back Churlinov, Glabach to pocket €15 million for Beyer?
The six candidates to be named Bundesliga Player of the Month for February
Predicted Bundesliga lineups: Matchday 24
Americans in the Bundesliga: Scally again attains perfect marks in week 23