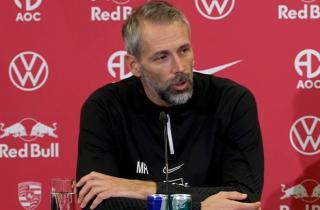 RB Leipzig head-coach Marco Rose spoke on the expected protests from the Gladbach visiting fan block during his Friday presser. 
The Saxon gaffer also explained why he might be carrying a light matchday squad against the foals tomorrow. 

Asked about the issue during a Friday press conference, Rose took the opportunity to lecture the media on their decision to give the story prominence. Rose acknowledged that he knew what was coming to town and called for some restraint in reporting on it.
"If you stop giving the subject a lot of importance in the media, maybe it will normalize at some point," Rose said.
Clearly somewhat ruffled over the broaching of the topic, Rose then reacted somewhat combatively when questioned about whether a breakout of illness in the RB camp would lead to him calling up some members of the Leipzig U19s for the bench squad.
"I'm not adding anyone because you have to earn it," Rose said with a noticeably caustic tone, "I don't see any U-19 player right now that we're calling up to the bench."
One such player from the pipeline – American youngster Caden Clark – has made Rose's last three matchday squads. With Rose carrying a light bench this weekend, the 19-year-old might be in line for his Bundesliga debut.