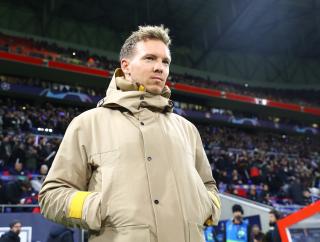 FC Bayern München head-coach Julian Nagelsmann declared himself mostly satisfied with his team's latest league win; one that after Dortmund's draw later in the evening enabled the German giants to take sole control of top spot. 
The FCB trainer nevertheless wished to emphasize that he felt three goals against was too much and expressed concern about the packed schedule the club must contest next month. 

Nagelsmann praised brace-scorer Benjamin Pavard. Young German phenom Jamal Musiala, in his post-match interview, noted that the team and coaching staff were discussing whether it was possible for the Frenchman to score a hat-trick.
"He played a very good game," Nagelsmann said of the Portuguese star, "In the second half he might have handled one or two situations differently and, as a result, made the game less strenuous. But overall: great goal, very good assist, good game played."
An Augsburg tally at the death, Naglesmann acknowledged, wasn't a huge point of concern.

"Three goals conceded is too many," Nagelsmann continued in conversation with his Sky interviewer, "We don't need to be letting that much in. We ended up shifting down a few gears, which wasn't a big deal. The third goal was also a bit unlucky."
"We've done our job, but we can't rest," Nagelsmann concluded, "Then there's the draw for the Champions' League and also the cup. We'll have eight or nine matches in April. It's going to be a very exciting month."