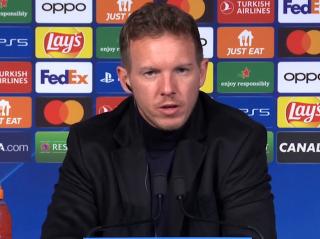 Speaking at his Friday press conference, Bundestrainer Julian Nagelsmann gave specifics on the XI he will be deploying against Turkey tomorrow in a test fixture.
Nagelsmann's former Bayern professional Leroy Sané joined the Bundestrainer at the presser and spoke on his present negotiations to extend his contract with the FCB. 

Nagelsmann waved off any speculation that Kimmich would have to deputize as a right back. The FCB professional – known not to particularly like playing the position he began his career in – will work as a six in midfield. Leipzig's Benjamin Henrichs – not called up by Nagelsmann during the October international break – will handle the right-back role.
It looks to be the case that Kimmich will play alongside squad captain Ilkay Gündogan in midfield, though Gündogan could also be deployed higher up in his highly anticipated first meeting against the country of his heritage. Nagelsmann did reserve some praise for Brighton & Hove Albion defender Pascal Groß, who filled in well for Kimmich in the October fixtures.
In any event, Nagelsmann was sure to guarantee a start for the Barça professional barring something unforeseen. The Bundestrainer also, unsurprisingly enough, let it be known that surging Leroy Sané would play from the start. Sané flanked Nagelsmann at the presser and spoke on his relationship with his former club coach and his contract extension talks with Bayern.
"I'm really looking forward to the game because it will be a great atmosphere [at the Olympiastadion in Berlin]," Sané said, "We [Nagelsmann and I] had a good relationship at the club level. He knows what I need and gives me plenty of freedom."
"Of course, the club wants to hold talks," Sané said of the current contract situation, "And there's no question that I'll be talking to Bayern ahead of anyone else. But at the moment I just want to concentrate on the season."
About Author