Ahead of the return of Bundesliga football, and the return of the Bulinews "Tactics Talk" column back to its original publication time slot, we'll be publishing four pieces chronicling the tactical trends in German football over the past four rounds in the coming days.
In the third piece, we'll catch up with the penultimate round of Bundesliga action before the current international break. The Bayern-Dortmund result receives all due attention in the "mini-focus" section.
The two largest German clubs earn draw ups in the latest installment, as do Leverkusen, Bochum, Heidenheim, Union Berlin, Gladbach, Freiburg, Wolfsburg, and Bremen. The 2023/24 season's 10th match-day supplied plenty of talking points.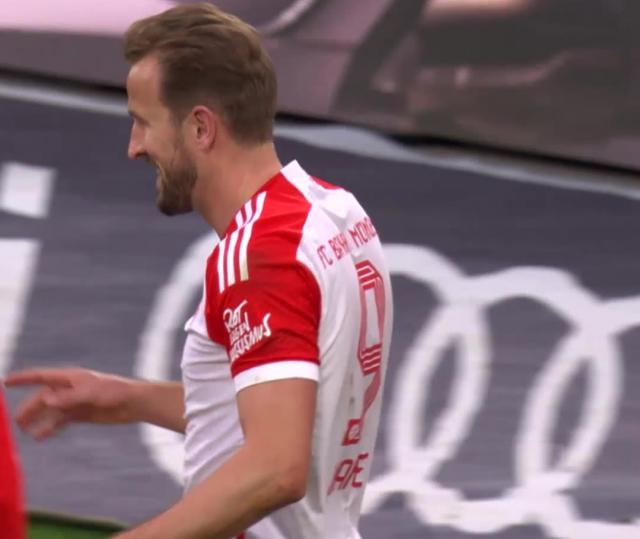 Bundesliga Tactical Banter: Round 10
Siewert restores Svensson

It came as virtually no surprise at all to witness FSV Mainz 05 interim trainer Jan Siewert and the rest of the Rheinhessen crew dedicate their upset victory over RB Leipzig to recently departed trainer Bo Svensson. Emotions sitting within the soul of this Bundesliga diehard were, similar, easy to forecast. The question came up immediately. If something like this was possible just days after Svensson's departure, why on earth could it not have been accomplished with the highly-respected Danish head-coach in place? All Siewert had to do was ditch Svensson's recent experiments and get back to basics.

Siewert returned the Nullfünfter to a 3-4-3 spearheaded by Karim Onisiwo. Buttressing attackers Marco Richter and Jae-Sung Lee – very much in the style of Svensson – sometimes hung back to make this function as a 3-4-2-1 off the ball. Falling back into their usual constellation, the hosting Pfälzer kept the spaces tight against visiting Leipzig. Marco Rose's German Red Bulls didn't threaten at all from open-play in the first-half. FSV keeper Robin Zentner only had to intervene once to stop a Xavi Simons effort following a Dominik Kohr passing error.
Mainz survived an early injury to central defensive pillar Joshua Guilavogui by sliding Edimilson Fernandes into the back-three's pivot runner slot. Fernandes finally got the hang of playing out of position, delivering a noteworthy performance along with line-mates Maxim Leitsch and Sepp van den Berg. Again, where the hell was this when Svensson needed it? For that matter, where were Onisiwo's gorgeous crosses on both the 1-0 and 2-0 when Bo still stood a chance of being saved? This was an overall near-perfect match. Disciplined defending. Goals from both dead-balls and open-play.
Sigh. It all came just two days to late. The columnist will emphasize that Leipzig – visibly suffering from the post-Pokal-exit blues – didn't look themselves at all. Rose restored his 3-4-3 alternate constellation in hopes of replicating last week's league success. This also made sense from the perspective of mirroring the Mainzer tactics. Unfortunately, the Saxons totally lacked pacer, precision, and ideas. Xavi Simons played well while everyone else struggled. Draining stretches of ball possession eventually left Rose's side vulnerable on the counter. Onisiwo capitalized.
A great weekend for traditionalists!
Köln cool off Augsburg

Something of a hidden gem took place in Germany's cathedral city. Augsburg's visit to the RheinEnergieArena ended in a 1-1 draw, but there were chances galore for both teams with xG rates well above 2.0 on each side. Steffen Baumgart's Geißböcke were buoyed by the return of home-town hero Mark Uth and Baumgart's decision to deploy club returnee Dominique Heintz at left-back. Linton Maina finally opened his 2023/24 account with the 1-0 in the 16th. Maina, Uth, and Luca Waldschmidt all had great chances to score more, stymied only by a (for once) good performance from FCA keeper Finn Dahmen.
Baumgart's Effzeh began to resemble a functional top-flight footballing side for stretches. One should nevertheless also emphasize that the Kölner XI featured plenty of flops. Giving Steffen Tigges Davie Selke's starting lead-striker role (to the surprise of no one) yielded nothing. Defenders Rasmus Carstensen, Timo Hübers, Jeff Chabot, and (more often than one might have liked) had their fair share of nightmares. Augsburg hit the goal-frame thrice and the Kölner defensive ranks made FCA fullback Robert Gumny look far better than we all know he is.

The short-lived winning streak of new Fuggerstädter trainer Jess Thorup came to an end. Augsburg's new Danish trainer deployed the exact same 4-2-3-1 for the third consecutive match, merely slotting in Maximilian Bauer for suspended center-half Felix Uduokhai. Philipp Tietz, despite scoring, missed a sitter. Fredrik Jensen and Ermerdin Demirovic recovered from their recent dip to display form more akin to Thorup's first match in charge. The columnist remains unconvinced about the Sven Michel ten experiment. It's not disastrous yet. Something suggests it might be soon as Augsburg will cool off further.
The "Burning Questions": Round 10
Why is BVB-FCB back on script?

Ach. Really. Again? This cannot be so! Bayern's all-too-easy dismantling of Dortmund leaves the German press fully prepared to knock Dortmund out of the pool of title contenders. This may very well be the earliest time Dortmund have been chalked off. What a difference a week can make! Edin Terzic's BVB entered this weekend's battle of the Bundesliga's top two richest clubs undefeated on the season and riding a most impressive home winning streak. Thomas Tuchel's FCB looked at their most vulnerable following the humiliating elimination in the Pokal. Practically no one tipped this outcome.
What the hell happened?
A glib and generalized answer is available. Tuchel's Bavarians strode into Signal Iduna Park and took a 2-0 lead before ten minutes had been played. Niclas Füllkrug and Mats Hummels both failed to get a defensive touch on a sharp Leroy Sané corner in the 4th. Nico Schlotterbeck, meanwhile, totally blew his mark on goal-scorer Dayot Upamecano. Marius Wolf and Mats Hummels both lost out to Leroy Sané five minutes later. A nice forward dribble from Leon Goertzka also played a role in Harry Kane's 2-0 in the 9th.
Game pretty much over. Were we still doing a "focus section" like in years past, this fixture would absolutely qualify for a "lid". Not unlike in the Pokal midweek, only Marco Reus managed to get a few things going offensively for the completely rattled Schwarzgelben. Julian Brandt, Julian Ryerson, and Donyell Malen remained far too punch-drunk to even get their efforts on target. A thoroughly dominant Bayern side never truly relinquished control of the match. A 3:1 xG ratio flattered the hosts a bit after some late chances.
How much can we explain via tactics in this case? Are the respective shapes salient at all in what was a good old-fashioned railroading. Two of the Bundesbahn's train variations collided here. The Bayern ICE knocked the Dortmund RegionalBahn off the tracks with full force. It may seem as if the match isn't fit at all for this column's central theme. That's at least what the columnist thought on his initial viewing. Surprisingly enough, a lot more proved interesting here than initially anticipated. Tuchel and Terzic influenced this one heavily.
We'll begin with Tuchel.
Lineup—Bayern—Match 10 (4-1-4-1)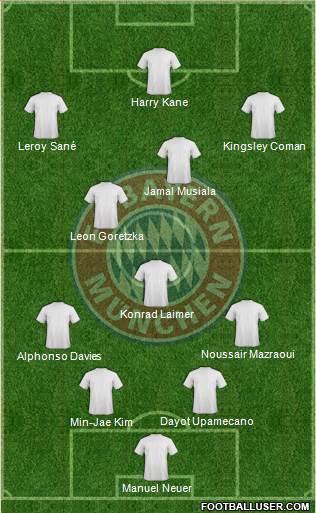 Ahem. Say hello to Tuchel's highly publicized desire for "holding six". Konrad Laimer received his chance to run the show this time, proving all of us who dared to mock the coach's preferred idea of running the midfield totally wrong. A bang-up job from the Austrian. Goretzka and Jamal Musiala also made the most of their step-stone positions. Tuchel let us all have it in his post-match comments for good reason. Even without his best midfield actor (the suspended Joshua Kimmich), Tuchel's favored footballing thesis reigned supreme.
Clicks all over the pitch
Laimer, Goretzka, and Musiala weren't the only set of colleagues running silky smooth partnerships in this rout. Center backs Upamecano and Min-Jae Kim ran the approach play out of the back to near perfection. Musiala and Coman supplied some genuinely lovely combos. The work of those to on the right nevertheless pales in comparison to the functionality of Sané and Kane on the right. Goodness have those two ever got into gear! Is it too early to ascribe them the "Kané" moniker? This could be the best Bayern partnership since "Robbery".
No chance match-ups
When discussing the BVB fullback situation, we arrive at something that appears obvious enough in hindsight. The writer even feels somewhat ashamed that he hasn't broached the topic sooner. Terzic earned his fair share of praise in this space for tailoring his personnel choices for the wide-slots of the back-four every week. The problem with such plaudits relates to the fact that – in the final analysis – all that's really being commemorated is a "tiny" victory. The Dortmund fullbacks can't really hope to stand tall against real giants.
A graphic helps demonstrate the issue.
Lineup—Dortmund—Match 10 (4-2-3-1)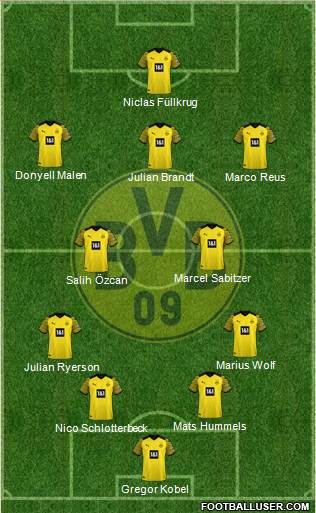 When squaring off against the likes of Kingsley Coman and Leroy Sané, is it even remotely reasonable to suggest that Marius Wolf and Julian Ryerson can hold their own? Not with the FCB wingers in the form they currently find themselves in. How on earth did so many league prognosticators completely forget to take this into consideration when handicapping the match? The midfield match-ups also don't really compute. The foolish manner in which so many of us tipped a competitive encounter is analogous to someone focusing on a leaky roof while a tidal rush threatens a below-sea-level domicile. Yikes!
Terzic's white flag
While not all of the respect the BVB trainer picked up in this year's column gets cancelled out thanks to this result, Terzic's in-game tactical adjustments in the loss happened to be particularly poor. After helping his team manufacture slender victories with well-thought-out late re-formats in so many separate matches thus far this season, it counted as a strange sight to watch Terzic remain passive and try absolutely nothing here. Niklas Süle replaced the ineffective Wolf at the half, yet the team stayed in a back-four on what oddly ended up being a like-for-like.
The columnist partially assumes this. Hummels and Schlotterbeck sometimes folded under or kept up with Süle as if a back-three had been intended. For the most part, however, the trio looked consistently confused. They clearly maintained little knowledge of what their gaffer wanted. It's possible Terzic wasn't entirely sure himself. Whatever the idea, constant wobbles along the back-line led to Bayern ultimately scoring the two additional late goals. FCB chances immediately after the restart were such that three or more tallies honestly should have come much sooner.
Any Dortmund positives?
A great chance from the subbed on Youssoufa Moukoko nearly tipped the scales. Moukoko, along with Reus, obstinately refused to give into the trends unfolding on the pitch. Gregor Kobel continued to prove himself a highly rated keeper. That important piece of the puzzle still offers up some hope that the Westphalians can still challenge over the course of the rest of the season. Kobel had to be on guard as everyone in defense – including and most especially Süle – were wretched to the bone.
The inescapable conclusion that this incarnation of Dortmund qualifies as a "small ball" team nonetheless can't be escaped. With just 20 league goals scored through ten rounds in the current campaign, Terzic's side come nowhere close to anyone else in the top three and are the lowest scoring team in the top six. Too many "eke-out" victories from a team that manufactures tallies via labored and measured efforts rather than carrying the explosive potential to alter any match. It isn't nearly good enough.
The author does hope that talk of Terzic losing his job passes over. One mustn't forget that Dortmund's young trainer led his team out of the weeds already on two separate occasions; helping them qualify for the Champions' League/capture the DFB Pokal in 2020/21 and putting together the club's best-ever Rückrunde en-route to a second-place-finish last year. The local lad famous for cultivating a productive relationship with his players certainly deserves a chance to keep working with the new additions in the January window.
One league loss – no matter how monumentally significant – shouldn't lead one to dramatic conclusions. Plenty speaks for Dortmund's title aspirations getting buried beneath the likes of the superior duo of Bayern and Leverkusen. A steady ship might still be preferred as the BVB attempt to head off top-four challenges from teams like Leipzig, Stuttgart, and even Hoffenheim. This column isn't prepared to strip Terzic of his "right man for the job" sash just yet. Note that they remain alive in all three major competitions.
Are Leverkusen slipping?

The temptation to claim that Xabi's Werkself loosen their grip a tad is certainly there after the league-leaders caught a comeback scare against Hoffenheim. Everything initially went according to plan in the team's trip to Sinsheim. Florian Wirtz, almost unbelievably, topped himself from the previous round with another ultra-slick move on the 1-0 in the 9th. The Westphalians maintained optical and statistical superiority over the entire opening 45. Alejandro Grimaldo then doubled the advantage via the conversion of a marvelous set-piece design at 45+1.
Pellegrino Matarazzo's Kraichgauer nevertheless emerged from the tunnel prepared to stand toe-to-toe with their guests. TSG striker Maximilian Beier came close on a double chance shortly before two passing errors from Lukas Hradecky and Granit Xhaka enabled the hosts to grab two goals in quick succession and restore parity in the 58th. Xhaka experienced easily his first mortal moment of the season. Hoffenheim performed better in the second half. Wout Weghorst missed a chance at the lead by mere centimeters. The hosts topped Leverkusen's final xG despite the fact that Grimaldo saved the day.
As strange as it feels to type the very words, Alonso's second-half tactics left his team at a disadvantage. It remains completely unclear as to why the B04 trainer felt the need to bring Josip Stanisic on in place of Odilon Kossounou. It doesn't make straight sense to tinker with one of the most secure defensive lines in the league. Dare one say that the "Scared Spaniard" overzealously and somewhat hubristically experimented when he should have stood pat? The column finds itself forced to speak up.
Lineup—Leverkusen—46th minute (4-3-3)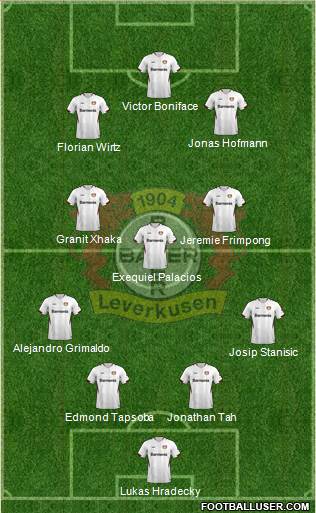 Before tarring and feathering the top flight's best trainer, the writer must stress that some additional tweaks toward the end ultimately delivered the victory. Grimaldo worked a high-stagger with counterpart Stanisic in the final 25 minutes, enabling the newly called up Spanish international to score the winner in the 70th. Xhaka drifted further back to focus on defensive work, finishing up with several strong tackles. Perhaps what legitimately renders Alonso the best trainer in the league is that he rectifies his errors quickly. One can scarcely ask for more.
The case against a Bayer regression
To reiterate, Wirtz's opening goal oozed quality from start to finish. The German phenom now functions at full capacity. Nothing and no one can hope to stop the 20-year-old. Sticking with  the thread of individual players, Victor Boniface collected a pair of assists and Jonas Hofmann executed well on the dead-ball 2-0. Frimpong exuded explosive danger no matter what position he occupied on the pitch. The team agains collectively strung together a 90 percent passing rate and maintained the edge on both ground and aerial duels.
The case for a slip-up
Frimpong and Grimaldo encountered some difficulty containing wingback counterparts Robert Skov and Marius Bülter. The latter very nearly scored twice after skirting past Frimpong. Hradecky had to parry away Bülter's effort at full stretch in the 13th. This could have been the reason Xabi opted to introduce Stanisic at the break, though it counted as a bit of overkill. Xhaka's dip did lead to one of the team's wobblier defensive performances of the season. Counting the Pokal round, we've now witnessed them waver late in two consecutive matches.
There's a worrying trend developing up top as well. His two assists notwithstanding, Boniface begins to appear profligate in front of goal. The Nigerian presently performs well below his xG level and missed excellent chances in the last two fixtures. Three league rounds without a goal – by his standards – causes some concern. Bayern's overall conversion rates top that of the team they currently nip at the heels of. Xabi's side face a much tougher schedule before the calendar year. Bayern have the hardest clubs behind them.
Another "return to script" may be on the horizon.
Can Bochum start punching up?

There surely wasn't any love for this round's Friday night curtain-raiser among the casual Bundesliga observers. Viewing figures across the Bundesrepublik likely weren't terribly high for Bochum-Darmstadt either. The average German might not even be able to tell these two teams that sport the same colors apart. The author himself freely admits that he'll have to look up which team won when the reverse fixture comes around in a few short months' time. Er…a blue/white team belonging to the relegation pack took all three points. That's all that will stick in the mind.
To the history buffs among us, this fixture did have a lot to offer. These two clubs hadn't met in the top-flight since the 1981/82 season. Much rid on the outcome of the "basement duel" for each team. Passionate play and tactical intrigue stood on the agenda. Bochum have furnished attractive open play football this year. Darmstadt remain strong on set-pieces. After all the red cards last week, curiosity over how SV trainer Torsten Lieberknecht would field a team existed. There would be talking points, or so someone responsible for watching every weekend fixture was prepared to talk himself into it.
The primary takeaway from the affair was that Bochum looked the slightly slicker and more confident side. Thomas Letsch's Revierklub consistently proved that they had more top-tier experience under their belt despite the fact that the VfL sought their first win of the season while Darmstadt already had two. When Bochum nabbed their first three points of the young campaign, it felt deserved. Letsch's hot-hand plays with his attack haven't worked out terribly well thus far. Lead strikers Philipp Hofmann, Moritz Broschinski, and Gonçalo Paciencia have all of one league goal among them.
This worked okay:
Lineup—VfL Bochum—Match 10 (4-2-3-1)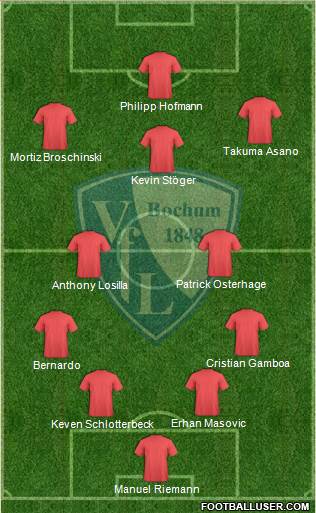 Man-of-the-match Takuma Asano obviously stole the show with his scorer's brace. The "Japanese Jaguar" – to the delight of German football lovers everywhere – rotated quite a bit with Broschinski and scored from both sides. Club man Kevin Stöger and one-time Germany U21 prospect Patrick Osterhage turned in some of their better work of the season. We finally got a chance to see Moritz Kwarteng in some meaningful action off the bench. The 3. Liga sensation looks to be finding his legs.
Letsch declared himself generally dissatisfied with the result in large part because poor set-piece defending allowed the Hessen-hosts back into the match. What happened to his charges last week against Mainz threatened to repeat. Letsch's own team continue to have problems executing on their own dead-ball chances. The 1848ers have converted two penalties thus far this year. That accounts for two thirds of the goals they've netted off set-pieces. No one in the league is worse.
This squad isn't without talent and there could very well be some surprises in store for us. Only hard luck robbed them of their first win two weeks ago. We're also discussing a team that already took points off of Dortmund, Frankfurt, and Leipzig. The team tied with Frankfurt for the highest draw total (5) in the league still hasn't shown us much beyond the trio of Asano, Stöger, and (interestingly enough) Lukas Daschner. One of those players has factored into all ten league goals scored this season.
Yeah.
This team isn't "punching" anywhere.
Perhaps they can "paw" up a bit.
Is Heidenheim's win relevant?

The third win of the season for the Bundesliga debutants cannot help but be relevant. Frank Schmidt's FCH at times looked like they were bullying their Swabian rivals VfB Stuttgart in this weekend's 2-0 win. Naturally, the higher-table Swabian side is still missing Serhou Guirassy. Sebastian Hoeneß also didn't have prodigy Enzo Millot to call upon for private reasons. The VfB struck the crossbar twice and – thanks to a miff from Silas from the spot – also failed to convert their second penalty in as many league fixtures. Heidenheim didn't host the Württembergers on their best of days.
Schmidt's team had some poor luck involving the goal-frame too, however. The constellation thought up on the day exhibited some real bite. We wouldn't be discussing a Heidenheim win at all if Jan Schöppner hadn't scored in his Bundesliga starting debut. Jan Niklas-Beste and Eren Dinkçi ran a very effective stagger on the supporting axis. The manner in which the system functioned was very easy on the eyes. Lennard Maloney got his chance to get his trademark running in. Fullbacks Norman Theuerkauf and Omar Haktib Traoré punched through well.
Lineup—Heidenheim—Match 10 (4-1-4-1)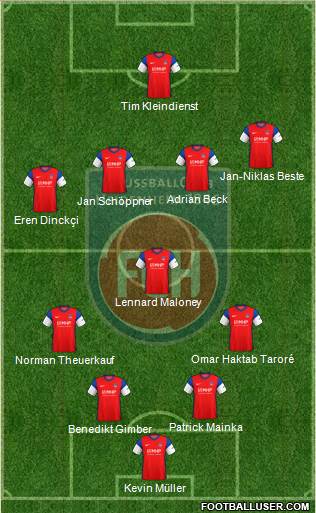 Neat and tidy, though practically all of the Heidenheim scoring chances (including Schöppner's game-winner) came off set pieces. Tim Kleindienst – who scored the 2-0 lobbing over an advanced Alexander Nübel at the death – should have probably gotten two more goals from dead-balls. The FCH lead striker found himself robbed of sure goals (once by Nübel and another time by Dan-Axel Zagadou) on a pair of corners during a brutal Heidenheim onslaught around the half-hour-mark. Dinckçi and Traoré nearly scored as well.
Since the topic of set-plays has been broached both in this section and the previous one, it's worth noting that Heidenheim are the anti-thesis of Bochum when it comes to success from their designs. Schmidt has milked a whopping 12 league goals off of dead-ball situations thus far this year. Beste has already picked up four assists from what Germans call "the standards". That fact may be more relevant than anything else here, particularly as this team continues to look stronger than most relegation pack teams.
Weekly Wortschatz: Round 10
"überzeugt"

The three fixtures covered in this week's "Wortschatz" section will first cover a case in which compelling and convincing evidence can no longer be ignored. After explained why 1. FC Union Berlin's 0-3 loss to Eintracht Frankfurt leaves virtually all German football watchers "überzeugt" ("convinced") that the situation in Köpenick is beyond repair, we'll discuss two draws in which definitive conclusions are harder to come by. Union first. Surely this is it? Urs Fischer cannot recover from 12 consecutive losses on-the-trot. Fischer's words are meaningless at this point. Something must be done.
Watching Union, only the faint echoes of Fischer's original footballing philosophy remain. The so-called "automatisms" that Robin Gosens once described are occasionally apparent in the German fullback's play. Gosens had his moments in the latest loss, but it generally looked like he was working with some very tired muscle memory that no longer convinced him. The same applies to FCU actors such as Aïssa Laïdouni, David Datro Fofana, and Sheraldo Becker. A new variation on one of his recent 3-4-3s sought to coax something out of these players.
Lineup—Union Berlin—Match 10 (3-4-3)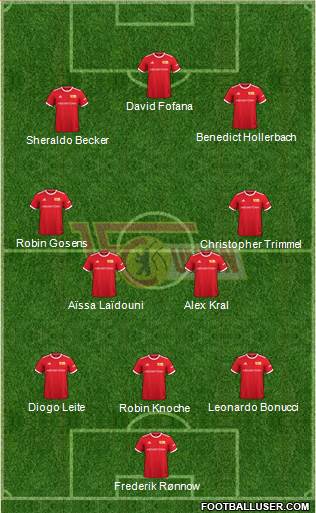 Fofana moved central while the back-three flattened out. The latter shift from the last 3-4-3 ended up being the death knell. Robin Knoche and his line mates couldn't coordinate a clearance in the 2nd, enabling Omar Marmoush to give the visiting Hessians an early 1-0 lead. Twelve minutes after that, Ellyes Skhiri and Hugo Larsson sliced right through the flat line to set up Marmoush's second. One honestly cannot deny that die Eisernen did their utmost to get back into the game. Fofana was unlucky on a pair of chances.
The problems at the back nevertheless reared their ugly head once again when subs Mario Götze and Nacho Ferri Julia cracked them wide open again with the 3-0 eight minutes from time. A bitter result for the East German hosts, who contained the damage brought on by the early deficit and created several good chances of their own. It simply wasn't good enough. Nothing comes together for a team exhibiting genuinely depressed and half-hearted body language on the pitch. Everyone just appears one step too slow.
The FCU future
There honestly is no such thing at the moment. No one in their right mind will tip this team to do any better against Italian Champions Napoli midweek or the Leverkusen steamroller in their final league match before the international break. The Köpenickers now belong to the relegation pack. Stanching the bleeding remains priority one. The next coaching regime will require significant time to re-train a team so wedded to a regular system. Any way one slices it, points shall be hard to come by in the final six weeks of the calendar year.
This squad must first learn to crawl again. It's not going to be a pretty sight. The counter-press is completely lost. The entire defensive corps no longer fights for second and third balls. Kevin Behrens stands as the only member of the attacking fleet who has even scored in the league this season! Unbelievable. No tallies for Becker, Fofana, Kevin Volland or youngsters Benedict Hollerbach and Mikkel Kaufmann. Not one single midfielder on the roster has found the back of the net at all during this campaign. Not a pretty sight indeed.
This is, "convincingly", a total disaster.
"widersprüchlich"

We'll round out this week's column with a pair of high-scoring and entertaining draws. In the process, we'll introduce two German words (one of which isn't even one that is officially recognized yet) to describe conflicting, contradictory, or just plain inconclusive evidence. A six-goal affair between Borussia Mönchengladbach and SC Freiburg on Saturday afternoon certainly delighted. It nevertheless didn't truly furnish answers to some of the specific questions posed in the previous installment of this column.
For the more superstitious German football watchers, signs pointed to a weird result here. Gladbach haven't pulled out an away victory at Freiburg in their last 21 tries. The last time the foals took three points from a trip to the Breisgauer region, Max Eberl represented the BMG as a starting fullback. The form that Gerardo Seoane's team found themselves in entering the match suggested that, if there ever was a time for this streak would come to an end, now would be it. It nearly came to pass until a last-minute penalty kept Freiburg's streak alive.
Both Seoane and SCF gaffer Christian Streich sought to keep faith in their last league XI. Streich – after the midweek loss against Paderborn in the cup – rotated in the exact same personnel he used in the latest league loss against Leverkusen. Seoane – after using Robin Hack and Manu Kouadio Koné in the cup win over Heidenheim – did precisely the same thing. Alassane Plea did noticeably forgo the tight shadowing of Jordan, however, and the Westphalians lined up in a much more straightforward 4-2-3-1.
Lineup—Gladbach—Match 10 (4-2-3-1)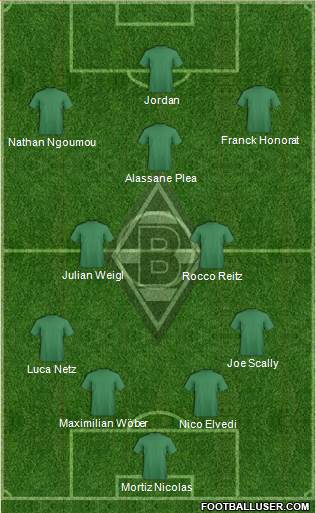 Streich ditched his recent experiments in favor of the 4-4-2 stagger in use prior to the international break. With some degree of frustration, one can note that allowing players such as Nicolas Höfler, Lukas Kübler, and Philipp Lienhart to maintain their place in the starting blocks didn't exactly pay off. To the great personal chagrin of this writer, that trio continued to make mistakes. They were every bit as bad as in the last league fixture. One expects better from a keen footballing mind like Streich's.
Lineup—SC Freiburg—Match 10 (4-4-2)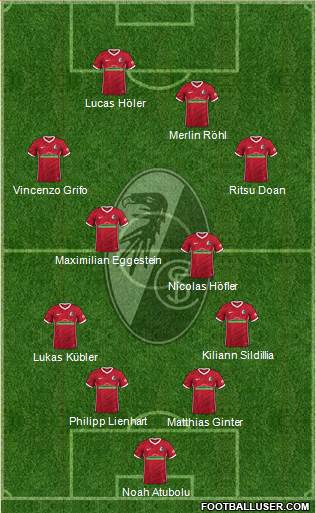 The Schwarzwaldverein's attack at least got off to a decent start. Merlin Röhl and Lucas Höler both peeled off decent efforts. The pair – on the same page from the start – combined on a well-deserved and slickly executed 1-0 in the 7th. Following the early tally, Streich's charges inexplicably withdrew. Jordan netted the equalizer off a well-rehearsed free-kick in the 25th. Alassane Plea added the 2-1 at the end of a scintillating counter-attack four minutes later. This turned into a 3-1 half-time advantage after Lienhart hauled down Jordan in the box and Julian Weigl converted the 39th-minute spot kick on his second go.
The Freiburg comeback owed much to luck. Although the Breisgauer kept up consistent attacking waves in the second-half, they hardly looked a threat until the final 10 minutes. Noah Weißbaupt pulled the first goal back after a failed clearance from Maximilian Wöber in the 70th. Gladbach probably should have regained the lead in the 83rd when the subbed-on Tomas Cvancara's header hit the crossbar. It appeared to be over after SCF sub Michael Gregoritsch missed a double chance three minutes later. Instead, Vincenzo Grifo slid home the 3-3 from the spot at 90+6 after Fabia Chiarodia fouled Weißhaupt.
Freiburg's European chances
This seems an apt enough point to declare hopes of a top-seven finish for Freiburg out-of-reach for the time being. Only errors from green BMG youngsters Wöber and Chiarodia enabled Streich's team to find their way back here. The home unbeaten run against Gladbach extends courtesy of a few mistakes and a lot of luck. This just doesn't look to be the year for the southern BaWü borderers. Other teams like Hoffenheim and Eintracht remain a cut above. Even Gladbach might be able to overtake them.
Gladbach's hopes for escaping mid-table
These remain stronger than ever. Jordan played extremely well until he got hurt. Cvancara came off the bench late to supply his own sizzle. Plea and the midfield tandem of Weigl and Rocco Reitz proved their strength. A little dip from French wingers Nathan Ngoumou and Franck Honorat doesn't appear to generate much cause for concern, though the fact that potential replacement winger Robin Hack was a dud in relief here means that there might be future problems on the flanks. We'll treat some things as aberrant.
The columnist still backs this squad…
…while admitting that it's not totally conclusive.
"unbeweiskräftig"

As we move to our second draw, the author wishes to confess that "unbeweiskräftig" actually isn't an official German word. The column is pleased to make a case for it, however. Seeing as how "beweiskräftig" serves as an excellent way to convey the English meanings of "conclusive", "demonstrative", "proving", "decisive", "instructive", and "probative" all in one fell swoop, the author sees no reason why the antithetical prefix can't further enhance one of the language's best adjectives. Here we have a word whose time has come.
If "uneindeutig" can be used to describe something that is literally "not obvious", "unbeweiskräftig" deserves its opportunity to shine. Our literal translation in this case describes something "not revealing powerful knowledge". It fits many contexts. It most certainly corresponds to Niko Kovac's Wolfsburg, for whom we've more tactical grousing to get through. A 2-2 home draw against Bremen on Sunday left us with little in the ways of instructive lessons going forward. Apart from the fact that Kovac tinkers too much, of course.
Four changes from the narrow Pokal victory saw Joakim Maehle, Kevin Paredes, Jonas Wind, and Lovro Majer enter the XI on behalf of Yannick Gerhardt, Ridle Baku, Jakub Kaminski, and Tiago Tomas. The VfL trainer maintained the 3-4-3 shape from the cup win with two notable changes. Sebastiaan Bornauw was placed on an inverted pivot. The three attackers also operated much closer together. The restructured wingback duo of Kevin Paredes and Joakim Maehle successfully pressed high early on. Everything functioned fine until it didn't.
Lineup—Wolfsburg—Match 10 (3-4-3)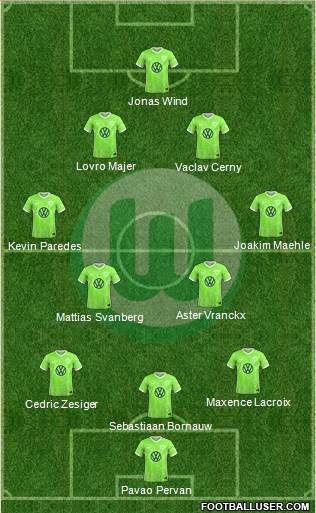 Despite the fact that the Lower Saxons got the ball in deep and forced many early errors out of their Hanseatic guests, an early Wolfsburg mistake shifted the tenor of the match. Maxence Lacroix was rightly booked for fouling Vaclav Cerny just outside the area in the 5th. Marvin Ducksch did a marvelous job with the ensuing free-kick in the 7th, curling his effort over the wall and sneaking in the 1-0 via the inside post. The response to the early deficit remained far too scattered. Keeper Pavao Pervan prevented Rafael Santos Borré and Romano Schmid from increasing the lead.
Mattias Svanberg was eventually able to locate a gap in the SV defense in the 37th. Maehle crossed an excellent through-ball from Svanberg directly onto the in-crashing Cerny's head. The northern Autostädter – unquestionably the better team after the 1-1 – would then take the lead on another well-worked team goal in the 59th. Wind showed excellent field vision sending fellow Dane Maehle down the right flank. A Maehle pass over to Cerny, followed by a clever flick onto the on-rushing Paredes gave Kovac's crew a 2-1 advantage.
How did it all fall apart again?
As is often the case with this team (apparently true irrespective of who happens to be coaching them) the attack simply ran out of imagination. Borré and the ever-skilled flanker Mitchell Weiser made them pay with a textbook cross/headed equalizer just six minutes after Wolfsburg took the lead. Bremen produced by far the better chances after that. Kovac's subs Baku and Nicolas Cozza struggled to contain the Hanseatic attack. Bornauw barely avoided a handball penalty. Lacroix was eventually sent off on double yellows for a tactical foul on Ducksch.
Their isolated moments of brilliance on the two VfL goals notwithstanding, actors such as Wind, Cerny, Svanberg, and Majer actually turned in rather poor overall performances. The good ideas found themselves overshadowed by so many timid touches and lack of creativity outside the penalty area. Tomas and skipper Maximilian Arnold supplied almost nothing in relief. All of the rotations kill whatever chance these players have of establishing a common rhythm. This shortcoming of the Kovac regime should be treated as a cold, hard fact at this point.
Bremen themselves put up an admirable fight, but had no real business taking a point from this match. Something stands horribly amiss when a team as deep as Wolfsburg goes winless throughout the entire month of October. SV trainer Ole Werner continues to run a predicable system that Kovac arguably could have been better prepared for. We'll turn to that constellation now, bearing in mind that – as the title of the last two sections insists – lessons to be learned are still fairly scant.
Lineup—Bremen—Match 10 (3-5-2)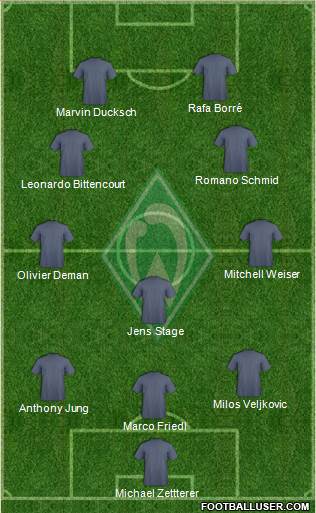 The big news insofar as Bremen are concerned is that Werner has found a solution for his midfield pincer problem in the form of Danish attacker Jens Stage. Neither Christian Groß nor Sense Lynen met the SV gaffer's expectations for the position. Stage has started ahead of the back-three in the last three fixtures. The Dane's use at the back freed up the buttressing attack slots for Leonardo Bittencourt and Romano Schmid. Both have done a solid job and German fan-fave Borré improves with every match.
It all looks to be sufficient enough to maintain the class. If Naby Keïta can ever manage to get fit again, Bremen fans might be justified in dreaming of something more ambitious. Wolfsburg supporters should absolutely feel they have the right to hope for Europe given the strength of their roster, but desperately need Kovac to stick to something in order to smooth things out. As it stands now, we've two clubs separated by two points in mid-table; the very definition of "inconclusive evidence".
Thanks so much for reading! You can catch the release of all Peter's columns (and occasionally catch him goofing off) on whatever the hell they're calling twitter these days @PeterVicey.
Twitter DMs are open for football conversations, corrections, and (if you truly insist) general abuse. 
Full color re-posts of the columns are eventually archived on Peter's website.
Related stories
Leroy Sané issues statement on red card against Austria
Nagelsmann sounds the alarm: "We have a lot of work to do"
About Author