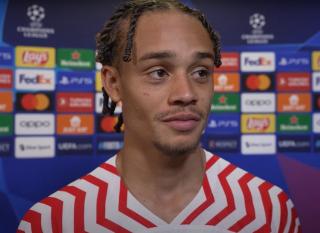 Sport Bild reports that RB Leipzig have a good chance of keeping Xavi Simons for another season.
Xavi Simons is currently on loan at RB Leipzig from Paris Saint-Germain until the end of the season.

However, the Bundesliga side appear to have a good chance of keeping him for longer. That's according to Sport Bild, who describes a loan extension as "likely".
Simons himself doesn't want to look too far into the future.
"I am enjoying my time here with my teammates. We want to achieve a lot. We'll see what happens in the future," he said.
The 20-year-old attacking midfielder has contributed to an impressive 14 goals (six goals, eight assists) in 18 games for Leipzig so far.
More about Xavi Simons
Baumgartner beats back the "Freiburg Röhl" as Leipzig top SCF
Win in Belgrade sends Leipzig through to UCL knockouts
Xavi Simons unlikely to be rested against Köln
Report: Xavi Simons likely to stay at Leipzig
Bundesliga Tactics Talk: Round Seven
Losilla and Stöger praise Riemann after two saved penalties: "World class."
More about RB Leipzig
Emil Forsberg to leave RB Leipzig in January, report claims
Leipzig boss doesn't rule out January exit for Werner
Bundesliga Team of the Week: Matchday 11
RB Leipzig vs. SC Freiburg preview: Can RB bounce back in league play?
Gosens departs national team, Raum called up as replacement
Predicted Bundesliga lineups: Matchday 11
About Author