World: Friendlies
⚽ J. Ito (11), ⚽ A. Ueda (22), ⚽ T. Asano (90), ⚽ A. Tanaka (90)
Following Germany's 1-4 loss to Japan, DFB sporting director Rudi Völler commented on suggestions that Hansi Flick's time as Germany coach could be over.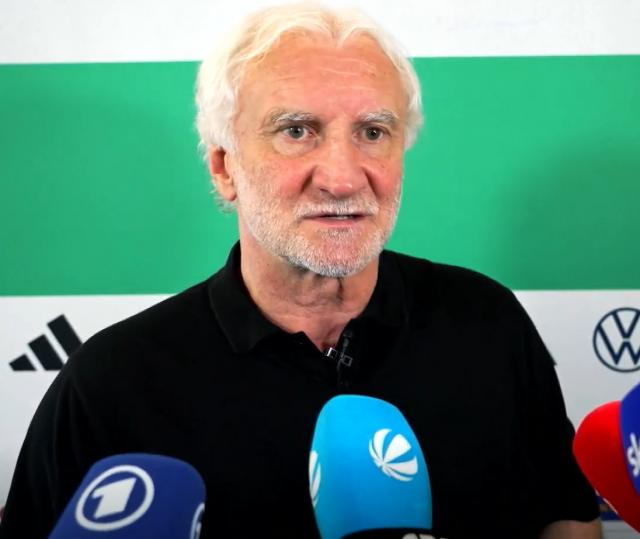 After tonight's embarrassing 4-1 defeat to Japan, Germany sporting director Rudi Völler refused to guarantee that Hansi Flick will remain as coach beyond Tuesday's friendly against France.

Asked if Flick will remain Germany coach, Völler said in a post-match interview:
"We should collect ourselves first.
"Tomorrow we'll do some training. Then we'll play France. After that, we should do some soul-searching and think about the way forward."
The former Bayer 04 Leverkusen boss was in a state of shock after the heavy defeat.
"We're all still in shock. The atmosphere was great, the fans were on our side. They supported us until the score was 1-1 and then we made too many mistakes.
"It was an embarrassment, but we deserved it. A defeat like that hurts," said Völler.
More about the match
Matthäus on Flick: "I doubt you can keep him after this"
Hansi Flick insists he's the "right coach" for Germany despite new setback
Gündogan reacts to Japan thrashing: "Maybe we think we're better than we really are"
Germany's troubles continue with heavy loss to Japan
Flick confirms Süle start, hints at Kimmich at right back
Flick reveals Gündogan is Germany's new captain
Germany vs. Japan preview: Team news and predicted lineups
Brandt backs Flick amid criticism: "He's doing a sensational job!"
Havertz calls for more support from German fans
Musiala ruled out of Germany's games against Japan and France
Kimmich to play right back for Germany?
Süle keen to prove himself after Germany recall
Ter Stegen determined to keep Germany starting spot ahead of Neuer: "I'm the number 1!"
Pascal Groß: First Germany call-up came as a shock
Füllkrug to leave Germany camp due to minor injury, Flick confirms
Müller called up for Germany to cover for Füllkrug
Goretzka admits surprise and disappointment over Germany squad exclusion
Germany announce squad for September friendlies
More about the teams
German press player reviews: Musiala, Kimmich, Gnabry, and Gündogan earn praise while Schlotterbeck takes heat
Gündogan slams Germany's performance in loss to Japan: "Not everyone wanted the ball"
Why Germany's defeat against Japan wasn't a surprise
German women's final World Cup roster confirmed
Gosens backs Behrens to play for Germany
Three candidates named as possible replacements for Flick
About Author