The Bulinews weekly "deep-scout" feature once again contains two sections this time. We'll be taking an in-depth look at the latest form of returning Gladbach starter Joe Scally, in addition to checking in with the status of American trainer Pellegrino Matarazzo at Hoffenheim.
An extended introductory section explains the absences of Jordan Pefok and Kevin Paredes whilst also addressing the near-term prospects of Giovanni Reyna, Paxten Aaronson, John Anthony Brooks, and Caden Clark.
Ahead of another exciting weekend of Bundesliga action, there's plenty to be gleaned from taking a look back at where all the U.S. actors stand.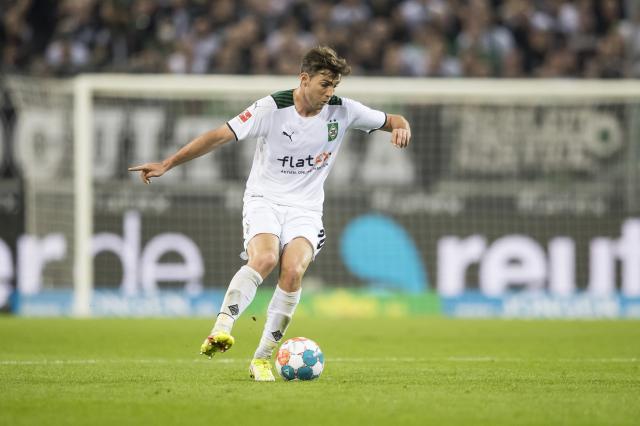 | | |
| --- | --- |
| Joe Scally. | Photo: Borussia Mönchengladbach |
Just like last week, our weekly "Americans in the Bundesliga" column features two graded sections; one for a player and one for a trainer. Although 1. FC Union Berlin striker Jordan Pefok (21 minutes against Köln) and VfL Wolfsburg flanker Kevin Paredes (23 minutes against Frankfurt), put in extended relief shifts for their teams, involvement remained too sparse to merit graded sections. Paredes got only six touches in. Jordan toed the ball just four times.

There is nevertheless fairly big news on the "Americans" front with respect to Dortmund attacker Giovanni Reyna. The young phenom, after not logging a single minute for four successive matches, was called upon early in the BVB's Tuesday Champions' League fixture when Julian Brandt succumbed to injury. UCL fixtures are not scored in this column. That's for the best here as Gio wasn't particularly effective. The nature of Brandt's injury should still see him start against Schalke in this weekend's Revierderby.
Signs point to longer columns in the coming weeks. John Anthony Brooks should probably return to the Hoffenheim XI before too long. Paxten Aaronson made his second consecutive Eintracht Frankfurt bench squad. Leipzig's Caden Clark also made Marco Rose's matchday selection for the third consecutive week. Injuries in the RB ranks and a slip out of the title race may mean that Rose is preparing to give the 19-year-old a look soon. Paredes may also start this weekend with VfL captain Maximilian Arnold serving a suspension.
Joe Scally, Borussia Mönchengladbach

Minutes played = 90/90, Positions played = CB
Grade = A+
Scally received high marks from virtually all German press sources. For whatever reason, however, all of the graders shied away from giving the Long Island native perfect marks in his long awaited and eagerly anticipated return to the starting XI. This column will not do so. In all honestly, there wasn't any real discernible sign of weakness in the CFG New Yorker's game. He looked sharp and crisp throughout, displaying almost no signs of rust or lingering problems resulting from his recent calf injury.
Essentially all of Scally's 67 recorded touches had some intelligence about them. The deep-scout revealed that he only sent three of 50 passes stray. In all cases (10th, 58th and 90+4), he recovered his own intercepted pass and made something worthwhile out of it. By far the strongest aspect of Scally's performance on this day had to be his passing work on the rush. He led more than his fair share of charges up the BMG right. Examples can be found in the 11th, 17th, 21st, 38th, 42nd, 64th, 68th, 81st, 82nd, and at 90+3.

There's absolutely gorgeous dribbles available to check out for those with access to the tape. Our subject put in lots of sparkling work in on the ball, twisting, turning, and breaking away from his markers. Scenes in the 6th, 31st, 40th, 44th, 45th, and 77th are very much worth a look. It constituted no small feat for Scally to work his way around SC Freiburg's Vincenzo Grifo, Christian Günter, and Philipp Lienhart. On a few occasions (14th, 38th, 54th), he shook off his mark and worked in inch-perfect crosses/diagonals for BMG lead striker Marcus Thuram.
No shortage of instances in which Scally picked up a loose ball cleverly and courageously, passed back to Gladbach keeper Tobias Sippel, and played an important role in restarting the attack. One can watch him execute this vital component of the fullback role almost perfectly in the 18th, 19th, 20th, 28th, 29th, 43rd, 76th, and 88th. Defensive work stood at the highest level, with excellent headers away and clearances coming in the 26th, 33rd, 49th, 53rd (twice), 70th, 72nd, 90th, and 90+2.
Difficult to say why Scally didn't earn perfect marks or inclusion in the "team-of-the-week" honor rolls in German press sources. Perhaps football journalists felt uncomfortable elevating a player out of a fixture that did finish as a scoreless draw. There were a few cases (4th, 8th, 16th, 23rd) during which the American appeared a little slack on own marking, but these were so minor and (with most of them coming at the beginning of the match) can easily be chalked up to the rust associated with such a long layoff.
Scally was overall immensely strong in every respect. One could even tell that he put in extra work on the training pitch in order to involve himself positively in the squad's set-piece designs. The CFG New Yorker did very well in dead ball situations in the 5th, 12th, 36th, and in three situations arising in second-half injury time. After Ramy Bensebaini's sending off, Scally worked the left side briefly before trainer Daniel Farke could get Luca Netz on for the 4-4-1-1 reformat.
We might actually see Scally work the left again this weekend in Bensebaini's place. A deployment on that side isn't unprecedented at all. Previous BMG trainer Adi Hütter even used to switch him over to that side later in matches during the more successful stages of his early tenure. If his form in the latest match is any indication, this American should be prepared to go on a tear irrespective of what position he plays. Scally was by far the best foal on the pitch in the last fixture. 
Things look very good here.
Pellegrino Matarazzo, TSG 1899 Hoffenheim (Trainer)

Matches = 1, Result = L
Grade = D
Not too terribly much good one can say about the latest form of the Sinsheimers. After exhibiting a slight uptick last week, Pellegrino Matarazzo's charges proceeded to deliver an absolute dud against Mainz. Analysis of what proved to be the American trainer's fourth novel tactical constellation (leading to his fourth consecutive loss since taking the reins) leads one to the conclusion that our subject here must go back to the drawing board. Momentum is gone. A developing football thesis crumbles down to square one.
A 4-2-3-1 should – in an ideal case – serve as a squad's rigid spine. The one we saw deployed against Bo Svensson's Nullfünfter never managed to wrest any control away from the opponent. Die Kraichgauer produced zilch offensively in the opening 45. Double-sixes Thomas Delaney and Dennis Geiger got murdered in the midfield duels. No rhythm. No flow. A whole lot of nothing if one is brutally honest. Even the team's best player, Christoph Baumgartner, looked completely lost.
Lineup—TSG Hoffenheim—Match 23 (4-2-3-1)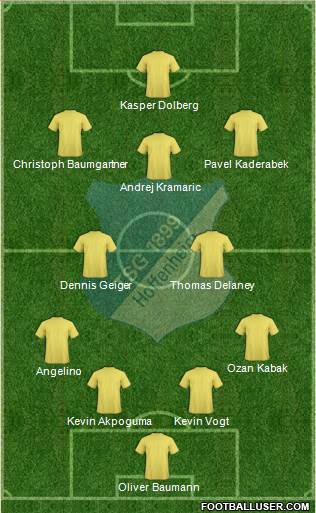 A halftime change saw Sebastian Rudy enter for Delaney. The formation continued to buckle. Outside a ranged attempt from Geiger five minutes after the restart, the unfamiliar set of tactics couldn't manufacture anything. The introduction of Ihlas Bebou and Munus Dabbur for Kasper Dolberg and Andrej Kramaric just before the hour-mark heralded a late-match reformat. This was completed when Finn Ole Becker and Robert Skov relieved Geiger and Kevin Akpoguma in the 69th.
Lineup—TSG Hoffenheim—70th minute (5-3-2)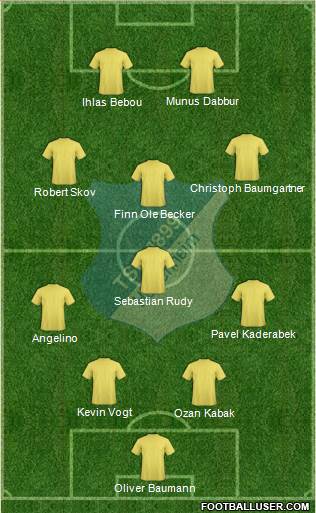 Phrew. If there is one positive to report, it concerns the fact that Danish winger Robert Skov (returning from a long injury layoff) got a couple of chances in near the end. Skov raised what had been single-digit xG up to 0.77 by the full-time whistle. Matarazzo at least has that to build upon. It remains unfathomable that the American trainer claimed he divined some "patterns" during his post-match interview. Those of us keeping a close eye on this encounter observed no "patterns" at all in this ramshackle mess.
How exactly Matarazzo proceeds from here isn't clear. A trip down to the southern tip of Baden-Württemberg to face regional rivals SC Freiburg counts as a tough task indeed. Matarazzo failed to bring any order to the totally random and disorganized team he inherited from André Breitenreiter. Even more significantly, the squad looks genuinely awful on set-pieces. They've conceded their last three goals in their series of 0-1 losses against Augsburg, Dortmund, and Mainz of off dead-balls.
What happens when a team this poorly drilled comes up against set-piece wizard Vincenzo Grifo? The script almost writes itself. No one shall be surprised to see Grifo bag a brace and Matarazzo fumble for the right words once again. This coaching appointment appears increasingly disastrous. One can credit the American for trying a few things that worked, notably Skov and Pavel Kaderabek on the wings. That's about it really. Otherwise, the TSG remains in the weeds.
Thanks so much for reading! You can catch the release of all Peter's columns on twitter, @ViceytheSS.
Twitter DMs are open for football conversations, corrections, and (if you truly insist) general abuse. 
All columns debut on Bulinews before appearing on Peter's website as the season progresses.
Related stories
Schalke 04 vs. Borussia Dortmund preview: 100th Revierderby in the Bundesliga
Bayern Munich vs. Augsburg preview: A Bavarian battle
Nouripour condemns Eintracht fan exclusion in editorial: "Fans have rights."