The Saudi Arabian transfer window has slammed shut a week after the majority of European leagues brought their own to an end, and the total spend is verging on a €1b.
The likes of Sadio Mane, Karim Benzema and Neymar Junior all moved to the Middle East, with the deal for the Brazilian fetching the largest fee, Diario AS putting it at €90m.
In total, the spend for the league reached €939m, compared with just €440m in La Liga, more than double Spain's total. Perhaps just as worrying for Spain is that their total is over €300m behind the Bundesliga, €414m behind Serie A and Ligue 1 also went over double La Liga's spend too.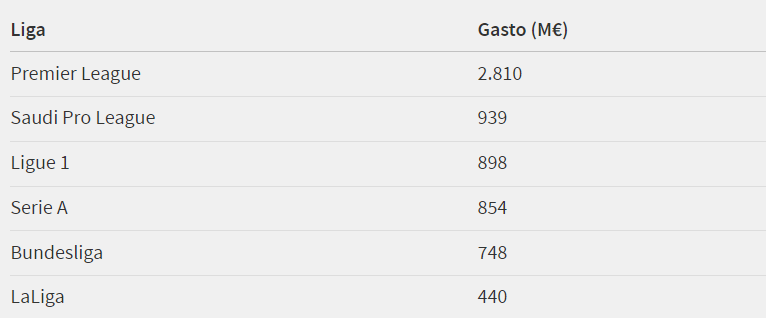 The Premier League continue to operate in a different stratosphere, shelling out just under 6.5 times what Spain has. Their total is just €130m less than what all four of the other major European leagues spent combined.
It should be noted that in Saudi Arabia many of the biggest deals included wages often behind on the fees themselves, and so the total spend including new salaries would show the financial strength of the Saudi Pro League even more. The likes of Karim Benzema, Ngolo Kante and Roberto Firmino all arrived on a free too:
Spain's clubs must adhere to far stricter rules on spending, with their salary limit only allowing a percentage of their income to be put towards transfers and salaries. Meanwhile other clubs can spend well beyond their income, adhering to the much looser UEFA regulations, except in the case of Saudi Arabia of course.
La Liga are guaranteeing that all of their clubs will survive, and be run in a sustainable manner, yet President Javier Tebas has come under criticism, with some worried that the rules will see Spain left behind.
About Author