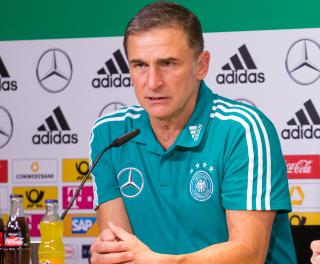 Bayern executive Karl-Heinz Rummenigge and RB Leipzig supervisory board chairmen Oliver Mintzlaff both withdrew from their positions on the German FA's task force on Sunday, citing being kept out of the loop on the decision to appoint Andreas Rettig to the managing director position. 
As the search for a new Bundestrainer to lead the German national team continues, Turkey's Demirören News Agency reports that former Germany U21 head-coach Stefan Kuntz may be back on the market soon. 

Recently re-instated DFB director Rudi Völler, DFB President Bernd Neuendorf, and Borussia Dortmund's Hans-Joachim Watzke now comprise the task force. Both Rummenigge and Mintzlaff made clear in their statements that they did not approve of Rettig's installation and were recusing themselves from the search for a new coach.
"The current council has never been given the appropriate decision-making powers to work effectively," Rummenigge's statement read, "We learned of Andreas Rettig's installation as managing director for sport – a sensitive personnel matter and a decision worthy of discussion – through the media. On this basis, a working relationship built on mutual trust is not possible."
"Based on my critical views on further cooperation, I will withdraw my commitment and leave the task force," Mintzlaff's statement added, "I remain convinced that Rudi Völler will find the right coach for the German national team in the near future."
Within German footballing circles, the appointment of the new Bundestrainer is expected to drag on for some time yet. Völler and colleagues have said that they hope to have a coach in place by the October International break, but it's far from certain that this will come to pass.
News out of Turkey today suggests that former Germany U21 trainer Stefan Kuntz – who left to coach the Turkish national team almost exactly two years ago – might soon be released from his current job. Turkey's Demirören News Agency reports that the Turkish FA have opted to end their cooperation with the former Kaiserslautern captain, though there are also conflicting reports suggesting that FA wishes to stick with the successful Kuntz at least through October.

Kuntz led the Germany U21s to the UEFA U21 European Championship crown in 2017 and 2021. His DFB Junior side also finished as runners up in the 2019 tournament. He also won the Euros with Germany as a player in 1996. The 60-year-old's current contract on the Bosporus runs through the end of the Euros next summer.
About Author