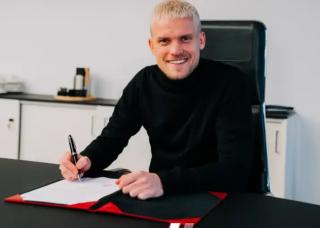 Eintracht Frankfurt finally confirmed that they had exercised their purchase option on defender Philipp Max on Friday. 

Germany's transfermarkt home site reports that PSV have only received a very lows for the player. The site notes that earlier rumors put the sum at around €1.9 million. Max himself has been out injured since matchday 27 of the current campaign. The thrice-capped German international has made a total of 13 appearances across all competitions for Eintracht since returning to Germany in January. He's registered one assist in the league.
ℹ️🦅 Philipp Max bleibt in Frankfurt!
Eintracht Frankfurt hat die Kaufoption gezogen, womit der Linksverteidiger auch künftig mit dem Adler auf der Brust spielen wird. Der Vertrag läuft bis zum 30. Juni 2026.#SGE
— Eintracht Frankfurt (@Eintracht) May 26, 2023