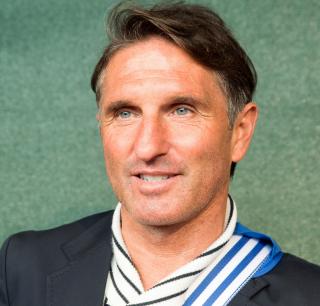 George Moissidis of Germany's Kicker Magazine has published an update on the status of under-fire VfB Stuttgart trainer Bruno Labbadia. 
According to the well-sourced German journalist, Markus Gisdol is out of the running to succeed Labbadia and the club is having difficulty attracting other candidates. 

Labbadia was in place to lead the squad's Sunday training session. While the 57-year-old may still be dismissed eventually, it now appears more likely that he'll lead the team in the upcoming DFB Pokal quarterfinal fixture at 1. FC Nürnberg on Wednesday. In his article, Moissidis appears to suggest that the Swabians are having problems procuring a replacement.
Gisdol – for whatever reason – appears to be out of the running. Higher profile names such as Adi Hütter and Ralph Hasenhüttl have no interest in the position. Felix Magath, who helped Hertha Berlin avoid the drop last year, apparently isn't a realistic option. The name of former VfB Stuttgart trainer Hannes Wolf – a DFB youth trainer who most recently served as Leverkusen's interim trainer in the spring of 2021 – has also been traded.
Wolf may also not be interested in the position as Moissidis reveals that this particular trail also runs cold. Moissidis does mention that the Württembergers are potentially toying with the idea of recruiting former player Ludovic Magnin, but the 43-year-old presumably wouldn't want to leave his position in charge of his hometown club of Laussane-Sport in the middle of a Swiss Challenge League promotion push.