World: World Cup
⚽ R. Doan (75), ⚽ T. Asano (83)
Germany coach Hansi Flick has discussed the reasons behind his team's disappointing 1-2 defeat against Japan.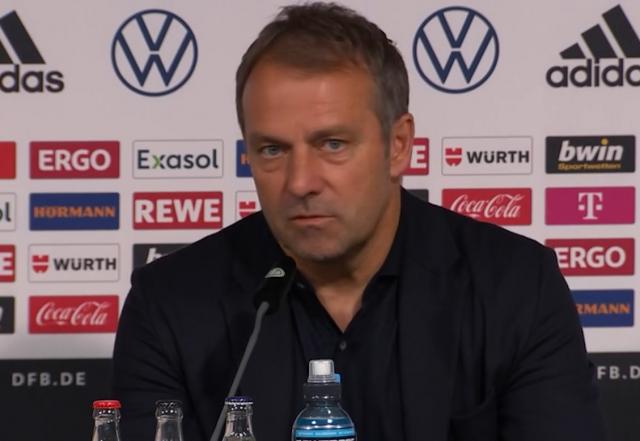 Germany fell to a second successive World Cup opening defeat earlier today as Japan came from behind to beat Hansi Flick's troops 2-1.
In a post-match interview, Germany coach Hansi Flick tried to explain the reasons behind the defeat.
"We're brutally disappointed at the moment. We were on a good trajectory, had 78 percent possession and deserved to lead. In the second half, we created some good chances, but unfortunately we didn't take them. Japan were simply more efficient in front of goal," said the Germany coach.
"We made individual errors that we simply cannot make during the World Cup. We need to defend better and put pressure on the ball in our own half. For both goals, we can and need to do much better in reacting as a team."
Asked what Germany need to improve for their next game against Spain, who thrashed Costa Rica 7-0 today, Flick said:
"Spain are different opponent and we have another game plan for that match. And we will need to have one. We're under pressure on zero points but we have brought this on ourselves. We now need to make sure that we have the character to go about things differently. We still need to be courageous, determined and we need the level of aggression that is required at a World Cup."
More about the match
German press player reviews: Musiala, Kimmich, Gnabry, and Gündogan earn praise while Schlotterbeck takes heat
Germany player ratings versus Japan
FAZ and Zeit editorials after loss: "Boycotting made easy."
Kicker Editorial: Flick erred in subbing off Gündogan
German players and pundits deliver unsparing criticism following loss to Japan
Japan come from behind to cause another World Cup upset
German players cover mouths in team photo ahead of Japan game amid armband spat
Confirmed lineups: Germany – Japan
Flick and Kimmich share thoughts on OneLove armband ban
Flick confirms Müller is an option for Germany's opener against Japan
Confirmed: Sané to miss out against Japan
Musiala: "We have the quality to go far in the tournament"
Germany vs. Japan preview: Team news and predicted lineups
Kehrer speaks about favorite position, says West Ham move "paid off"
Gnabry: "We are in good shape"
Bierhoff gives update on Füllkrug after absence from training
More about the teams
Report: Arminia Bielefeld eyeing permanent transfer for Japanese winger
Germany learn World Cup Group Stage opponents
Eight players from the Bundesliga and 2. Bundesliga included in Japan's World Cup squad
Süle praises Flick: "He has a knack for creating unity"
Watch: German players train with 17 girls from 8 nations
REWE ends sponsorship deal with DFB in reaction to OneLove armband spat