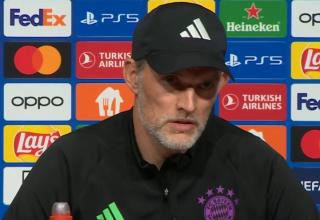 At a press conference on Monday, Matthijs de Ligt and Thomas Tuchel spoke about how difficult Bayern expect Tuesday's match against Galatasaray to be.

Bayern Munich will be heavy favorites when they take on Galatasaray in Istanbul on Tuesday night, but the German champions are not expecting an easy game by any means.

That was emphasized by centre-back Matthijs de Ligt and head coach Thomas Tuchel at Monday's pre-match press conference.
"It will be a tough game. Galatasaray always play with the whole stadium, with their fans behind them. They've got a lot of experience, a lot of good players who have played in the top leagues. I'm expecting a very tough game," said de Ligt, as quoted by the club.
Tuchel said Bayern will naturally be aiming for a win to end Galatasray's impressive 17-match unbeaten run.
"We feel ready to win a tough game. The Champions League works step by step. We feel strong enough to win the group. We want to get to the knockout stage. You need luck there too. It makes no sense to compare ourselves at the moment. We have a good opponent tomorrow who is unbeaten in 17 games. We want to end that run," said the Bayern coach.

He went on to discuss how Bayern will cope with the boisterous atmosphere at Rams Park in Istanbul.
"We are preparing ourselves to deal with it. It's extremely emotional, extremely loud. You can't simulate that in advance. Galatasaray will try to use that to their advantage. The game is a big challenge for us," Tuchel said.
Bayern have won a record 15 consecutive Champions League group stage games heading into tonight's match.
More about the match
Galatasaray vs. Bayern Munich preview: Team news and predicted lineups
More about the teams
Official: Leipzig send Angelino out on loan again
Demirbay set for Galatasaray switch, per Sky
Official: Leverkusen sell Demirbay to Galatasaray
Maccabi Germany President criticizes Bayern's handling of Mazraoui case
Bundesliga Team of the Week: Matchday 8
Goretzka to miss Bayern's next games with hand injury – back in time for Dortmund?
About Author