Ahead of the return of Bundesliga football, and the return of the Bulinews "Tactics Talk" column back to its original publication time slot, we'll be publishing four pieces chronicling the tactical trends in German football over the past four rounds in the coming days.
The second such piece examines both the ninth match-day of the 2023/24 and the highly intriguing second round of the 2023/24 DFB-Pokal that took place shortly thereafter. There was plenty to discuss in both sets of fixtures.
Freiburg, Leverkusen, Mainz, Leipzig, Wolfsburg, Dortmund, Hoffenheim, Bayern, and Darmstadt get their turn on the tactics board in the latest analysis. As per usual, everyone else receives ample coverage as well.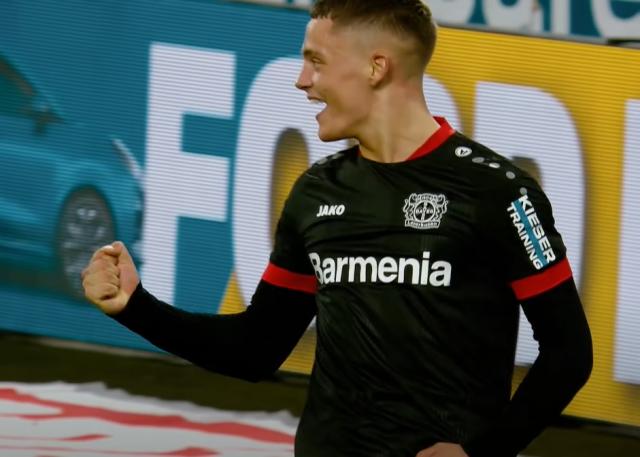 Bundesliga Tactical Banter: Round Nine
"The Foals Roll"

Fresh off the derby setback against Köln last week, Gerardo Seoane's BMG proceeded to get themselves back into gear against visiting 1. FC Heidenheim. Those of us convinced of this team's potential from the very beginning of the season were pleased to witness them secure their first home win of the campaign. Seoane kept the back-four from the second half of last week's loss in place. Some changes saw moving Joe Scally back to his more natural right fullback position, Nathan Ngoumou operating on the left wing, and Alassane Plea scooting behind Jordan (starting above Tomas Cvancara) tightly.

The resulting 4-4-2 – in which Plea honestly functioned about as close as the columnist has seen any service striker work to his lead – was somewhat fortunate to accrue some early confidence thanks to Plea's conversion off a corner in the 4th. The manner in which the constellation clicked in open-play thereafter was nevertheless quite impressive. Ngoumou came close to converting a pair of opportunities in the opening 45, as did Jordan and the ever adventurous Rocco Reitz. What one saw from Reitz, this time serving as a deep-six alongside Julian Weigl, was especially bold.
It certainly wasn't all wine-and-roses. A cringe-worthy defensive mishap from Scally in the 38th enabled Heidenheim to equalize. The hosting Westphalians allowed their BaWü guests to knock them out of rhythm during what was a choppy and disjointed second half characterized by repeated FCH fouls. In the end, the Rhineland club needed an own-goal from Jonas Föhrenbach to reclaim the lead and ultimately take all three points. While the attack undeniably lost its pop, defending of the slender lead in the final 20 minutes remained top-notch.
Some nice counters from Seoane's crew also buttress the working thesis that this team are indeed poised to shake off the mid table mediocrity of years past and perform much better in the current campaign. Young keeper Moritz Nicolas more than atoned for his shaky outing last week with some great saves. The closely-stitched Jordan-Plea attacking tandem has something to it. Reitz went above and beyond his duty in his new position alongside Weigl. Ngoumou and Honorat – still generally a fabulous French flanking partnership – both played very well.
Seoane's team turned around a few short days later to again best Heidenheim in the second round of the Pokal. This time Jordan did convert a pair of early opportunities. Robin Hack, starting ahead of Ngoumou on the left, netted his second cup goal of the season in the 3-1 win. Ngoumou turned in an excellent match on the opposite side. Like Hack, Ngoumou was able to record an assist on the early Jordan brace. Reitz thrived with new midfield partner Manu Koné. Weigl performed splendidly behind the double sixes.
Relax, Fohlenelf enthusiasts!

They're good.
We really mean it this time.
"Union Unravel"

Yeouch. What to do in Köpenick now? Urs Fischer's 1. FC Union Berlin incurred their tenth consecutive defeat on-the-spin following a 0-2 loss against SV Werder Bremen away. One doesn't necessarily doubt the sincerity of FCU managing director Oliver Ruhnert as he continues to back Fischer to remain in charge. At a certain point, however, something will have to give. Neither Ruhnert's front office colleagues nor Fischer himself can keep presiding over a disaster that keeps re-defining the very meaning of the term. It just gets worse and worse.
The latest on the state of Union saw Fischer's usual 3-5-2 "double stack" completely falter in the trip to the Weserstadion. Returning captain Rani Khedira got thrown off the pitch. Returning defensive stalwart Robin Knoche played an awful match that saw him turn the ball into his own net. Knoche's back-three comrades Diogo Leite and Leonardo Bonucci proved a thoroughly putrid pair indeed. When (of all people) Milos Veljkovic is regularly splitting your defensive ranks, it's time to start questioning whether your team belongs in the top division.
No one saw this tailspin coming. If the columnist himself told you that he anticipated such a massive collapse back when Covering Union's first defeat of the season, he'd be an impudent liar. Nothing has gone according to plan here. Not Fischer's famous "automatisms". Not his clearly cobbled-together at the last- possible-moment attempts to try something else. The Pokal crash-out against Stuttgart featured featured a 4-2-3-1 with Kevin Volland occupying the ten slot, Benedikt Hollerbach on the right wing, and Alex Kral pairing with Aïssa Laïdouni in a deep-seated six hole.
Sigh.
Barely worth discussing.
Definitely not worth a draw-up.
Let's move on.
"Stuttgart Stumble"

It most assuredly could have been worse for Sebastian Hoeneß' Swabians in their first match without scoring sensation Serhou Guirassy. For a time it appeared as if the VfB had gotten off to a nightmare start against visiting neighbors and rivals TSG 1899 Hoffenheim. Grischa Prömel netted the 1-0 already in the 4th. Wout Weghorst doubled the advantage from the spot a short time later after a stunningly stupid face-slap from defender Anthony Rouault on Maximilian Beier in the box. Guirassy replacement Deniz Undav blew two good chances from open play and his own chance from the spot in the 30th.
The hosting Württembergers nonetheless didn't give up. Undav – still regrettably unable to forgive himself after the match – scored one goal and set up another in a match that ended in a 2-3 home defeat. Hoeneß' side generally took full advantage of Pellegrino Matarazzo's over-staggered 3-3-2-2 and looked to irrefutably be the stronger side throughout. The losing team decisively won the xG battle (3.61 to 1.75). The goal that would ultimately prove the match-winner (Robert Skov in the 66th) landed at the feet of the Dane thanks to a lucky deflection.
Hoeneß again made what can be construed as the right tactical adjustments late on. Another switch to a higher pressing formation (this time the VfB trainer did re-format in a back-three) very nearly paid off. Offensive actors Undav, Chris Führich, and Enzo Millot all turned in fine performances in both sets of tactics. It just didn't come together on this day as everything broke the other way. Undav did snatch the winner in the Pokal victory over Union, meaning that neither the striker nor his team have any real reason to hang their heads.
The "Burning Questions": Round Nine
What's the latest with Bayer?

Damn devastatingly good stuff. The team that charmed and captivated the German public and press from the very beginning of the season now truly comes into its own. German football lovers – have grown accustomed to pre-season hype turning out to be nothing more than just that over the past decade of Bayern dominance – aren't fully prepared for this. We scarcely know how to handle it. No top-tier Bundesliga side apart from Bayern is supposed to exert such consistently cruel dominance. And yet, here we are. Is this really happening?
Germany's red company team made us all question whether or not we were living through an out-of-body experience. Granit Xhaka fearlessly tested the Freiburg ranks before 60 seconds had been played. Florian Wirtz ensured that no one even had the chance to contemplate scraping their jaws off the floor. The phenom sliced through his opponents with such guilting grace that he could have been mistaken for a figure skater. Jonas Hofmann was just about every bit as smooth. Jeremie Frimpong, Alex Grimaldo, Jonathan Tah, and Victor Boniface all contributed their wizardry.
Can we re-introduce reason into this?
Lineup—Freiburg—Match Nine (4-1-4-1)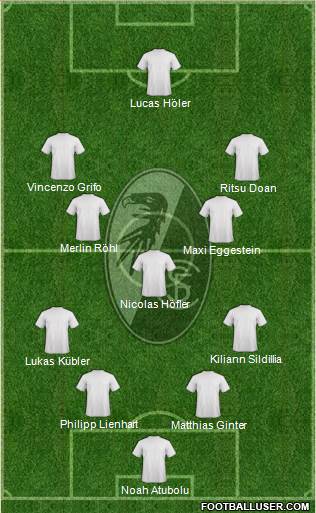 We can try. Opponents Freiburg had to contend with a pair of hard luck injuries (Roland Sallai and Maximilian Philipp) picked up in their Thursday Europa League win. Since the international break, Christian Streich generated some momentum by re-formatting his previous 4-4-2 into a 3-4-3 that featured Philipp deployed alone up top and Sallai serving on the left opposite Vincenzo Grifo. This suddenly required a total re-think on short notice. Still without captain injured Christian Günter, the SCF trainer was forced to deploy Lukas Kübler on his unnatural side in a back-four.
A weak defensive chain wasn't helped at all by Nicolas Höfler's use as a "solo-six". The 33-year-old never did well pulling the strings on his own. Moreover, his proclivity for disastrous days full of endless errors isn't exactly a secret. This season has proven no exception. Bundesliga watchers continue to both scratch their heads and reach for their antacids whenever Streich trusts him with a large patch of pitch. This absolutely never works! Watching such a respected trainer such as Streich keep making this mistake frustrates immensely.
The above 4-1-4-1 counted as an open invitation for Xabi Alonso's crew to run roughshod. Wirtz – for all his wizardry – had clear attacking lanes to hit. The manner in which wingbacks Grimaldo and Frimpong work tucked closely underneath Wirtz and Hofmann in the basic form of Xabi's 3-4-3 rendered this encounter one of those games that looked to be won on paper before a ball had even been kicked. It was all too easy. Match up the Leverkusen constellation with the above graphic to see precisely what the writer is talking about.
The significance of Wirtz's performance
Now that we've gotten the excuse of Streich's poor tactical plan out of the way, it's time to turn to the much more pleasing task of praising Wirtz. Were it not for the 20-year-old, the Breisgauer might have managed to pull some points here. An imperious (82% possession, 9-0 corners and 12-2 shots) opening 36 minutes meant nothing as the match remained goalless until the Wunderkind rattled off his dazzling solo run. While taking care to note that the player he danced past with multiple hooks was Höfler, the silky smooth moves and finish still leave the youngster in contention for the goal-of-the-season.
Wirtz continued to cause problems all night. In addition to recording the assist on Hofmann's 2-0, the generational-talent set up three more efforts from his teammates. he got a further two shots off himself. He went on an unreal 12 individual dribbles en route to racking up nearly 80 touches. Nearly 90 percent of his 55 passes connected. The word "unstoppable" doesn't come close to doing Wirtz's performance justice here. Neither does "relentless", "dogged", "determined", or "uncompromising". This self-proclaimed wordsmith simply finds himself at a loss.
We've little choice but to resort to the strongest of all expletives. Some "motherf***ing" week this has been for Wirtz. Immediate involvement in the game-winning goal in last round's win over Wolfsburg A goal and three assists in the Thursday Europa League win against Qarabag. Another marvelous performance off the bench (not to mention another assist) in the late Pokal rout of SV Sandhausen. A 20-year-old has no earthy business being so damned good. Parents take note. Perhaps it's best to deprive your kid of a Playstation. That seems to have worked in Wirtz's case.
Running down the rest of B04
Footballing analysis ceases to be fun if one doesn't try and and have a look for some weak spots. Finishing errors actually prevented Wirtz from bagging two more goals in the league fixture. Frimpong also squandered two opportunities, once failing to square for a wide-open teammate and another time shanking an effort off the crossbar. After nearly catching SCF net-minder Noah Atubolu off his line, lead striker Boniface had something of a disappointingly quiet match. As is often the case with team's of football teams heavily reliant on artistry, the risk of developing profligacy in front of goal exists.
Once Streich got Michael Gregoritsch on in the 67th and re-formatted his team back to the old 4-4-2 top-axis stagger, it only took three minutes for the Schwarzwaldverein to pull a goal back. Gregortisch's fellow sub Manuel Gulde converted a Grifo free-kick. The BaWü guests improved significantly in open-play and came close to equalizing several times. Leverkusen's second goal, despite some fine work from Wirtz and Hofmann in the lead-up, did take a lucky carom in off Atubolu's back. This team could conceivably still drop a result in the coming weeks.
Anything interesting from Xabi tactically?
Once again, there wasn't much of note to report in the league. Since this particularly column does take the latest Pokal round into account, one at least has the excuse to offer up a draw-up of Xabi's alternate constellation. Whether in the UEL or the cup, Bayer's Spanish trainer's default "Plan B" generally adheres to a 4-2-3-1. Depending on the opponent, it tends to exhibit wider spacing in some cases and tighter grouping in others. The shape debuting against Sandhausen lined up very conservatively.
Lineup—Leverkusen—DFB Pokal (4-2-3-1)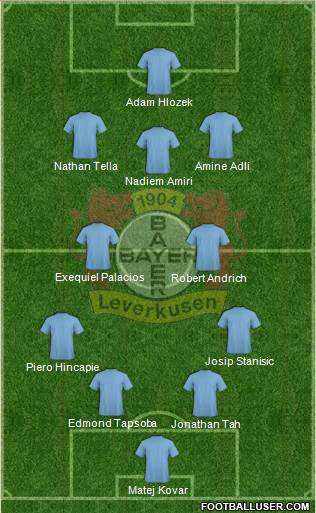 The confidence of a team bursting with talent and enthusiasm managed to carry over throughout the first-half despite all of the personnel changes. Matters got significantly shaker after the break, with Sandhausen scoring two unanswered goals to even matters up In the end, it took the regulars to score the decisive final three goals in the final five minutes. It's not exactly fair to label Xabi's second-choice XI ineffective. On the contrary, players like Piero Hincapie, Amine Adli, and Bayern loanee Josip Stanisic have largely performed very well.
The five to eight rotations Alonso usually employs for the midweek competitions still don't hold a candle to the players Alonso uses in the league. The Spaniard has rotated less than any other top-tier trainer if one solely looks at Bundesliga encounters. This in itself serves as another reason why – as Germans are never shy about repeating – die Werkself do undeniably have the best head-coach of all the other 18 clubs. Xabi has his sights set on the most important priority, and keeps a well-drilled formation in place in pursuit of it.
So much speaks for this team.
Can Streich revamp the rhythm?
Not if the midweek loss in the Pokal is any indication. In an attempt to resurrect his 3-4-3, the SCF trainer started Gregoritsch, Gulde, Junior Adamu, and Noah Weißhaupt over Kübler, Lucas Höler, Philipp Lienhart, and Merlin Röhl. The right-hand-side continued to have problems in the absence of Philipp and Sallai. Opponents SC Paderborn took the lead already in the 4th before Doan, Adamu, and the defensive line could even get set. This constellation produced nothing offensively over the course of the opening 45 apart from a tame central Gregoritsch effort.
Lineup—Freiburg—DFB Pokal (4-2-3-1)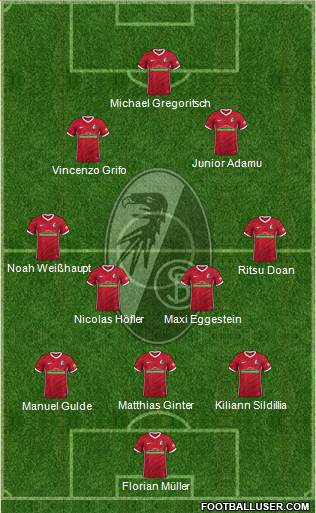 Down 0-2 at the half, Streich yanked Adamu and Gulde in favor of Lienhart and Höler. It remained uncertain as to whether maintenance of the 3-4-3 or a return to the 4-4-2 was intended. Paderborn netted the 3-0 some ten minutes after the restart. Maximilian Eggestein pulled a goal back and there was an attacking flurry from the Breisgauer near the end. This squad definitely looks to be in trouble unless its head-coach can get something of a tactical blueprint nailed down. All looks to be desperately disorganized at the moment.
How did Bo Svensson bow out?

"Too soon" is definitely the short answer most of us Bundesliga diehards will give you first. The loss of one of the league's most eminently respected trainers leaves us all feeling as if a bright guiding light has gone out in the top tier. Svensson's decision to resign his post remains understandable. The always humble and first-to-take responsibility head-coach simply ran out of solutions. One witnessed this in his final two matches. Faced with the fact that his team played their worst offensive half under his tenure on Friday night against Bochum, the FSV gaffer resorted to tactical desperation.
Lineup—Mainz 05—34th minute (4-4-2)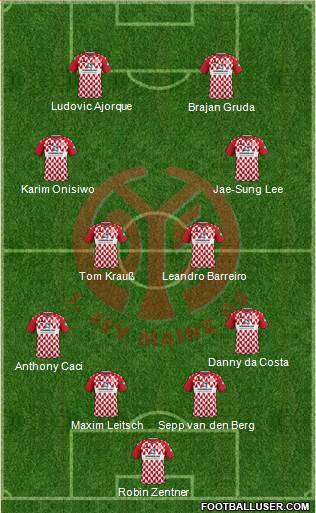 Not once in Svensson's considerably long tenure have Mainz failed to record a single shot in an entire half of play. For that matter, to the columnist's recollection at least, Mainz have never played in a back-four since Svensson took over in January of 2021. Bochum took a deserved 1-0 half-time lead into the dressing rooms. It might have been much worse were it not for some quality saves from net-minder robin Zentner. Svensson's decision to alternate tactics via a double switch (Tom Krauß and Jae-Sung Lee for Dominik Kohr and Stefan Bell) in the 33rd produced nothing.
A third switch (Aymen Barkok for Ludovic Ajorque) at the break similarly yielded zero results. Bochum should have increased their lead twice. Instead, the Rheinhessen were gifted a lifeline back into the match when an own-goal bounced in off Keven Schlotterbeck's leg in the 59th. Bochum kept up their superiority and Schlotterbeck managed to redeem himself at the other end with the 2-1 in the 82nd. The Pfälzer mustered up nothing in terms of a response. It was intolerably cruel for the Westphalian hots that Lukas Daschner deflected in the equalizer off a random Krauß shot at 90+6.
Svensson made five changes to his XI in the midweek cup disappointment against Hertha BSC at the Olympiastadion. A double-staggered 4-4-2 genuinely looked nothing like the sort of Nullfünfter football one had come to expect under the now departed trainer's coaching regime. The attack sputtered constantly. Leandro Barreiro got a strike in off the crossbar, but the lone chance of the opening 45 resulted from a dead-ball long-throw. The team summarily failed to get into any sort of flow in open-play in the next futile attempt at a new set of tactics.
Lineup—Mainz 05—DFB Pokal (4-4-2)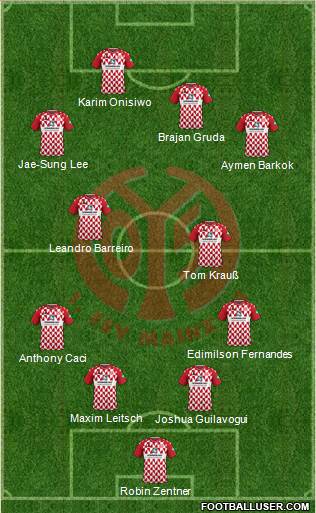 Simply stated, Svensson felt compelled to resign after losing sight of his own game. There were many moving components once – down 0-2 following a pair of penalties – a triple change saw Ludovic Ajorque, Sepp van den Berg, and Marco Richter brought on for Lee, Barkok, and Maxim Leitsch in the 58th. The new actors seemed to have no idea where to settle after Hertha sealed the result with the 3-0 three minutes later. Only Richter recorded a lame shot on target. Everyone else seized up.
The club itself did well to postpone the search for Svensson's replacement. What's needed now is a return to the foundation under which this team has proven itself capable over the last 18 months. Even if the head-coach is gone, the stamp he placed on the team can still be revived. A back-to-basics approach often yields better results than a radical restructuring. Ill-timed injuries had much to do with the stumbling start to this campaign. As infrequently the case, a poor run-of-luck narrowed the pool of options unfairly.
So sad to see Bo go.
Has Niko Kovac lost his mind?

Yes. We'll go with the straightforward answer in this case. It was bound to happen sooner or later. The VfL trainer – notorious for his over-tinkering – continues to make a hash out of Germany's green company team. From the very beginning of Kovac's tenure, one had the impression that the former Eintracht and Bayern head-coach might have been one of the worst fits for this particular job. A cash-infused club like Wolfsburg typically stacks the roster full of talent. An expensive surfeit of (oftentimes) unbalanced talent can easily be mismanaged.
As compared to last week, Kovac made four changes to his starting XI. Nicolas Cozza, Lovro Majer, Kevin Paredes, and Patrick Wimmer started in place of Sebastiaan Bornauw, Yannick Gerhardt, Ridle Baku and Tiago Tomas. The 3-1-4-2 deployed against Leverkusen made way for a 4-2-3-1 for use against Augsburg. The constellation at least had some logic to it as Kovac sought to mirror Jess Thorup's shape. The Autostädter didn't penetrate the 18 until the half-hour mark. They rarely crossed the halfway line in this:
Lineup—Wolfsburg—Match Nine (4-2-3-1)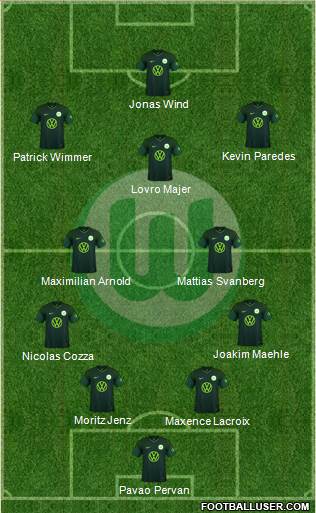 Endless bow arcs among the back-four ensued. There existed next-to-no ideas about how to move forward. The Fuggerstädter defense eventually pounced on this. It was FCA center back Jeffery Gouweleeuw who moved forward to assist Philipp Tietz's opening goal in the 14th. The 35th-minute equalizer featured a nice solo run from American winger Kevin Paredes. Jonas Wind was nevertheless lucky that Niklas Dorsch knocked Paredes' cutback straight onto his boot. Dorsch messed up again by fouling Matthias Svanberg in the box in the 45th, allowing Majer to shot the 2-1 home from the spot.
The Lower Saxon guests took few risks after obtaining the lead. The entirety of the chances after the restart belonged to the Bavarian Swabians. Kovac opted to make a defensive switch in the 75th by bringing Bornauw on for Paredes. What transpired next proved confusing. The VfL trainer actually reverted to a back-three by sending Nicolas Cozza and Joakim Maehle forward as wingbacks. Tiago Tomas – on for the injured Wimmer – moved up alongside Wind in a double-striker set.
Lineup—Wolfsburg—76th minute (3-5-2)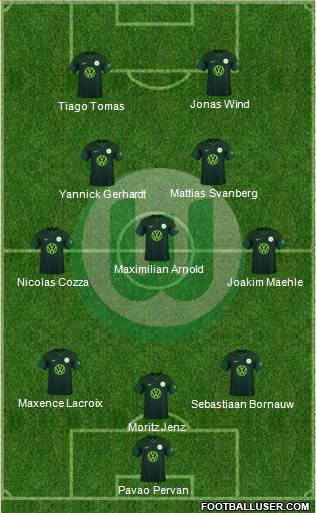 Within four minutes, Bornauw scored one of the most brilliant own-goals anyone is ever likely to see from his unnatural right-slant. The 2-2 had a justified feel to it. Augsburg had been knocking on the door for quite some time, even seeing a previous equalizer disallowed for offside. The hosts continued to mount a series of unanswered attack charges. The winning goal (a nice combo from Thorup's subs Arne Engels and Iago) came two minutes later. Kovac's crew slipped to their third consecutive league defeat.
Eliminating two-time defending DFB Pokal champions RB Leipzig in the cup three days later wasn't exactly a small feat. It should still be noted that Marco Rose's German Red Bulls dominated the game for long stretches, including almost the full 35 minutes after Yussuf Poulsen's red card left them shorthanded. A full eight changes from Kovac left the Wolves with a completely new outfield. Midfielder Svanberg and defender Maxence Lacroix were the only holdovers. Gerhardt worked an abnormal position on the left wing.
Lineup—Wolfsburg—DFB Pokal (3-4-3)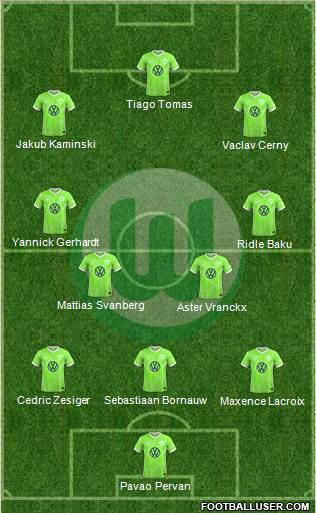 So many rotations? How can one justify benching Jonas Wind? The VfL trainer can count himself lucky that this worked. This succeeded almost in spite of itself. The lone goal of the match resulted from a David Raum passing error. Raum came close to redeeming himself with a strike off the crossbar. One honestly wonders what goes through Kovac's head sometimes. At this point, the club's front office must realize that they have the complete antithesis of the coach (Oliver Glasner) who last led this team to success in place. They might soon begin to realize that Glasner is available and a better alternative.
Some thoughts on Thorup's Augsburg
We obviously don't wish to conclude this section without a few words on the team that won the league encounter. Two wins from two fixtures have the new FCA trainer off to a perfect start. Summer signing Tietz has now scored in two consecutive matches. New skipper Ermedin Demirovic, along with Gouweleeuw, played another strong match. Thorup also earns plaudits for his subs. As noted above, Iago and Engels got their names on the scoresheet. Ruben Vargas also performed well.
Notable dips for Dorsch and Fredrick Jensen suggest that Thorup's perfect record won't necessarily last very long. Besides that, the author didn't witness much to disprove last week's contention that the Sven Michel experiment in the ten-slot shall serve as a long-term solution. This squad apparently suffer from disciplinary issues irrespective of who works the bench. Six more bookings for the Fuggerstädter in this one. Felix Uduokhai became the latest one to get sent off on double yellows.
A nice points haul.
They're still a "relegation pack" side.
What happened to Köln's momentum?

Predictably enough, it fizzled out in the Saturday night Top-Spiel against Marco Rose's German Red Bulls. Everyone from the Kölner gaffer to the two most prominent front office figures made no effort to hide their disgust with the manner in which their team utterly failed to keep focus in the 0-6 defeat at the Red Bull Arena. Baumgart ordered the previously successful 4-2-3-1 into a more compact shape in order to contain and choke out the superior team's attacking flow. Rose himself threw caution to the wind with a rare re-format of his usual 4-2-2-2 system.
A 3-4-3 mercilessly pummeled Baumgart's side.
Lineup—RB Leipzig—Match Nine (3-4-3)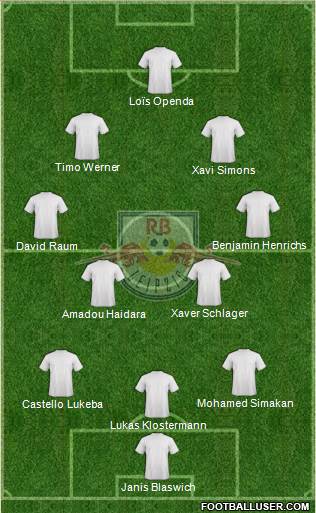 Not too much more one can note about a league encounter that essentially served as a "no-contest". The fact that both of these teams ended up getting thrown out of the Pokal in their midweek fixtures also had little to do with tactics. Rose's team – returned to the 4-2-2-2 – played a sloppy and uneven match against Wolfsburg. Baumgart's squad got boiled alive in the pressure-cooker atmosphere that is Kaiserslautern's "Betze". In the case of Köln, a late surge from subs Steffen Tigges and Mark Uth nearly led to a comeback in the cup fixture.
Some hope for the Domstädter?
After coming close to shifting the tenor of the Leipzig match early with some quality chances, Köln's Luca Waldchmidt had his moments midweek as well. Baumgart's new ten nearly scored twice against Lautern as well. Maina also played an improved match. The fact that Uth – whom many of us assumed might not have any future on the pitch at all – scored his first goal since the opening Pokal round in the summer of 2022 – definitely constitutes an unexpected ray of hope.
"Weekly Wortschatz": Round Nine
"Gradmesser"

Both SGE trainer Dino Toppmöller and his BVB counterpart Edin Terzic broke out the "Gradmesser" ("yardstick") descriptor ahead of their Sunday league encounter. This aptly fit the Eintracht-Dortmund encounter; by far the most intriguing match-up of the weekend. Both teams entered the fixture riding high. Frankfurt's October consisted of three consecutive wins on-the-spin. The Eintracht we beheld just before the early-month international break certainly rode their momentum once league play resumed.
Dortmund, meanwhile, were undefeated in seven matches on-the-bounce. Last week's victory over Bremen enabled them to keep their streak of five straight league wins alive. No defeats in the league for Terzic's Schwarzgelben thus far. Two squads with plenty of success, yet plenty still left to prove, squared off at Deutsche Bank Park. Something had to give. No matter the result, we'd be in for a great story. As it turned out, the teams furnished us with a six-goal thriller that few league watchers will soon forget.
Lessons from the consistently face-paced and never dull draw (played in a hellish downpour no less) aren't exactly easy to glean. Toppmöller's tactics – just like last time – command respect. After the midweek rotations, The SGE trainer put forth the exact same XI that surprised Hoffenheim last week. The only exception placed the once-again fit Kevin Trapp ahead of Jens Grahl in goal. Terzic had to do without his two regular starting midfielder Emré Can and Felix Nmecha due to injury. His initial tactical set up left something to be desired.
Lineup—Dortmund—Match Nine (4-2-3-1)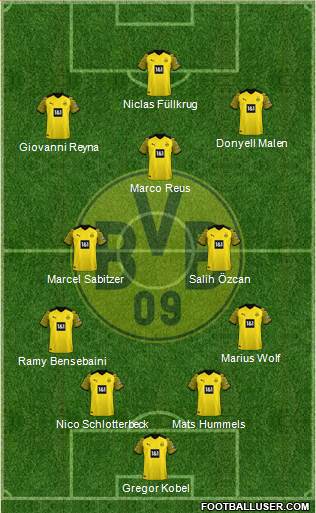 Salih Özcan slid in alongside midweek starter Marcel Sabitzer. Marco Reus worked Nmecha's pseudo ten slot whilst Giovanni Reyna received his first start of the season. Matters got off to a decent enough start. Donyell Malen recorded the first shot on target in the 3rd. A fairly questionable handball penalty, however, allowed Omar Marmoush to give the Hessians the lead from the spot in the 8th. Matters proceeded to go downhill from there. Only Gregor Kobel prevented Eintracht from doubling the advantage until Marmoush did officially score the 2-0 in the 24th.
Things got worse for the Westphalians when Kobel was forced to depart injured two minutes after Marmoush's second goal. Replacement Alexander Meyer only just escaped awarding Frankfurt another penalty with a foul on the totally fearless Marmoush in the box in the 36th. Marmoush also hit the post on what should have been the 3-0. Sabitzer pulled a goal back at 45+2 with one of his trademark long-range efforts. This turn-of-events put Dortmund back in the match. Terzic – not having liked what he saw – still pulled the trigger on a double-change at the half.
Lineup—Dortmund—46th minute (4-3-3)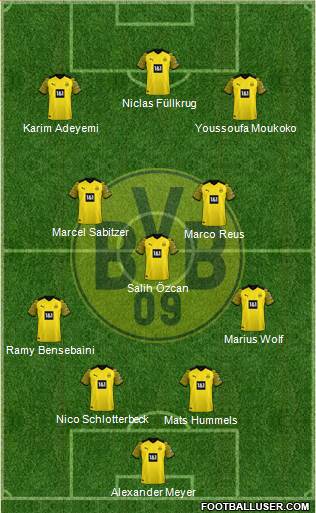 Karim Adeyemi and Youssoufa Moukoko relieved Reyna and Malen. Though the new 4-3-3 had its messy moments, including another narrow escape of a Marmoush goal seconds after the restart, Terzic's re-jiggered formation gained much better access to the penalty area. Dortmund were twice able to tie matters up again, at first through Moukoko in the 54th and again via later sub Julian Brandt in the 82nd after Fares Chaibi restored the lead in the 68th. It truly counted as one of those wonderfully splendid see-saw affairs. The 3-3 draw had everything to offer except a winner.
Terzic's team now stand undefeated in the last 17 league fixtures. Toppmöller's Eintracht extended a home league-winning streak to 15 games. At the conclusion of this one, neither coach can learn much from the so "Gradmesser Game". It's mainly positive on both sides. Insofar as Frankfurt are concerned, Marmoush is really popping. Young Swedish midfielder Hugo Larsson continues to impress. Chaibi now has his first Bundesliga goal. Aurel Buta got several efforts in from his new advanced right winger position.
Dortmund can rejoice in the fact that Julian Brandt remains in monstrous form. The resurgent German national team attacker (with four goals and four assists) has now pocketed a scorer point in eight consecutive matches. For all the defensive issues surrounding the three conceded goals, both the midfield and back-four did more than a serviceable job absorbing an almost uninterrupted series of SGE counters. Eintracht's Larsson ran at them all night. Özcan, Nico Schlotterbeck, and Mats Hummels halted the youngster on numerous important occasions.
Transitioning from the league to the Pokal, this pair of teams can still relish in the positives in that they were both able to advance. The matter that both only scraped by their opponents does mean that there's more to work on for both sides, however. Toppmöller's crew looked stronger overall in a 2-0 win over 3. Liga side FC Victoria Köln. The BVB faced a sterner test in fellow top-tier club Hoffenheim. German footballing legend Marco Reus proved the hero with both the game-winning goal and a superb overall performance in the 1-0 victory.
Tactically?
Lineup—Dortmund—DFB Pokal (4-3-3)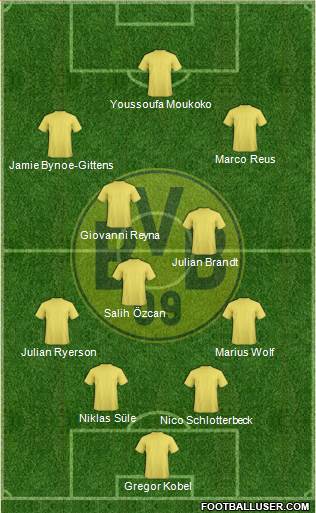 Meh. This didn't exactly knock one's socks off. Reyna played an okay match as the eight in the midfield step-stone. Reus could have scored multiple goals. Moukoko and Jamie Bynoe-Gittens got their looks in as well. One must nonetheless say that all BVB actors should have done a better job against a gap-filled 3-4-3 used by Pellegrino Matarazzo. The TSG trainer kept three strikers – Maximilian Beier, Wout Weghorst, and Mërgim Berisha – tightly chained on the top axis. All of Matarazzo's axes were noticeably flat in point-of-fact.
Lineup—Hoffenheim—DFB Pokal (3-4-3)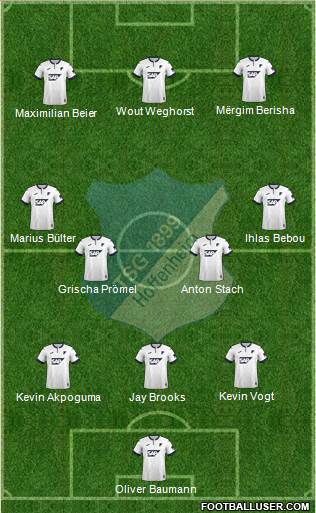 Terzic's six-seven-eight stepstone had all the space in the world to get balls behind the rigid Kraichgauer constellation, yet routinely failed to do so. Dormtund's second-half performance lulled one to sleep and the BVB trainer did zilch to address this until introducing Malen and Ramy Bensebaini in the 64th. Even then, one didn't observe a team terribly interested in doing much other than quietly closing out the match. Contextually speaking, that's fine. A potential title-aspirant might do better.
"Achterbahn"

No spots writer finds themselves particularly enthused to trot out the "Achterbahn" ("rollercoaster") analogy. Sometimes a phrase is so hackneyed that it hurts. The more superstitious among us believe that clichés kill brain cells. Describing sporting occurrences in terms of "highs and lows", "peaks and valleys", or the famous amusement-park-ride feels about as fulfilling as describing rainfall as "wet", fire as "hot", or nightfall as "dark". No one needs a reminder of what sensations a rollercoaster evokes. Life itself happens to be one whether we're prepared to admit so or not.
Alas, how else can one characterize Bayern's crazy week? The sporting pages of the Bundesrepublik appear to be in no mood to delve deep into the creative reservoirs. Why should this columnist? It's gone and happened again for the mighty German giants. For the fourth consecutive year, the Bavarians have been eliminated relatively early in German football's domestic cup competition. Holstein Kiel took them out in the second round of the 2020/21 competition. Borussia Mönchengladbach eliminated them at the same stage the next year. Then Freiburg in the quarterfinals last year.
Now – after rolling over Darmstadt 8-0 in the league on Saturday – it's happened again. From the pinnacle of dominance to another Pokal dump-out in the span of a few days. The Bavarians are not referred to as the "record champions" for nothing. Not only have they captured more league titles (by far) than anyone else, the record of 20 DFB Pokal championships isn't in danger of being reached by anyone else. The FCB catches hell in the German press after this latest humiliation. Harry Kane was lured to Munich with the promise of silverware. After the Supercup loss, he's missed his first two chances.
The contrasting two results this week obviously don't accord us the most useful chance to glean insights about the current state of Bayern. Like the cliché that headlines this very section, the conclusions drawn remain banal and stale. Duh. Confidence, or lack thereof, produces a snowball effect on the pitch. Goals conceded, with players going a tick slower, lead to more goals being conceded. Double duh. Most of the insanity taking place over the weekend related to the fact that – for the first time in 60 years of Bundesliga history – three players were sent off on red cards in the opening 45.
Assessing teams forced to function shorthanded does nevertheless produce some interesting graphics. We can at least present those. Bayern trainer Thomas Tuchel still clings to his desire to line his squad up in a 4-2-3-1. He did so at the Allianz on Saturday. Joshua Kimmich's 4th minute red card forced him to give Konrad Laimer the chance to operate alone in midfield for the first time. The Austrian pushed forward with nary a thought. It was Laimer who drew the first red from Darmstadt (Klaus Gjasula) in the 21st. Kane was responsible for sending the second SV player (Matej Maglica) off in the 41st.
Lineup—Bayern—5th minute (4-1-4)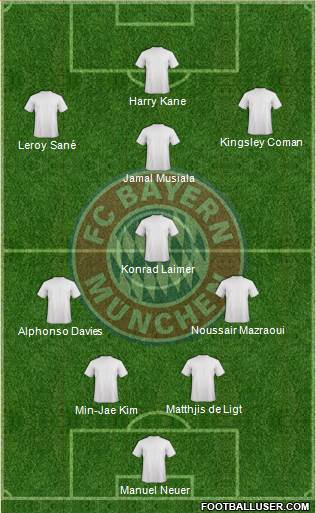 Bayern's eventual dominance of the match truly was only a matter of time. The formation deployed by SV trainer Torsten Lieberknecht featured a yawning gap behind the dual striker set of Luca Pfeiffer and Tim Skarke. Nothing about the constellation suggested that the Hessian guests were playing to win. The favorites surely would have broken Lieberknecht's game-plan down eventually. Pincer actor Marvin Mehlem actually did his job reasonably well throughout the entire booking infested first-half.
Lineup—Darmstadt—Match Nine (3-4-1-2)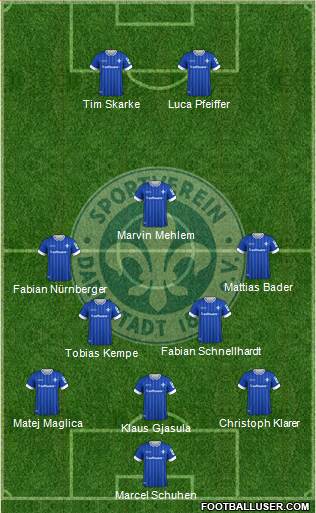 This practically constituted surrender from the very beginning. The SV98 trainer made his adjustments for the second half with substitutions on both sides of the break. Christoph Zimmermann replaced Pfeiffer at 45+2. Mathias Honsak took over for Fabian Schnellhardt before it came time to kick off in the 46th. The new formation held together as best as it could until Jamal Musiala's 3-0 at the hour-mark officially opened the floodgates. Nothing even remotely resembling "football" transpired after that.
Lineup—Darmstadt—46th minute (5-2-1)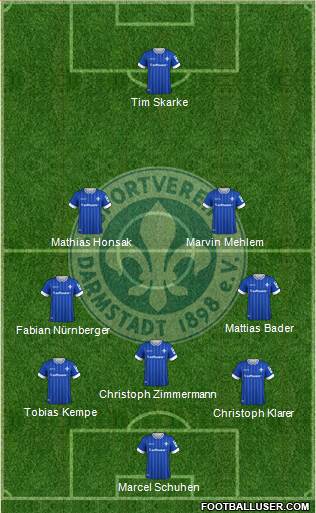 Those of us so brash to insinuate that Darmstadt can – in all seriousness – take something from this humiliation base our reasoning on a few decent stops from Zimmermann. The former Gladbach, Dortmund, and Norwich City professional (scoreline notwithstanding) did his level best to keep the back-five somewhat organized. Zimmermann, Mehlem, and Matthias Bader had their moments of calm within the eye-of-the-storm. Yes, the columnist feels ridiculous writing that. It's every bit as embarrassing as have to trot out a sports-writing cliché.
Bayern's loss in the Pokal makes for the more interesting assignment. It's best to move onto that as soon as possible. Here, Tuchel's decision to maintain a midfield "solo-six" (indeed the "holding six" he's been prattling on about since the beginning of the season) didn't work at all. Kimmich struggled to run the attack coherently in midfield. An inexperienced left-hand side of youngsters Frans Krätzig and Mathys Tel – after an early goal – led to too much inconsistency in the final third.
Lineup—Bayern—DFB Pokal (4-1-4-1)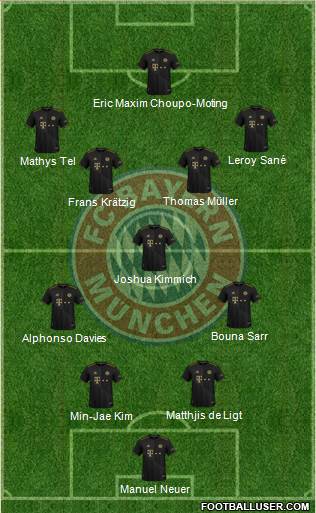 We'll note that the 1-2 defeat might have unfolded differently were it not for a Matthjis de Ligt injury in the 24th. Bayern were up 1-0 at the time. Tuchel's decision to move Kimmich back to de Ligt's spot while Laimer assumed Kimmich's role put the heavy favorites on the back foot. Laimer and Kimmich never quite adjusted to the change and found themselves overwhelmed with defensive work. Poor marking from both and a Krätzig turnover enabled Saarbrücken to equalize at 45+1.
Efforts to regain the lead in the second half failed due to some poor luck in some cases, but still weren't especially creative or compelling. As new FCB sporting executive Christoph Freund put it afterwards, Bayern had little real cause to feel hard done by. The game-winning 2-1 came on the last kick of normal time at 90+6. Just as was the case on the snowy pitch in Kiel nearly three years ago, Bayern found themselves punished in the final seconds after losing control of a match they should have put to bed.
Difficult as it may be to fathom, Bayern's cup form itself is close to becoming a cliché at this point. This one stings harder than the previous three as Saarbrücken are the first team from below the second division to ever beat Bayern in the Pokal in a match that didn't go to penalties. The historic six-trophy year under former trainer Hansi Flick has been followed up with single-trophy hauls under Flick, Julian Nagelsmann, and Thomas Tuchel. Three different front office administrative regimes also presided over this downward spiral.
Can Bayern even hope to grab one trophy this year? Not really if the emerging favorites to grab the title remain on their toes. With Florian Wirtz in such electric form, the last best hope in terms of getting a trophy for Kane might lie in the Champions' League. It remains far too early to assess FCB prospects there. Given the state of the Bayern "rollercoaster", however, one wouldn't wager safe money on the Bavarians capturing Europe this year. Tuchel must find a way of calming this mercurial ride down. Somehow, a soft and predictable "merry-go-round" must emerge.
Thanks so much for reading! You can catch the release of all Peter's columns (and occasionally catch him goofing off) on whatever the hell they're calling twitter these days @PeterVicey.
Twitter DMs are open for football conversations, corrections, and (if you truly insist) general abuse. 
Full color re-posts of the columns are eventually archived on Peter's website.
Related stories
Austria vs. Germany preview: Team news and predicted lineups
Arnold on Kovac's rotation policy: "Some players are naturally unhappy"
Kane expected to break Bayern shirt record by Christmas
About Author