Ahead of the return of Bundesliga football, and the return of the Bulinews "Tactics Talk" column back to its original publication time slot, we'll be publishing four pieces chronicling the tactical trends in German football over the past four rounds in the coming days.
The first of these pieces take's an in-depth look at the 2023/24 campaign's eighth match-day. Matters surely looked different for several top-flight clubs back then. The comprehensive recap feature provides a snapshot of where everyone stood.
Union Berlin, Stuttgart, Wolfsburg, Leverkusen, Köln, Gladbach, Dortmund, Augsburg, Frankfurt, and Hoffenheim receive draw-ups in this installment of the column. As always, all nine fixtures are covered in the report.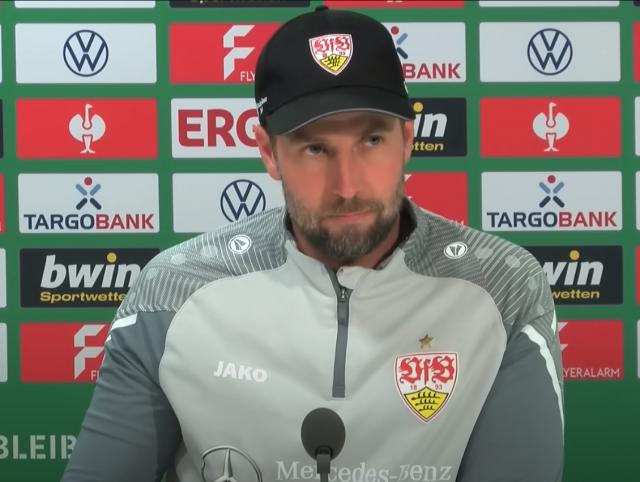 Bundesliga Tactical Banter: Round Eight
Bochumer complaints department

VfL Bochum still await their first win of the season after coming up empty-handed from a trip to Freiburg. Although Christian Streich's Breisgauer were unquestionably the more compelling side over the course of 90 minutes, one cannot help but reserve some sympathy for the Revierklub following a bizarre sequence of events near the end of the first-half. Freiburg's Vincenzo Grifo scored what proved to be the game-winning goal from the spot at 45+2. Some fifteen minutes prior, Freiburg's "dapper don" absolutely should have been sent off on a straight red for a vicious tackle on Cristian Gamboa.

Thomas Letsch's 1848ers had grabbed an early lead courtesy of a quick vertical launch from keeper Manuel Riemann at the quarter-of-an-hour mark. SCF midfielder Maximilian Eggestein miffed up his reception and turned the ball directly over to Takuma Asano. New VfL starting lead striker Gonçalo Paciencia polished off the 1-0 past SCF rookie goalkeeper Noah Atubolu; who continues to look as if he's not quite ready for this level yet. The incident involving Grifo and Gamboa came three minutes after Grifo st up Ritsu Doan's equalizer in the 26th. It was one of the dirtiest tackles this columnist has seen in a long time.
Grifo being permitted to remain on the pitch definitely constituted a major error in judgement from match official Tobias Reichel. Venting a bit after the game, VfL sporting director Patrick Fabian correctly pointed out that the VAR team in the Kölner Keller needed to at the very least compel the ref to have another look at the open-sole stomp. Even the massive Grifo fans among us didn't particularly enjoy watching Grifo stride to the spot to convert a handball penalty at the end of the first-half. Karmically speaking, everything was off. Riemann saving a third consecutive penalty might have thrown things back into balance. He didn't.
With a narrow lead secured, Streich shifted his team down to their now familiar administrative gear in the second 45. That isn't to suggest that the Badeners sleepwalked their way to victory. Out-of-favor German national team defender Matthias Ginter made a strong case for himself with some fine stops on several Bochum charges. German youth international Noah Weißhaupt remained active up the left flank and sent several useful crosses into the box. Goal-scorers Grifo and Doan each carved out more chances. The better team won on this day. That notwithstanding, of course, one can't excuse that tackle.
Yikes!
Mainzer luck department

To the surprise of no one, Bo Svensson's FSV Mainz 05 are also awaiting their first win of the season after dropping the Saturday night "Top-Spiel" to the mighty FC Bayern München. Of some interest here, the hosting Pfälzer found themselves within millimeters of a spectacular comeback after Kingsley Coman and Harry Kane put the German giants up 2-0 early on. Spurned on in large part by an exceptionally spry performance from young German attacker Brajan Gruda, Mainz unleashed wave after wave of attacks up the FSV right until Anthony Caci finally pulled a goal back at the end of the first half.
Edimilson Fernandes and Leandro Barreiro narrowly missed chances prior to Caci's goal. Looking extremely confident, Mainz even went on to dominate proceedings after the restart. FSV defender Stefan Bell somehow missed a wide-open net after initiating a beautiful attack charge himself in the 57th. Bell actually had two great chances to restore parity before Leon Goretzka's 3-1. Gruda then struck the aluminum and Barreiro hit the side netting during another late Mainz push deep into second-half injury time. The two teams finished almost dead-even in terms of xG.

One behold an impressive amount of mental resilience from Svensson's side throughout the course of the affair. Soon-to-be relegated back to the bench FCB keeper Sven Ulreich also did his bit in what will be one of his final place-holder matches in goal for Manuel Neuer. Ulreich made a wonderful save on Jae-Sung Lee early on. The Bayern net-minder did well to keep Caci and Danny da Costa out too. A good deal of the uptick in form from Svensson's side divined before the international break appears to have carried over. It's worth emphasizing that – just as in the opening section above – the better team did win.
Luck still played a role
Some luck shines Leipzig

Another one of the round's biggest mismatches leaves one pondering the hypotheticals. Marco Rose's German Red Bulls met with a surprising test in their trip south to Darmstadt. Everything seemed to be going according to plan when Benjamin Henrichs set up Löis Openda's opener before 60 seconds had been played. The visiting Saxons nevertheless didn't proceed to dominate their hosts. Torsten Lieberknecht's Lillies held it together and furnished a most unexpected response that featured five – admittedly a little haphazard – efforts on goal in the intervening 20 minutes.
The two teams traded goals (Emil Forsberg off a set-piece and Tobias Kempe from the penalty spot) before the fixture went into the locker rooms with a 2-1 scoreline for the favored guests. Poor SV striker Luca Pfeiffer simply cannot seem to buy his first German top flight goal. RB keeper Janis Blaswich twice denied the Stuttgart loanee , who has also hit the post what feels like a dozen times this season, what would have been a deserved equalizer on both ends of the break. Matters degenerated into something of a foul-ridden mess until Openda capped proceedings with the 3-1 in the 80th.
We've a third consecutive match in which, undoubtedly, the better team ended up winning. This despite the fact that – as Rose himself admitted in his post-match interview – could have just as easily ended in a draw. In the columnist's humble opinion, none of the losing sides can truly complain about not catching the right breaks. Even the less-than-pleasing sequence of occurrences in the Bochum affair didn't merit the type of post-match babble we got from Patrick Fabian and Marc Lettau. Fortune largely favored the bold this weekend. Complaints came from the humbled.
The "Burning Questions": Round Eight
Does Urs Fischer have any ideas left?

Union's famously popular Swiss maestro has vowed not to resign following his side's eighth (!!) consecutive defeat on-the-spin. FCU managing director Oliver Ruhnert – widely lauded by most of us German football watchers for his spectacular targeted personnel upgrades this offseason – also backs his current head-coach to remain in charge. The curious case of the capital city's Köpenick side continues along its sordid path. Truth be told, most of us German football watchers maintain enormous respect for this roster. It simply must begin punching closer to its weight eventually.
What we have here – not unforeseeable after the initial stumble on match-day three – boils down to a simple mixture of steadily declining confidence combined with ill-timed tactical tweaks. Both the system and the roster remain sound. At a certain point, however, the trainer can't allow a regressing status quo to persist.  In Fischer's case, "Plan B" never seems to work. It never even looks like it might. Just about any observer can see that the alternate shape didn't get enough drill-time on the training pitch. Such was again the case against Stuttgart this weekend.
Some hope for a revival existed upon the release of the team-sheet. Captain Rani Khedira was back in the starting blocks for the first time this season. Robin Knoche also made his long-awaited return after a month-long injury layoff. Regrettably, the regular 3-5-2 produced nothing approaching clever and imaginative play on the forward rushes. Sebastian Hoeneß' Swabians had to exert little effort to keep things under control. VfB keeper Alexander Nübel had practically nothing to do apart from catch loft crosses from Robin Gosens and Christopher Trimmel during the opening 45.
An opening goal from Serhou Guirassy (none of us are best pleased about the injury news) gave Stuttgart the 1-0 halftime lead and forced Fischer into action. A triple change saw David Datro Fofana, Sheraldo Becker, and Alex Kral entered for Kevin Volland, Janik Haberer and Lucas Tousart. One knew immediately that Kral's introduction would herald a 3-4-3 midfield re-format. Knowing how well Hoeneß' later-match re-formatting has worked, one tended towards the conclusion that it probably wouldn't work.
Lineup—Union Berlin—46th minute (3-4-3)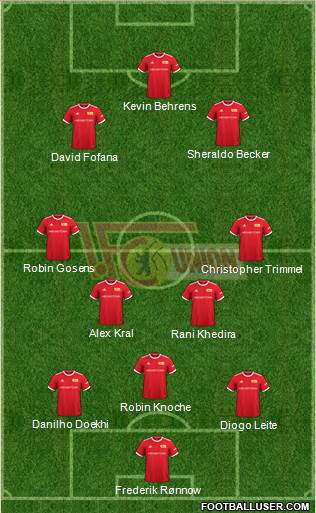 Some positives to report upon here. Gosens and Trimmel eventually figured out that the crossing game wasn't going to work. Khedira found himself able to press forward more often. As a result, Becker and Kevin Behrens finally received some touches from close range. Nübel dusted off some of his "sweeper keeper" antics to snuff out some of the more useful Union charges in the final 20 minutes. Gosens and Diogo Leite got good chances in. Fofana also narrowly missed a golden opportunity before the Württembergers ran up the score.
Did Hoeneß switch to the 3-1-4-2?
Actually not. One assumes that – with Guirassy unexpectedly removed from the equation – Hoeneß considered a tight midfield diamond the much safer bet. The VfB trainer likely also wished to give Woo-Young Jeong a lighter duty assignment than that of a solo ten upon his return from the Asian games. In any event, Hoeneß earns plaudits for another effective late-match switch. The new 4-4-2 produced two additional goals. Silas and Undav now have three league tallies apiece thanks to it.
Lineup—Stuttgart—70th minute (4-4-2)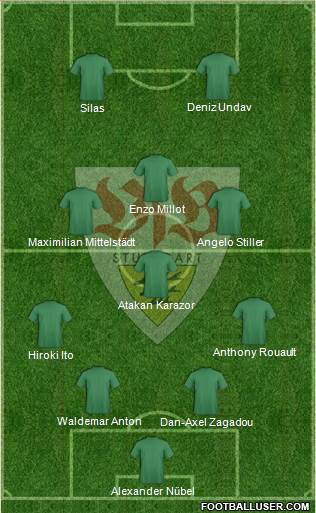 Time shall end up being the true judge of whether or not this side can keep up its fiery form without the Bundesliga's leading goal-scorer. A double-eight set up with Jeong and Millot might be worth a try. Chris Führich could also function as a ten behind presumed starter Undav. It all gets set to get madly interesting in the coming weeks. After facing Hoffenheim in the league next week, Hoeneß' crew actually have to turn around and face Union immediately in the forthcoming Pokal Round.
Fischer desperately needs an idea for that one.
Did Niko Kovac foul up his tactics?

Like only Niko Kovac can. In the VfL trainer's defense, facing off against German football's hottest property in the "Battle of the Company Teams" counted as one seriously difficult assignment. Most any footballing mind finds itself frazzled and fried at the prospect of having to play Xabi Alonso's Leverkusen at this point. Moreover, the idea of placing Maximilian Arnold atop a flat back-three had some flair to it. The hard-working German international very nearly picked up a misplaced pass from Lukas Hradecky to put his team ahead in the opening minute.
Lineup—Wolfsburg—Match Eight (3-1-4-2)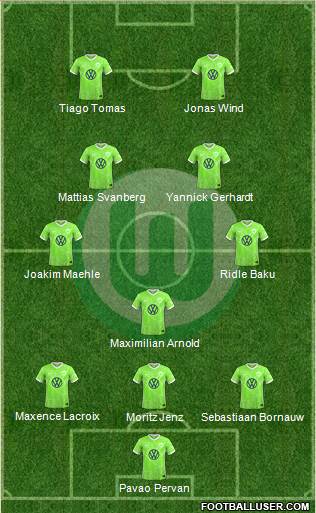 The manner in which all six actors stationed behind the halfway line summarily failed to pick up Jeremie Frimpong on the 13th-minute 1-0 nevertheless showed what a shoddy system this was. Literally everyone stood frozen watching Victor Boniface on the ball whilst the Dutch wingback crept in on the left far post. Perhaps we should all cut the Autostädter some slack at this point as it is quite hypnotic to watch Boniface on the ball these days. Tiago Tomas also very nearly equalized moments later after a nice combination with Jonas Wind. Hradecky was back to his finest there.
Kovac's constellation put in their fair share of hard work and did even manage to retain a slight edge in chance creation over the course of the full 90. Maxence Lacroix's 1-1 off a corner in the 41st owed much to a random propitious bounce off of Jonathan Tah, but still felt deserved. Once again, however, one must return to the topic of the poor marking on Frimpong. The flying Dutchman nearly scored twice more before the first half was out. Frimpong unlocked Alejandro Grimaldo after an awesome ball-win for the just-subbed-on Florian Wirtz in the 62nd.
Did Xabi employ a tactical shift? 
At long last the answer to this long-running query appears to be yes. The Werkself trainer swung Granit Xhaka ahead of the defensive line in order to shore matters up a tad after the restart. Not exactly the grandest of all tweaks; certainly not the type of wizardry those of us inclined to see a magician at work wanted to see. All of that notwithstanding, the author has an excuse to code-in a Bayer draw up for the first time in far too long. One variant for the potential title-winning formula remains quite easy on the eyes.
Lineup—Leverkusen—46th minute (4-3-3)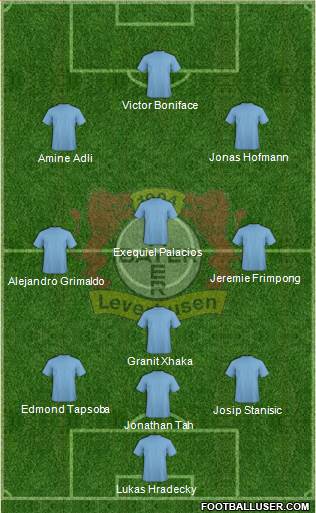 A great performance from everyone involved.
How did Köln come alive?

The first win of the season for Steffen Baumgart's "Geißböcke" (coming in the fiercely contested derby against regional rivals Borussia Mönchengladbach no less) counts as quite the accomplishment. Few, if any of us, expected a team that had hitherto scored only four goals this season suddenly wake up to nearly match that total in a tough draw against a team undoubtedly on the upward trajectory. A quality offensive performance seemed even more likely when the Effzeh trainer re-ordered his more attack-minded 4-1-3-2 into a less menacing 4-2-3-1.
Lineup—Köln—Match Eight (4-2-3-1)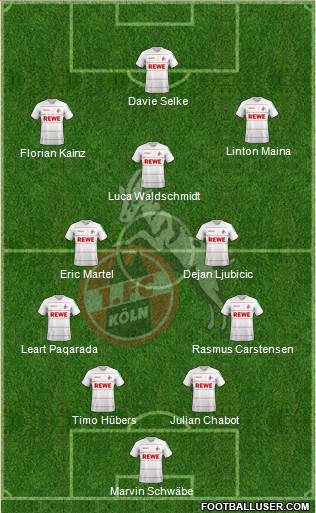 It should be noted that two of the three Domstädter goals came after Gladbach were reduced to ten-men following Manu Koné's sending off in the 72nd. Moreover, the lone tally coming before that resulted from a handball penalty awarded in the 9th when Koné stopped a close-range Luca Waldschmidt effort. Köln's lead nevertheless felt very much deserved. The energetic, up-tempo, and courageous manner in which Baumgart's side performed during the first half left little to no doubt as to who the better team was.
A 15:1 shot advantage entering the second 45 demonstrated the strength of this tactical set-up. The advantage could have been much larger had Waldschmidt and Jeff Chabot not struck the goal frame with respective efforts. A tactical switch from BMG trainer Gerardo Seoane in the second half led to a much improved performance from the visiting foals. Seoane – having kept the team configured in his previously effective 4-4-2 – brought on Joe Scally and Rocco Reitz for Luca Netz and Florian Neuhaus at the break.
A 4-2-3-1 mirror did significantly better.
Lineup—Gladbach—46th minute (4-2-3-1)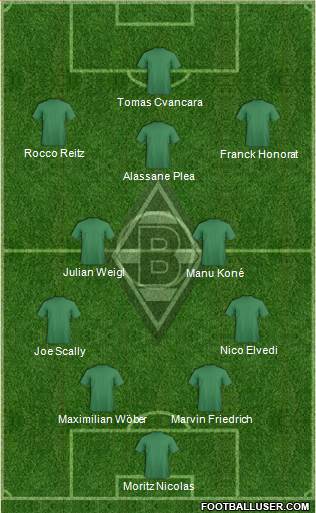 Gladbach neutralized open play in this constellation. A 63rd-minute equalizer off a set-piece brought them right back into the match. From the point at which Nico Elvedi buried Franck Honorat's corner to Koné's ultimate sending-off, the affair maintained an even feel. Seoane's side stood a legitimate chance during that particular ten-minute spell. The second goal in the 3-1 win resulted from a pair of bad errors from young BMG keeper Moritz Nicolas. The youngster conceded a penalty, then failed to remain on his line during the ensuing spot kick.
Can Baumgart's system work long-term?
The most relevant matter pertinent to this question concerns the fact that Davie Selke, after a pair of early chances, didn't exactly impress as the leader of the line. The talented and physically imposing 28-year-old still shows no real signs of budding into a consistency competent top-tier striker. Skipper Florian Kainz was able to secure a scorer's brace for himself with two conversions from the spot. The captain will surely be feeling more confident with two goals pocketed in his seasonal account. The same applies to Luca Waldschmidt, who did furnish a nice finish on the 3-1.
These positives having been noted, this squad remains strewn with problems. One needs to see a great deal more from the cathedral city side before tapping them for anything other than a tough relegation dogfight over the course of the rest of the season. Attacking winger Linton Maina – not unlike Selke – turned in the sort of match that leaves one wondering about his ability to succeed at this level. Upcoming fixtures against Leipzig (league) and Kaiserslautern (Pokal) don't engender a lot of confidence that momentum shall be carried forward. Best to treat this as an aberration for now. A genuine form upswing requires much more.
"Weekly Wortschatz": Round Eight
"Fluch und Segen"

The columnist wishes to correct something of a sloppy translation from the beginning of the round. Julian Brandt's comments on the flexibility of his current positional assignment likely shouldn't have been referred to as a "blessing and a curse" in the English translation. The far less dramatic "boon and bane" fit more aptly. Brandt – though not necessarily the must enthused about the fact that he wasn't slotted more central – certainly wasn't complaining either. Easily the most in-form German international playing in the German top flight over the past 12 months likes his tactical charge just fine.
When it comes to the state of Dortmund's tactics in general, we pick up right where we left off prior to the latest international break. Edin Terzic continues to demonstrate the wherewithal to get the best out of this roster. Dortmund's latest 1-0 win over Bremen lacked glamour for long stretches, yet mostly had the game well at hand until a slender lead could be secured. A simple enough 4-2-3-1 gave die Schwarzgelben enough of an advantage to rack up sufficient confidence points over the course of the first hour.
Lineup—Dortmund—Match Eight (4-2-3-1)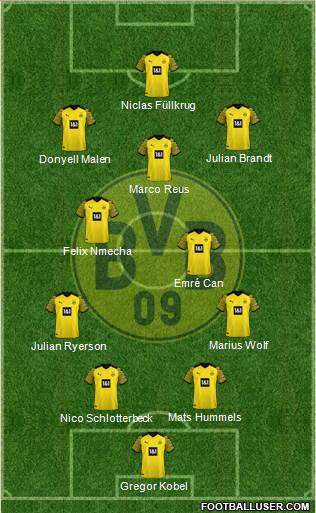 Donyell Malen probably should have opened the scoring twice in the opening 45. The Dutchman also spurned a very good opportunity shortly after the restart. Terzic's tactical switch came just a couple of minutes after the hour-mark. Ramy Bensebaini and Giovanni Reyna relieved Marius Wolf and Marco Reus. We again witnessed a later-match 4-4-2 re-format. Sixes Emré Can and Felix Nmecha evened out their stagger. Within five minutes, Can unlocked Brandt with a brilliant ball.
Lineup—Dortmund—63rd minute (4-4-2)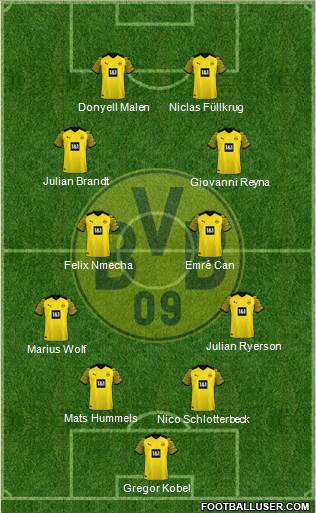 Most all of Terzic's actors continue to click. Bensebaini – widely regarded to be off to the slowest start of all the summer acquisitions – played exceptionally well off the bench. Reyna honestly looked about as slick as he has in well over a year. These two subs were clearly prepped for a tailored late match introduction. Such is the quality of Terzic's weekly prep work on the training pitch. Few can deny that it shines through the entire match plan week-after-week.
Brandt's decision to embed some, albeit slight, negative connotations to his displacement from the ten-slot does seem a tad odd. The resurgent DFB-attacker might have preferred the more free-flowing assignments granted to him under a previous coaching regime. Perhaps what Brandt was trying to say relates to the fact that Terzic's tactics require some extra nuanced work ahead of each match. A little bit of extra stress in the workweek? The results strongly suggest it remains worth it.
"Neue Besen"

It ended up taking eight rounds this year before Germans got a chance to dust off one of their favorite phrases. FC Augsburg return from the international break with a new trainer.  The Fuggerstädter are the first top-tier side to make a switch in this young campaign. A new head-coach is commonly likened to a "neue Besen" ("new broom"). As the German saying goes, "neue Besen kehren gut" ("a new broom sweeps clean"). Even if there isn't a direct equivalent English idiom, one at least comprehends the meaning immediately.
What can one report from the debut of Augsburg's "new broom"? The columnist honestly wished that Jess Thorup had actually deployed a sweeper. All writers enjoy metaphors with an extra capacity to extend themselves further. Alas, that wasn't the case here. The new Danish gaffer went with a generic, yet highly effective, 4-2-3-1. Mads Pedersen, Niklas Dorsch, Fredrik Jensen, and Sven Michel started in place of Patric Pfeiffer, Iago, Tim Breithaupt, and Dion Beljo. Thorup ditched the 3-4-2-1 in favor of a more stable spine.
Lineup—Augsburg—Match Eight (4-2-3-1)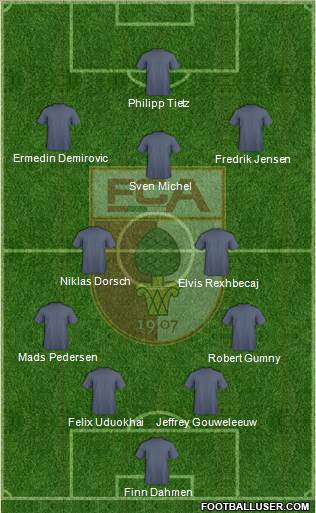 The Bavarian Swabians remained something of a disorganized mess during the opening 20 minutes of their weekend visit to 1. FC Heidenheim. Two FCH goals were conceded in two minutes during the 17th and 18th. Marking and basic off-the-ball pressing were totally non-existent in both instances. It nevertheless speaks in favor of the new head-coach that – rather than completely losing their heads – Thorup's XI maintained a feel of confident patience in their build-up play.
Philipp Tietz deftly finished off a Jensen corner to reduce the deficit in the 29th. The exceptionally strong-looking Tietz then played a role in the equalizer. Pedersen slammed home the 2-2 off a nice Tietz lay-off in the 41st. It was then Augsburg's chance to strike in quick succession. Ermedin Demirovic supplied the sliding finish of a Jensen cross one minute later. Two more goals in the second-half (Felix Uduokhai and Elvis Rexhbecaj from the spot) saw Thorup's crew score five unanswered by the full-time whistle.
What worked in Thorup's debut
Jensen recorded a hat-trick of assists in his first start of the season. The Dane unquestionably hit the jackpot with his decision to turn to his pseudo-Scandinavian attacker. Demirovic obviously turned in a first-rate performance, though his positioning wasn't necessarily novel. Previous FCA trainer Enrico Maaßen mostly kept the newly-appointed skipper on the left wing, occasionally scooting him inwards to ill effect. Thorup clearly did his homework by ensuring that the Bosnia & Herzegovina international worked wide.
Tietz and Jensen might have done better to finish a pair of opportunities. In the final analysis, however, the attacking duo did extremely well on the day. Dorsch worked very hard and contributed some vital stops. Dorsch and the back-four – after messing up on the early goals – kept matters tight and disciplined throughout the duration of proceedings. A defensively stable and prepared FCA squad isn't exactly something we've seen a lot of this season. The steady hand of the "new broom" was definitely apparent.
.…and what didn't
The author greeted the team sheet with a curious enthusiasm. Sven Michel's inclusion either presaged a double-striker set or an interesting support role for the former Union and Paderborn man. Michel generally hasn't played as much other than a nine in his long career. When the 33-year-old settled into the ten role, the columnist eagerly anticipated watching one of German football's most notorious physical bruisers direct the attack from just outside the box. That didn't transpire. Michel got less than 20 touches in.
In addition to Michel's flop, a later-match back-five re-format didn't exactly impress either. Substitutes Maximilian Bauer and Iago appeared to have difficulty sorting out their slants and there were several moments in which it looked as if the Heidenheim attack could fight their way back into the match. The inconsistency of the defensive shape mirrored the problems at the beginning. The rearward chain invited their opponents into the area with slack marks and a weak press. Frank Schmidt's FCH simply didn't have the ideas to punch through.
"Hut ab!"

Eintracht Frankfurt head-coach Dino Toppmöller found himself "tipping the proverbial cap" to his team after they (rather unexpectedly) followed up their impressive win against Heidenheim just prior to the international break with an even more impressive away victory against Hoffenheim in the first round back. While many of us believed that the new SGE trainer would find a way of working matters out tactically with this squad at some point, the fact that Toppmöller got matters together so soon counts as quite the surprise. The columnist humbly offers up the "hut ab" gesture to him.
Toppmöller literally outpaced predecessors Adi Hütter and Oliver Glasner, a pair of gaffers who shared a common situation with him. The last three Eintracht trainers have been tasked with rebuilding a team following a major summer upheaval. Such a rapid transformation earns him the "hats off". The coach himself uses the phrase. So too does much of German footballing journalism. It's honestly not often that Germans pass over the much cooler ("chapeau!") French version in favor of "hut ab". Toppmöller's unique ideas have us forgetting that French phrases often sound cooler.
Lineup—Frankfurt—Match Eight (4-2-3-1)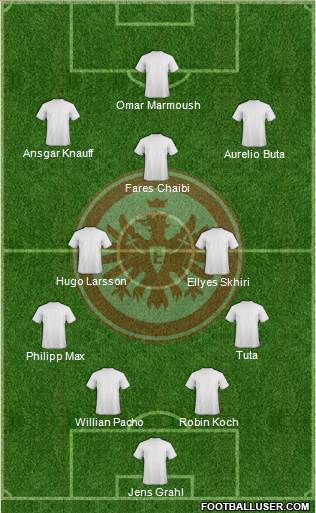 No one – including Hoffenheim trainer Pellegrino Matarazzo – expected Frankfurt to line up in a back-four. Some degree of disorganization was apparent early. A 4th-minute vertical from TSG keeper Oliver Baumann sent Maximilian Beier past the defensive ranks early. Aurelio Buta's floundering attempt to mark the German U21 striker left one wincing. After Beier slotted home the 1-0 inside of five minutes, it truly didn't look to be Eintracht's day. It genuinely might not have been had SGE back-up keeper Jens Grahl unlocked Omar Marmoush with his own long vertical seven minutes later.
Some suspect defending from John Anthony Brooks on the 1-1 notwithstanding a lot of what transpired next related to the fact that Matarazzo didn't really have his own team especially well prepared to handle the unanticipated back-four. The fullbacks pressed forward with purpose, sending a series of useful crosses in Marmoush's direction. Pseudo-wingbacks Pavel Kaderabek and Robert Skov found themselves way too easily bypassed. The TSG duo found themselves dually culpable on the two additional goals Frankfurt would score before halftime.
Lineup—Hoffenheim—Match Eight (3-3-2-2)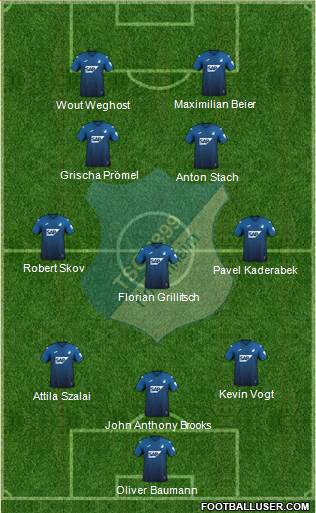 A system that had led to plenty of success for Matarazzo required some half-time tinkering. The TSG trainer himself admitted that he wished to yank Brooks sooner than the break, but didn't do so because of concerns that Kevin Vogt might reaggravate his injury. Brooks got the hook at the restart with Kevin Akpoguma coming on as the U.S. international's replacement. Vogt moved into the center of the back-three. Skov and Akpoguma began to work a split-stager.
Lineup—Hoffenheim—46th minute (3-3-2-2)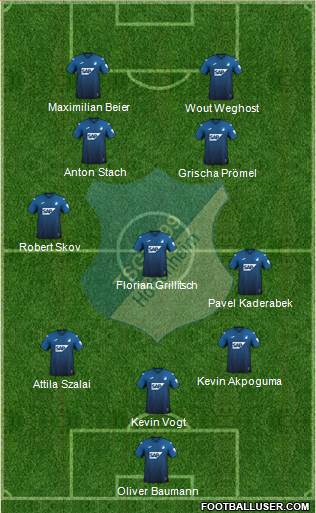 Nothing really came of this on either side of the ball. In point of fact, the awkward pull-apart on the wings seemed to have the effect of sterilizing the Sinsheimer attack. The BaWü hosts looked much more threatening in the opening 45. Matarazzo's Kraichgauer still seemed to have no idea how to handle Toppmöller's surprise tactics. The only real chance for Hoffenheim (Skov) came off a dead ball. The TSG trainer again tried to shake things up after a double sub in the 65th minute.
Lineup—Hoffenheim—66th minute (3-3-2-2)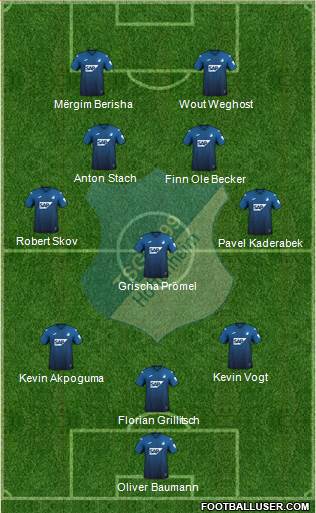 Vogt – making room for the sent-back Florian Grillitsch – moved out wide again. At times it even looked as if Vogt was working the left. Skov and Kaderabek straightened out and moved forward. Grischa Prömel moved back to take the place of Grillitsch whilst subs Mërgim Berisha and Finn Ole Becker plugged into existing positional assignments on the top two axes. This too led to nothing beyond half-backed verticals and crosses. Matters didn't get interesting until Marius Bülter (in Stach's position) got a late chance off.
At the end of the day, the tipped cap to Toppmöller remains justified. Matarazzo nevertheless doesn't earn the highest marks for failing to adjust to a system that – no matter how unexpected – he had a full 90 minutes to deal with. Hoffenheim, though off to their best start to a season since the 2008/09 campaign, are hemorrhaging points at home. Just as was the case two weeks ago, multiple errors from both coach and player seem to be sinking this team's prospects. Too many dropped points may keep them out of Europe come the end of the season.
It reminds one slightly of the 2020/21 season under current VfB trainer Sebastian Hoeneß. Maybe the fact that trainers who otherwise exhibit strong potential must contend with the fact that chief sporting executive Alexander Rosen and the club's front office always invariably throw a heap of money at building an unbalanced squad. Or maybe the players can't exactly step in up in their notoriously quiet arena. Perhaps the karmic hex put on the club by German football diehards might be working.
That would truly be nice.
Thanks so much for reading! You can catch the release of all Peter's columns (and occasionally catch him goofing off) on whatever the hell they're calling twitter these days @PeterVicey.
Twitter DMs are open for football conversations, corrections, and (if you truly insist) general abuse. 
Full color re-posts of the columns are eventually archived on Peter's website.
Related stories
DFB President criticizes Adeyemi for declining U21 call-up
Nagelsmann guarantees starts for Kimmich and Henrichs, Sané speaks on contract negotiations
About Author