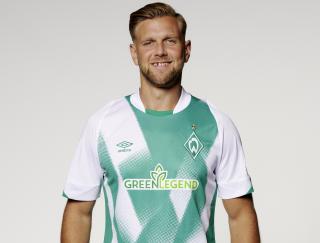 After all the full-time whistles were blown on Saturday afternoon, both SV Werder Bremen striker Niclas Füllkrug and RB Leipzig's Christopher Nkunku were presented with the coveted "Kicker Torjägerkanone" honoring the Bundesliga's leading goalscorer. 
Both players – thanks to injury riddled seasons – set a new record as the players to win the crown with the fewest goals ever. Füllkrug joked about the dubious honor when speaking to Kicker's Dr. Vladimir Milutinovic. The 30-year-old also commented on sharing the award. 

Commenting on his award when speaking to Kicker Magazine's Dr. Vladimir Milutinovic, Füllkrug noted that it remained a "special" distinction to be presented with the Torjägerkanone plaque. The "Golden Cannon" was, in Füllkrug's words, "an awesome achievement". The 30-year-old did note that "the field was more open" in the absence of Robert Lewandowski.
Füllkrug also commented on his low total.
"It is what it is," Füllkrug said, "It's a great record. I think it's cool when you make it even with 16 goals. A good horse only jumps as high as it must."
Regarding having to share his accolade with Leipzig's Christopher Nkunku, Füllkrug lamented the fact that injuries only allowed him to participate in 28 of Bremen's 34 league fixtures. Naturally, Nkunku has similar reasons to feel rueful. Injury setbacks meant that Nkunku could only participate in 25 league fixtures for the German Red Bulls.

"It tickles my nerves a bit," Füllkrug said of sharing the honors, "It was annoying to watch others score [when I wasn't playing] and I couldn't keep up. [Had I not been injured] there would have been one or two more goals and I would have been able to pull away a bit."
About Author